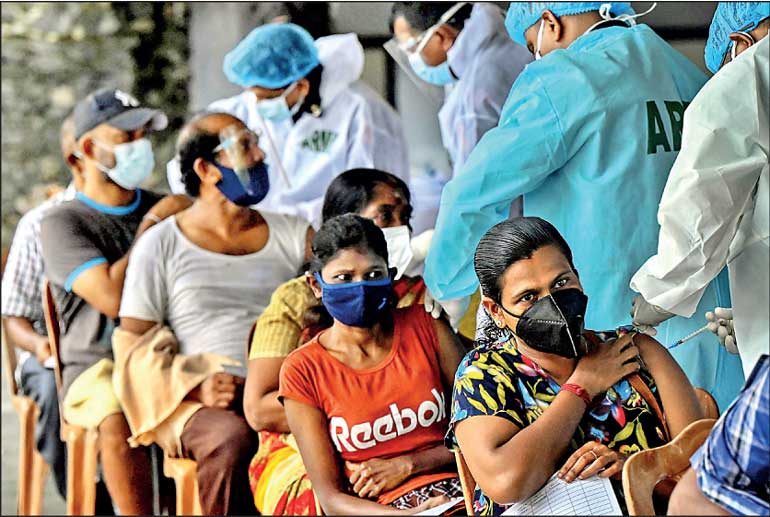 Army health officials inoculate people against COVID-19 with doses of the Sinopharm vaccine at a camp held at Vihara Maha Devi Park Open Air Theatre yesterday – AFP
11 persons within Colombo city limits detected with Delta variant
Delta variant detected in Jaffna and Kilinochchi as well as Navy
13,266 PCR tests carried out yesterday, total detections exceed 282,000
COVID-19 detections from Colombo rise to 65,000
By Shailendree

Wickrama Adittiya

Sri Lanka's COVID-19 detections yesterday rose to 282,060 with the detection of 1,517 COVID-19 positive persons.

Concerns have also been raised about the spread of the Delta variant as it was confirmed on Thursday that 11 persons with the variant have been detected within Colombo city limits.

"It was confirmed [on Thursday] that 11 persons within the Colombo city limits have been detected with the Delta variant. Of them, five were from a worksite near the Khettarama Stadium, two were from Dematagoda, and two were from Colombo North," Colombo Municipal Council Chief Medical Officer of Health Dr. Ruwan Wijayamuni said.

According to Health Promotion Bureau Director Dr. Ranjith Batuwanthudawa, patients with the Delta variant have been detected from Jaffna and Kilinochchi as well. "It has been reported that a person attached to the Navy is also among the detections. However, there is little room for there being more patients in the Navy," Dr. Batuwanthudawa said.

He went on to say that a student of the Sri Jayewardenepura University had also been detected as having the Delta variant but the student had not been on the university premises. Samples of the student's contacts have been collected and any COVID-19 positive samples will be sent for genome sequencing.

At present, the Delta variant has been detected in 36 COVID-19 patients, including 18 cases confirmed on Thursday.

According to the Health Promotion Bureau, 13,266 PCR tests were carried out yesterday and among the patients detected are 1,446 persons from the New Year cluster.

The Department of Government Information stated that 273,881 persons from the Divulapitiya, Peliyagoda, Prisons and New Year clusters had been detected to date. The cumulative patient count includes 179,019 persons from the New Year cluster, 82,785 persons from the Peliyagoda cluster, 7,562 persons from the Prisons cluster, and 3,059 persons from the Divulapitiya cluster.

In addition to the local cases, 5,876 Sri Lankan overseas arrivals and 328 foreigners had also tested positive for COVID-19.

The patient categorisation takes into account the 1,484 COVID-19 patients detected on Thursday. According to the Health Promotion Bureau, 13,732 PCR tests and 3,614 rapid antigen tests were carried out on Thursday.

Of the patients detected, 1,427 were from the New Year cluster, 37 were Sri Lankan overseas arrivals, and 20 were from the Prisons cluster.

The COVID-19 detections include 318 from Colombo, 195 from Gampaha, and 114 from Galle.

In total, 65,000 persons from Colombo, 49,569 persons from Gampaha, 30,843 persons from Kalutara, 14,662 persons from Kurunegala, and 13,891 persons from Kandy have tested positive for COVID-19.

Third-wave detections include 32,703 persons from Colombo, 31,035 persons from Gampaha, and 23,785 persons from Kalutara.

At present, 23,528 COVID-19 patients are under medical care and 1,227 persons suspected of having COVID-19 are under observation.

The Epidemiology Unit states that 918 persons were discharged from treatment centres yesterday, raising the country's COVID-19 recoveries to 254,871.