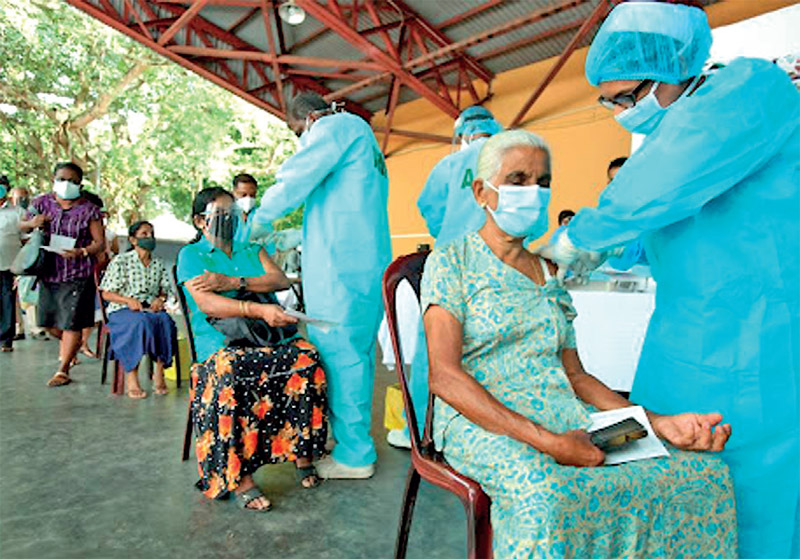 742 persons test positive for COVID-19 yesterday
Total detections rise to 562,520
SLMA says arrival of Omicron in SL can only be delayed and not prevented
PHIs raise concerns about relaxation of measures taken at BIA
---
By Shailendree Wickrama Adittiya
---
Sri Lanka's COVID-19 detections rose to 562,520 with 1,461 persons testing positive for COVID-19 over the weekend.

Meanwhile, restrictions are being tightened across the globe following the detection of the Omicron variant, which the World Health Organization has categorised as a Variant of Concern.

According to Sri Lanka Medical Association (SLMA) President Dr. Padma Gunaratne, preventing the variant from entering Sri Lanka is not entirely possible. "We can delay its arrival and we stress the importance of persons making the most of the available vaccines during this time," she said.

Public health inspectors (PHIs) raised concerns about the relaxed system in place at the Bandaranaike International Airport, which gave overseas arrivals room to evade health units.

"The situation at the Bandaranaike International Airport is extremely disappointing. Foreigners and Sri Lankan arrivals are directed to health units after purchasing items and being exposed to other areas. Thus the other staff are at risk," PHI Union President Upul Rohana said.

On Friday, the Health Ministry issued guidelines preventing travellers who have visited South Africa, Botswana, Lesotho, Namibia, Zimbabwe and Eswatini in the last 14 days from disembarking in Sri Lanka.

Yesterday, 742 persons from the New Year cluster tested positive for COVID-19. The previous day, 719 persons tested positive for COVID-19. This includes 717 persons from the New Year cluster, one person from the Prisons cluster, and one Sri Lankan overseas arrival.

The Health Promotion Bureau states that 6,920 PCR tests and 5,747 rapid antigen tests were conducted on Saturday. The country's COVID-19 detections include 457,663 persons from the New Year cluster, 82,785 persons from the Peliyagoda cluster, 9,054 persons from the Prisons cluster and 3,059 persons from the Divulapitiya cluster.

The country's imported cases include 6,975 Sri Lankans and 328 foreigners.

The district distribution of COVID-19 patients shows 114,890 persons from Colombo, 98,168 persons from Gampaha, 52,862 persons from Kalutara, 35,324 persons from Galle, and 27,245 persons from Kurunegala. During the third wave of the pandemic, 82,593 persons from Colombo, 79,634 persons from Gampaha, and 45,804 persons from Kalutara tested positive for COVID-19.

At present, 18,553 persons are under medical or home-based care and 1,946 persons suspected of having COVID-19 are under observation.

The Epidemiology Unit states that 422 persons were released from care yesterday, raising the country's COVID-19 recoveries to 529,662.