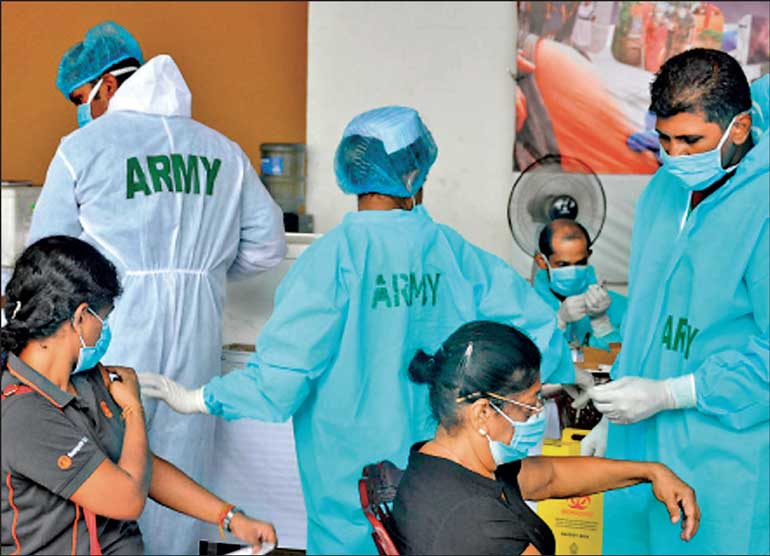 697 persons test positive for COVID-19 on Sunday
Total patient count rises to 556,626
15,765 persons under medical or home-based care
Public advised to get tested instead of disregarding COVID-19 symptoms
---
By Shailendree Wickrama Adittiya
---
Sri Lanka's COVID-19 detections over the weekend exceeded 1,400 with 697 persons testing positive for COVID-19 yesterday.

A total of 1,422 COVID-19 patients were detected over the weekend and all patients were from the New Year cluster.

On Saturday, 725 persons tested positive for COVID-19. The Health Promotion Bureau states that 6,339 PCR tests and 3,268 rapid antigen tests were conducted on Saturday.

In total, 556,626 persons have tested positive for COVID-19 in Sri Lanka to date. This includes 451,823 persons from the New Year cluster, 82,785 persons from the Peliyagoda cluster, 9,053 persons from the Prisons cluster, and 3,059 persons from the Divulapitiya cluster.

In terms of imported cases, 6,967 Sri Lankan overseas returnees and 328 foreigners have tested positive for COVID-19.

The district distribution of COVID-19 detections shows 114,395 persons from Colombo, 97,444 persons from Gampaha, 52,637 persons from Kalutara, 34,659 persons from Galle, and 26,998 persons from Kurunegala.

During the third wave of the pandemic, 82,098 persons from Colombo, 78,910 persons from Gampaha, and 45,579 persons from Kalutara tested positive for COVID-19.

At present, 15,765 persons are under medical or home-based care and 1,937 persons suspected of having COVID-19 are under observation.

The Epidemiology Unit states that 381 persons were released from care yesterday, raising the country's COVID-19 recoveries to 526,734. Meanwhile, Pharmaceutical Production, Supply and Regulation State Minister Prof. Channa Jayasumana urged persons experiencing COVID-19 symptoms to get tested as they could spread the disease despite only experiencing mild symptoms.

"COVID-19 infection is similar to a mild cold in persons who are fully vaccinated, with fever, headache and muscle pain being the most common symptoms. Many fully-vaccinated persons disregard symptoms as a mild cold," he explained.