Total patient count rises to 508,672, includes 403,708 from New Year cluster
191,592 COVID-19 patients detected from Western Province during third wave
61,274 persons under medical or home-based care
Cabinet approval given for $100 million IMF loan to procure 14 million doses of Pfizer
---
By Shailendree Wickrama Adittiya
---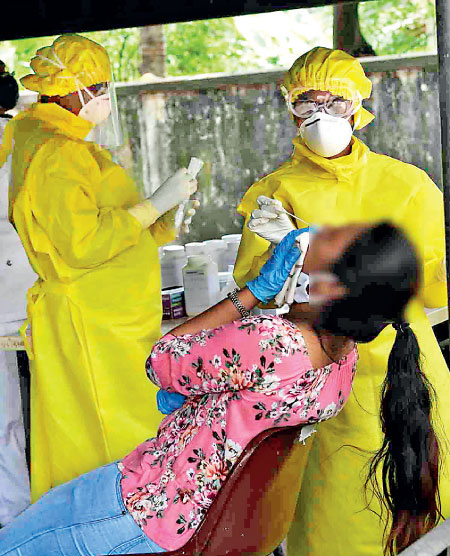 The detection of 1,342 COVID-19 patients yesterday brought the country's COVID-19 case count to 508,672.

The patients detected yesterday include 1,321 persons from the New Year cluster and 21 overseas arrivals.

The previous day, 1,318 persons from the New Year cluster, two persons from the Prisons cluster and one Sri Lankan overseas arrival tested positive for COVID-19.

A total of 403,708 patients have been detected from the New year cluster and the country's local cases also include 82,785 persons from the Peliyagoda cluster, 8,637 persons from the Prisons cluster, and 3,059 persons from the Divulapitiya cluster.

The imported cases consist of 6,899 Sri Lankans and 328 foreigners.

According to the Epidemiology Unit, the country's COVID-19 detections include 108,819 persons from Colombo, 90,707 persons from Gampaha, 49,955 persons from Kalutara, 29,878 persons from Galle, and 24,343 persons from Kurunegala.

During the third wave of the pandemic, 76,522 persons from Colombo, 72,173 persons from Gampaha, and 42,897 persons from Kalutara have tested positive for COVID-19.

At present, 61,274 persons are under medical or home-based care and 2,882 persons suspected of having COVID-19 are under observation.

The Epidemiology Unit states that 882 persons were released from treatment yesterday, raising the country's COVID-19 recoveries to 435,022.

Meanwhile, the Cabinet of Ministers on Tuesday approved a proposal from the Health Ministry to obtain an additional loan of $ 100 million from the International Monetary Fund (IMF). The funds will be allocated for the procurement of 14 million doses of the Pfizer COVID-19 vaccine and other costs pertaining to vaccination.

The supplementary loan is being granted by the IMF for emergency response to COVID-19 and preparation of health sector projects under the program for strategic preparation and response to COVID-19 in Sri Lanka.