TVS Lanka has recorded an impressive financial performance for the year ended 31 March 2016 by posting Rs. 12.8 billion in revenues which reflects 79% growth over the previous year. Profit before tax grew by 91% over the corresponding year, reflecting a major turnaround for the company. TVS Lanka specialises in the motor cycles, scooters, three-wheelers, spare parts and the lubricant business.

Commenting on the company's outstanding financial performance, TVS Lanka Chief Executive Officer Ravi Liyanage said, "We are proud to achieve this strong financial growth as a result of focused strategic initiatives deployed during the year. The strategies undertaken included repositioning and rationalisation of product portfolio, identifying and targeting high potential market segments, re-launching three new models with customer-engaging, new value propositions, and above all, expansion of customer touch points to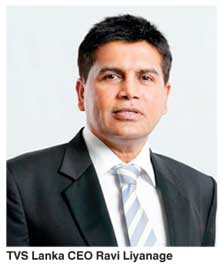 reach over 1,000, which includes 401 sales dealerships and 789 service and spares outlets."

Liyanage went on to add, "TVS' two-wheeler business has outperformed the industry by recording a growth of 58% as against retail industry growth of 28%. Against the backdrop of the fragmented and competitive market, this is a commendable achievement. The continued performance of the two-wheeler category is mainly due to network correction undertaken by the company in sales, spares and distribution mapping coupled with leveraging on geographic potential. Further, associations created via value propositions of 'Warranty Leader' and 'Mileage Leader' also contributed to the performance."

Another strategic initiative was to identify an uncontested market to use the potential strength of the Two-Wheeler portfolio to target the SME category, positioning HD Super model as 'Roda Dekey Loriya – RDL'. The volume of the company's Three-Wheeler category has grown by 79% which is well above the industry average.

Key strategic initiatives such as brand building of 'TVS King' by re-positioning it using well-researched consumer insights and attributes, and making cricketing star Kumar Sangakkara brand ambassador for TVS King together with an Integrated Mass-Media Campaign boosted sales. Post-campaign research indicates that there is a tremendous acceptance of these initiatives. TVS King has been going through extensive product innovation during the period under review and has captured the attention of a more aspirational group of customers.

The engagement of this segment of customers was evident by the sales of the TVS King range: TVS KING MAX, TVS KING FB and TVS KING FLD. These innovative modifications have contributed 20% of the sales during the latter part of FY 2015/16.

"Rationalising market development activities towards Ten Focus markets has afforded a tremendous advantage on resource allocation to surpass the critical mass of the business. The change of business model from traditional Above the Line demand creation to 'focused market' and 'activity lead' approach has shown remarkable success. Consolidation of strategic tie-ups with leading financial institutions has also shown encouraging results. Network expansion on focus markets almost doubled in reach, resulting in 164 sales dealers, informed TVS Lanka Head of Marketing Hashan Haputhanthri.

Further, Brand TVS was recognised as the 'Product Brand of the Year' during the period under review across all industries by Sri Lanka Institute of Marketing (SLIM). This is the first time an automobile company has won this prestigious award from the largest body for marketing in Sri Lanka. Brand TVS was recognised as the 'Most Innovative Brand of the Year' and 'Turnaround Brand of the Year'.

TVS Motor Company India, the flagship of 100 years old, over $ 7.2 billion TVS Group, is one of India's leading two wheeler manufactures and among the top seven in the world. The company has three manufacturing plants in India and one in Indonesia. Present in over 57 countries worldwide, TVS Motor Company is renowned for Innovation and currently owns 600+ patents.

TVS Motor Company has the unique distinction within automotive Industry, being only two wheeler manufacturer to have been awarded the Prestigious Deming Award in 2002. TVS Motor Company is the only Indian Automobile Company which won the Prestigious Deming Award.

TVS Lanka is the pioneer and the technological leader in the scooter market with a large array of scooters; Scooty Pep, Scooty Streak, WEGO and Jupiter which is the latest addition.

Scooty pep was the first to launch in the country and has a tremendous growth in sales. The new Gen Scooty pep+ is for that 'bubbly teenage girl who is around 19 years'. Scooty pep+ is economical, easy to maintain/ handle and fashionable; available in various colours of your choice. Scooty Pep+ is considered as the entry scoter since it has a 90cc engine but with a host of features like Eazycentre stand, econometer, mobile charger apart from being the best fuel efficient scooter with 65 KMPL.

TVS WEGO has perceived as Sri Lanka's Fully Loaded unisex scooter. It is for extreme unisex usage and ridden by both male and female who are around 25 years of age and more rugged in nature, could be used in all terrains. The New Wego boasts Syncronized Breaking System, Mobile Charger, Digital meter and of course body balance technology which makes manoeuvrability easy in touch traffic conditions. Its 110cc CVT-i engine gives best in class mileage for you to go beyond boundaries. .

TVS Jupiter has been perceived in the mind of a Sri Lankan as the 'Scooter for real men', is life style led, more manly, big in size, smart and male attitude driven. Usage wise it's for more office / Professionals. This is for a 24 year old young executive. Features like largest front leg space, brightest headlamp and unique pass by switch provides added benefits to our customer.

In their motor bike category Apache being the flagship brand has been receiving overwhelming user confidence for its unique style and unmatched performance. Apache RTR, Metro, XL SUPER, and Phoenix are the brands in the main stream of the Two-Wheeler category.

TVS Metro is the longest run bike in the Asia since when it gets 1 litre of petrol; it will run for 87 km. This is according to ARIA India reports. TVS Metro also perceived in Sri Lanka as the entry bike for the youth and specifically targeted to a young executive. Features like 100 cc Dura life engine, powerful Electric start with stylish alloy wheels has been the USP of TVS Metro.