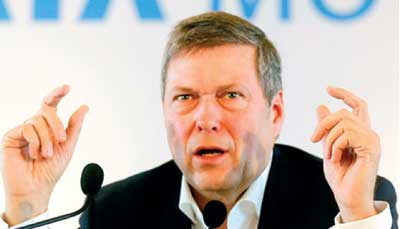 Reuters: Tata Motors Ltd, India's biggest automaker by revenue, plans to reorganise its manufacturing process, reduce the number of suppliers and increase exports, its newly-appointed CEO said last week, in a move to revive its loss-making domestic unit.

Guenter Butschek, 55, who assumed charge about a month back, said in his first media briefing he plans to start by refining the company's brand identity.

"We would like to effectively redo the entire setup of Tata Motors as far its structure is concerned, the processes are concerned and when it comes to the level of manufacturing, the equipment and tools are concerned," he said.

A former Airbus Group executive, Butschek has been tasked with turning around Tata's tumbling sales in India, and he has his work cut out.

Tata Motors' domestic passenger car sales and market share roughly halved in the past two business years and profits have long been propped up by its luxury brand Jaguar Land Rover (JLR) . Butschek does not oversee JLR operations. The Indian car maker has struggled to shrug off its downmarket image since releasing the Nano mini-car seven years ago for under $3,000, and its cars have long been used as taxis, putting them out of favour with young buyers.

Few new models in the intervening years, materials-related quality issues and the need for frequent servicing added to falling sales.

In the 11 months to end-February, the company's sales fell 4 % compared with a 7.5 % rise in total passenger vehicle sales in India over the same period from a year ago, according to industry data.

TACKLING COMPLEXITY

Butschek hopes to simplify the way Tata operates. He plans to do this by bringing in more accountability, achieving economies of scale and reducing the number of suppliers, while improving the quality.

"We need to take some of the complexity of our organisation out and we need to create a much higher degree of agility in order to flexibly respond to customer demand," he said.

"I would rather like to focus my energies and my resources on the development of my strategic supply partners instead of wasting awful lot of efforts on ones who will always remain substandard," said the German, who also worked at automaker Daimler AG.

Exclusively a truck-maker until around the turn of the century, Tata is looking beyond practical, fuel-efficient workhorses, as India's fast-growing, brand-conscious middle class buyers seek vehicles that reflect their tastes.

Tata's soon-to-be-launched Tiago hatchback, formerly called Zica, will be the first to reflect this change, says Butschek.

"Today we are a strong local Indian player but we would like to further foster our global business in order to become to a large extent less dependent on the economic development of our home market," he said.