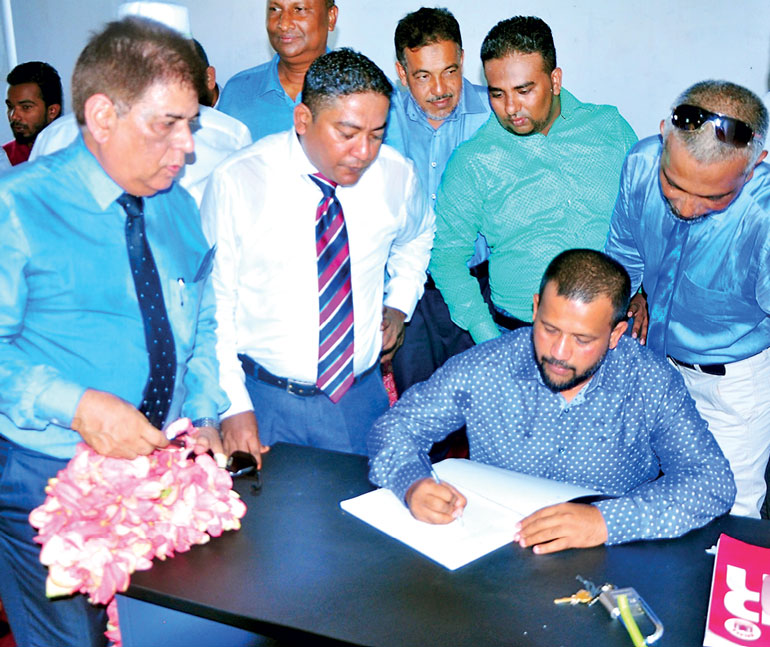 Having launched the Lanka Ashok Leyland East Centre, Minister of Industry and Commerce Rishad Bathiudeen signs LAL East's guestbook joined by LAL Chairman Dr. Siraz Meerasahib (standing second from left) and LAL CEO Umesh Gautam (standing far left) on 9 July in Sainthamaruthu
Lanka Ashok Leyland opens in East and finalises countrywide network
'LAL arrival a great sign' - Bathiudeen
​'58,000+ LAL vehicles on SL roads' - LAL's Gautam
'Major expansion' - LAL Chairman Dr. Mirasaheeb
​90 million people across the world use Ashok Leyland buses daily
Sri Lanka's biggest heavy vehicle supplier brand has finally completed its expansion efforts and established its countrywide presence on 9 July.

"Ashok Leyland is the fourth largest manufacturer of buses in the world," said Minister of Industry and Commerce Rishad Bathiudeen in Sainthamaruthu. Minister Bathiudeen, joined by LAL Chairman Dr. Shiraz Mira Sahib and Lanka Ashok Leyland CEO Umesh Gautam, was addressing the simultaneous launch of several of LAL's operations in the East on 9 July.

LAL, the highly visible automotive brand under Minister Bathiudeen's Industry and Commerce Ministry, was incorporated in 1983 as a Public Limited Liability Company and began its operations as a joint venture between LAL and Ashok Leyland Ltd, India. LAL operations are found everywhere in Sri Lanka except in the East. With the launch, LAL now possesses a countrywide presence.

"We are pleased that Lanka Ashok Leyland's (LAL) expansion in Sri Lanka is completed with this launch. Today we are simultaneously launching LAL Eastern Vehicle Sales' showroom in Sainthamaruthu and spare parts outlet and service centre in Kalmunai. With this, LAL is arriving in the East and now covers the entire country. LAL's arrival here is a great sign for the Eastern automotive market as well. We thank LAL for supporting the Eastern youth by awarding 100 scholarships for NVQ levels 3, 4 and 5. Such mini-industrial training will enhance the skills of our youth along international standards," said Minister Bathiudeen.

"This is a major LAL network expansion," said LAL Chairman Sahib. "LAL already has a branch network in Jaffna, Vavuniya, Anuradhapura, Kurunegala, Dambulla, Kandy, Colombo, Embilipitiya and Matara. Today we are opening the new 3S (Sales, Service, Spares) facility in Sainthamaruthu, in the Ampara District of the Eastern Province."

According to Lanka Ashok Leyland CEO Gautam, the LAL's Eastern expansion is divided into three phases. "The first phase of the expansion comprises the 3S facility, which was inaugurated today. The second phase will include a fully-equipped unit re-conditioning centre with testing facilities and a training centre, while the third phase of expansion will include an accident repair and local body building facility, along with developing any other ancillary industry to bring economic prosperity and create job opportunities in the Eastern Province. Approximately 58,000 LAL vehicles and over 2,000 generators are presently in operation in Sri Lanka," said CEO Gautam.

Lanka Ashok Leyland Plc, a joint venture company of Ashok Leyland, India and the Sri Lanka Government, under the Ministry of Industry and Commerce, was established to progressively assemble, import, market and service Ashok Leyland commercial vehicles in the island and achieved total revenue of Rs. 11.4 billion in 2016 along with a unit sales increase of 10%.

More than 80% of public and private passenger buses in Sri Lanka are from LAL. Globally, over 90 million passengers use Ashok Leyland buses for their daily travel.