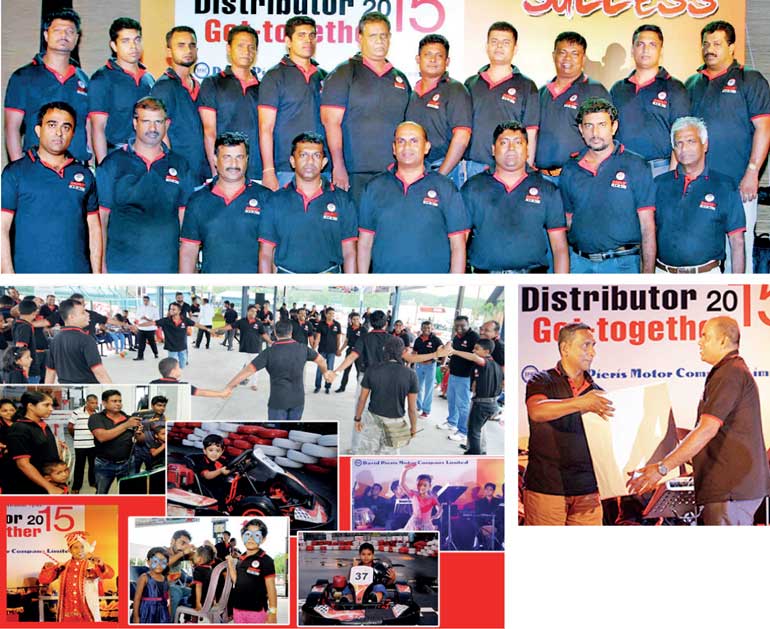 David Pieris Motor Company Ltd. recently felicitated the distributors of its MRF motorcycle and three-wheeler tyres and their family members at the annual get-together held at the Sri Lanka Karting Circuit, Bandaragama.

The distributors spread throughout the island, powering the strong MRF sales base, and their family members were entertained and were presented with gifts during this fun-filled event, organised by David Pieris Motor Company Limited, the sole agents for the renowned high-quality three-wheeler and motorcycle tyres that last longer, offer maximum safety and comfort.

The family members, especially the kids, had a fabulous time at the world-class karting circuit when they were given the opportunity to test their karting skills while a competition was held to select the best drivers among their parents. The Game Zone was open to video game enthusiasts of all ages.

The entertainment programs including a musical show featuring 'Derana Little Star' Himasha Manupriya kept the crowd engaged throughout. Rifle shooting was a popular event among the adults while the magic show added zing to the get-together.

The event brought the hard-working distributors closer together, strengthening the bonds of friendship among them. David Pieris Motor Company took this opportunity to thank and recognise them for their dedication and interest which keeps MRF tyres at the top.

David Pieris Motor Company, the flagship of David Pieris Group of Companies, is the sole distributor for Bajaj motorcycles and three-wheelers in Sri Lanka and the largest automotive company in the country based on performance.