The premier automobile importers organisation in Sri Lanka, the Vehicle Importers Association of Lanka (VIAL) has embarked on a new strategy to protect customers from being swindled at the time of sale of vehicles.

The association has decided to resort to this measure taking into consideration the complaints it receives on a daily basis with regard to frauds they face at the point of vehicle sales. Under this new scheme VIAL plans to introduce a mechanism where customers could clearly identify authentic car sale showrooms endorsed by its organisation. This will enable customers to buy vehicles without falling prey to fraudsters who masquerade as car sale agents.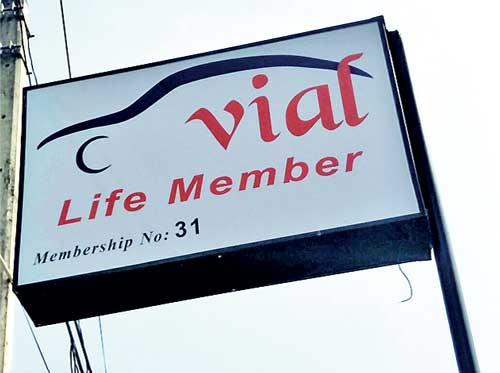 Accordingly measures have already been taken to display a board at every showroom of VIAL members, indicating their symbol and membership number. Only permanent members of VIAL with a proven track record will be given permission to carry the billboard in front of their showrooms. Customers could also ascertain the authenticity of vehicle showrooms which have not enlisted yet for the billboard to find out for sure whether they are VIAL members by checking their credentials to ensure their VIAL membership.

Elaborating on the reason for such action, VIAL in a communiqué said: "There are fraudsters who promise customers that they are able to sell vehicles less than the market price from their showrooms, collect advances from public and when unable to deliver at those low prices, carry out sinister campaigns against various trading associations. Recently a woman was arrested by law enforcement authorities for cheating people by taking advances promising that she could get them Wagon R vehicles which cost Rs. 3.4 million for Rs. 3 million through a reputed car import organisation. They are other thieves who rob people by placing advertisements websites and newspapers that they can provide vehicles for less than the market price. Many people have lost millions by falling prey to such fraudsters. To prevent the recurrence of such frauds VIAL has now taking measures to issue all its permanent members with display boards with details of their credentials."

"The Vehicles Importers Association has now worked out a scheme to overcome such fraudulent activities, firstly as a service to customer and also to iron out the embarrassment genuine vehicle importers undergo due to roguish activities. We are going to launch a program wherein customers will be able to identify us. With this customers will be able to ascertain that the trader is genuine vehicle dealer and member of the VIAL. With this guarantee customers can go about their business without any hesitation. Even from showrooms with no display board customers can still check the credentials of the vendor to ascertain whether they are a member of VIAL before going into business," said VIAL President Indika Sampath Merenchige.

As the first phase of the project VIAL has issued display boards to the first 25 members who applied for them and on the demand the other members too will be issued the display board. VIAL in the future plans to intervene in a big way to prevent theft taking place at the time of vehicle sales. VIAL has also decided to intervene in an improbable event of any of its members indulging in any deceitful practice and will not hesitate to remove such members from its association.