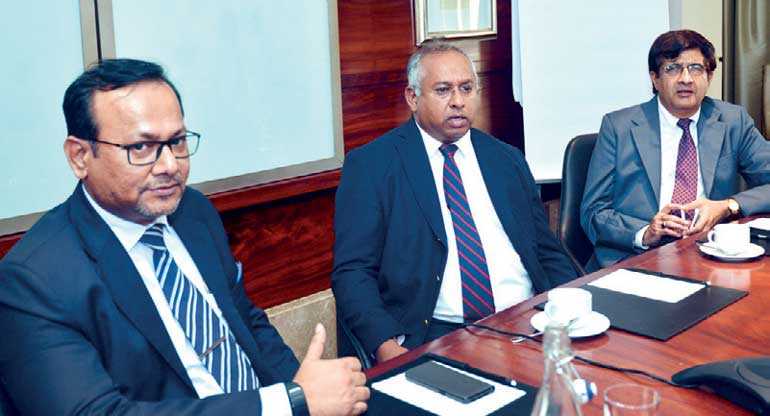 From left: TATA Motors Passenger Vehicle Unit International Business Head Sujan Roy, DIMO Group CEO Gahanath Pandithage, and TATA Motors Passenger Vehicle Unit President Mayank Pareek at the press conference
By Chathuri Dissanayake

TATA Motors is positive on growing their passenger vehicle market in Sri Lanka, despite continuous changes in Government policy slapping duty on vehicle imports, TATA Passenger Vehicles Business Unit Head Mayank Pareek said.

"By 2022 you should see the car market double. Sri Lanka is a positively poised market, there are good signs for growth here and the car market should double here," he said.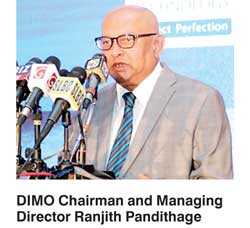 Pointing out that car ownership could double from the current 47 per every 1000 persons – which is very low - to 70 per 1000 persons, Pareek said that the developing road network and growing economy are all positive to increasing the passenger vehicle market share in the country. "It's a very young country, the population is young with growing income, per capita income is decent, people are very aspirational and want to consume."

While the new duty structure based on engine capacity, a foolproof method of weeding out corruption, was a welcome move, DIMO Chairman and Managing Director Ranjith Pandithage said that lack of consistency in policy was hampering the market.

Referring to new import regulations which require all new vehicle imports to meet EURO4 standards, Pandithage pointed out that the same is not being expected of reconditioned vehicles being imported to Sri Lanka.

"While new cars are EURO4, what happened to reconditioned vehicles, are they also the same standard? They are not COP (Confirmation of Production) certified," Pandithage pointed out. "On a used vehicle which is being imported, no one checks COP, there is no guarantee that although it was once EURO4 it remains so, as it depends on the user's choice in repairs before it was sold."

Although Indian-made secondhand vehicles are not imported to Sri Lanka, a large number of used Japanese vehicles are still imported to the country.

"If those safety conditions are being imposed, then used car importation should also be limited. Very ironical, actually - DIMO encourages importation of safe cars, with safety features, but what kind of safety features does a three-wheeler have?" Pandithage questioned

Stressing the need for consistency in policy which is needed for the investment climate to improve, Pareek said: "If we are to make investments we need to know what to expect. We should have some stability so we will watch the market," adding that future investments are not completely ruled out.
---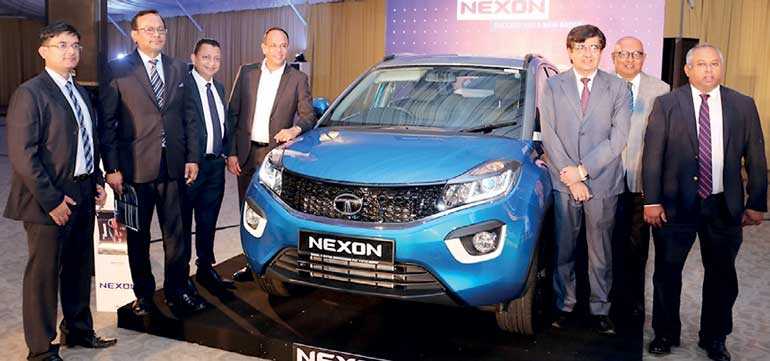 Tata launches compact SUV "Tata Nexon" in Sri Lanka
Tata Motors, along with its distributor, Diesel & Motors Engineering PLC (DIMO) this week launched the compact SUV Tata Nexon in Sri Lanka.

The new SUV with an aerodynamic silhouette enhances marks an evolution in SUV design, by combining the functionality of an SUV with the style of a sports coupe.

Tata Motors has also introduced the NEXON with HyperDrive Self-Shift Gears, the AMT version of the vehicle. The NEXON in Sri Lanka will be available in six variants (XE, XM, XT, XZ, XZ+, XZA+) and six colours (Etna Orange, Vermont Red, Moroccan Blue, Seattle Silver, Glasgow Grey, and Calgary White).

The SUV will be for sale in 38 DIMO outlets across the island. Launched at a price of Rs. 1.99 million for Petrol and Rs. 4.6 million for Diesel (Permit Holder Prices) for the XZA+ (Top Variant), the NEXON is one of the favoured vehicles from the Company's passenger vehicle stable.

Setting a new benchmark in safety, the NEXON recently bagged a 4-star adult safety rating by the Global New Car Assessment Program (Global NCAP), the highest adult safety score (13.56/17.00) amongst all the models tested by Global NCAP in India.

Pix by Daminda

Harsha Perera