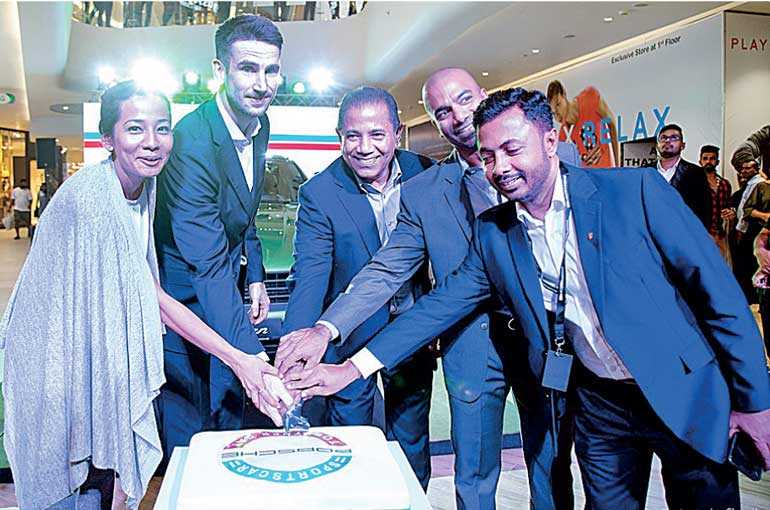 Annika Senanayake, Arthur Willmann, Arthur Senanayake, Dimitri Sheriff and Ravi Opatha cutting the cake in celebration of 'Sportscar Together Day'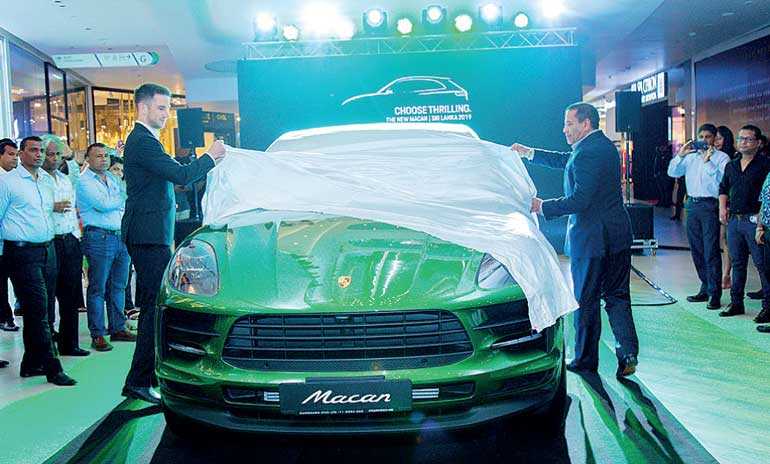 IWS Holdings Chairman Arthur Senanayake and Porsche Asia Pacific Managing Director Arthur Willmann unveiling the new Macan

Porsche Sri Lanka unveiled the new Macan for the first time in Sri Lanka at Colombo City Centre on 30 August. It was unveiled by the IWS Holdings Chairman Arthur Senanayake and Porsche Asia Pacific Managing Director Arthur Willmann in the presence of Porsche customers and enthusiasts in Sri Lanka. At the same time, Porsche Sri Lanka celebrated Sportscar Together Day to share the sports car experience with customers and enthusiasts of the brand.

The compact SUV has been a great success since its launch in 2014, and has now been significantly enhanced in terms of its design, comfort, connectivity and driving dynamics, allowing the Macan to remain the sporty flagship in its segment.

The new Macan stays true to the Porsche design DNA with a three-dimensional LED tail light strip. LED technology also features in the headlights as standard. The most striking innovations inside the vehicle include the 11-inch touchscreen of the new Porsche Communication Management (PCM), re-designed and re-positioned air vents and the GT sports steering wheel familiar from the 911.

The Macan is a genuine success story. The combination of typical Porsche performance on any terrain coupled with a high degree of everyday practicality impressed customers right from the start.

Willmann said: "The Macan is a core model for us, the second SUV in our line-up after the Cayenne, both the benchmark for sporty SUVs in their respective segments. It is perfectly suited for Sri Lankan customers, be it on the urban streets of Colombo or the rugged landscape in the mountains."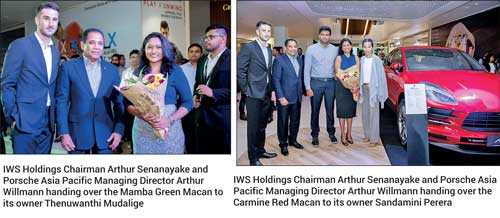 "The new Macan is one of the most exciting cars for the whole family in our model lineup, a popular choice already amongst Sri Lankans looking for a fast, exciting and thrilling experience. The Macan starts at Rs. 26 million and offers the best mix of sportiness and comfort in the segment," said Eurocars General Manager Ravi Opatha.
Sportscar Together Day celebrated in glamour

Sportscar Together Day, originally introduced to commemorate the 70th anniversary of Porsche last year, has gained popularity after its success and is now held for the first time in Sri Lanka to continue the tradition.

Porsche Sri Lanka celebrated Sportscar Together Day at this significant event with Porsche customers and enthusiasts, and other distinguished guests around the country on the same day. It was a cocktail evening of celebration with jazz music, exciting competitions, gifts and glamour. The celebration continues over the weekend, extending the Porsche experience to the public visiting Colombo City Centre. Visitors could look at the new Macan on display up-close or do a test drive with the Porsche model range.

"Celebrating Sportscar Together Day is a tradition followed all over the world. I am glad to be part of such a significant event, witnessing our valued customers enjoy their time spent together as one Porsche community," said Eurocars Senior Brand Executive Randy Kitchilan.
Handing over of the new Macan

Another significant event that took place during the Macan launch was the handing over of the Mamba Green Macan to its owner Thenuwanthi Mudalige and the Carmine Red Macan to Prime Group Deputy Chairperson Sandamini Perera. These proud owners will be joining the Porsche community and driving the new Macan on the roads of Colombo.