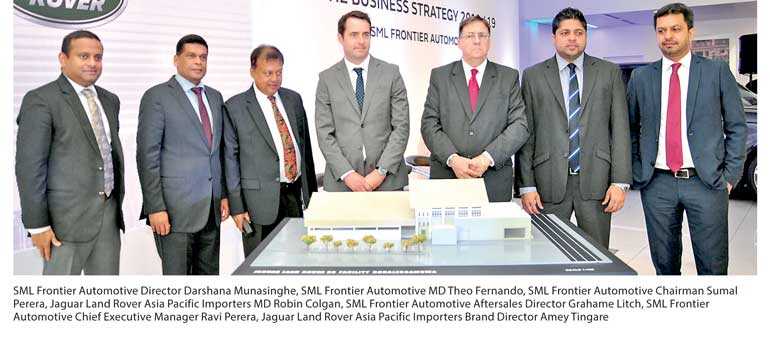 Kicks off work on $ 5 m globally-compliant retail centre integrating sales, service, and spare partsin one location
SML Frontier Automotive, the sole agent of Jaguar Land Rover in Sri Lanka, yesterday announced its business growth strategy for the coming year at a press conference, together with the Jaguar Land Rover Asia Pacific management based in Singapore.

The company revealed its new growth plans commencing with the investment of $ 5 million in the development of the globally-compliant retail centre in Boralesgamuwa.

SML Frontier Automotive continues its robust contribution to the increased market share for Jaguar Land Rover in the Asia Pacific region, with sales increasing by 110%in the last year.

To further strengthen the brand's position of industry innovation, every new Jaguar Land Rover model line will offer electric versions from 2020. The new portfolio of electrified products across all model ranges will embrace fully-electric, plug-in hybrid, and mild hybrid vehicles from UK's largest premium automotive manufacturer, built around the two iconic British car brands of Jaguar and Land Rover.

"This year will be an exceptional year for both Jaguar and Land Rover in Sri Lanka," says Jaguar Land Rover Asia Pacific Managing Director Robin Colgan. "We have seen a 466% growth for Jaguar and a 27% growth for Land Rover. This success is mainly attributed to the introduction of PHEV vehicles to the local market. To strengthen its position as one of the top Asia-Pacific markets, SML Frontier has also commissioned the development of a fully-integrated retail facility in Boralesgamuwa. This will further strengthen our joint commitment to provide an environment that showcases our vehicles and supports the brands with facilities that lead the way in the fiercely competitive premium market sector."

Speaking of the investment by SML Frontier Automotive, Sumal Perera, Chairman, SML Frontier Automotive states: "As the country further develops new infrastructure towards a greener future, the luxury vehicle segment will also move concurrently with this. SML Frontier is investing over $ 5m in the upgrade of our facilities with the view to future growth and relevance to our increasingly sophisticated customers. We are pleased to adopt the Jaguar Land Rover Global ARCH Corporate Identity's concept which has specific zones designed to enhance the customer experience, and high quality components and materials that promote the premium DNA of the Jaguar and Land Rover brands."

The Sri Lankan Government has pledged to replace all state-owned vehicles with electric or hybrid models by 2025, a move that will be extended to private vehicles by 2040, in alignment with what most countries across the world are doing to adopt cleaner energy use. SML Frontier Automotive is gearing up for this development in the automotive industry with the new electrified model line, aiming to give its customers even more choices.

The first first-ever electric vehicle from Jaguar will make its much-anticipated debut in Sri Lanka before the second quarter of 2019. Breath-taking design and innovative engineering combine to deliver thrilling EV performance, SUV practicality, and zero emissions; all the key elements which are on track to challenge the luxury automotive market in Sri Lanka.

Celebrating 70 years of Land Rover, a new Plug-In Hybrid Electric Range Rover and Range Rover Sport will be launched by SML Frontier Automotive this November. The Range Rover brand is distinguished by its sense of refinement and outright luxury and these two new products strengthen the unmistakeable presence of Land Rover in the market.

Underpinning the potential of the growth of the luxury segment, is Jaguar Land Rover's long and illustrious history of creating technologically advanced vehicles that push the boundaries of capability to deliver a wide variety of purposes. With some of the lowest fuel consumption and emissions figures in their class, long service intervals and competitive residual values, the vehicles deliver excellent value to meet the exacting requirements of luxury apartment, mall and hotel businesses in Sri Lanka.

Commenting on the product line-up, SML Frontier Automotive CEO Ravi Perera says: "This is a critical year for SML Frontier, as we look forward to welcoming the new breed of Jaguar and Land Rover vehicles to Sri Lanka. The new generation of vehicles is set to change the luxury automotive market, and will propel the growth of the brands in Sri Lanka with over 100 confirmed orders to date for these vehicles. We aim to deliver an unprecedented level of customer experience, combined with unparalleled service to all our customers."

In the past year, SMLF increased its customer base significantly, unveiled its approved pre-owned arm, expanded its suite of customer offers, and increased its training for employees to align with the new generation of Jaguar and Land Rover vehicles coming into the Sri Lanka market. This continued company momentum is further strengthened with the all-inclusive state-of-the-art retail centrewhich will showcase the newest line-up of Jaguar and Land Rover Vehicles, along with an integrated service workshop with a dedicated electric and aluminium body shop.

All SMLF customers will continue to receive five-year warranty, five-year service, membership to the country's most elite club – The Jaguar & Land Rover Owners' Club – 24-hour road side assistance, a tailor-made approved pre-owned trade-in program, along with a dedicated team to service all their requirements.

Jaguar Land Rover, UK's largest automotive manufacturing business is built around two iconic British car brands: Land Rover, the world's leading manufacturer of premium all-terrain vehicles and Jaguar, one of the world's premier luxury sports saloon and sports car marques. Jaguar Land Rover aims to drive leadership in sustainable business practices in all activities across the world, which includes achieving Carbon Neutral Manufacturing and Zero Waste across operations by 2020.