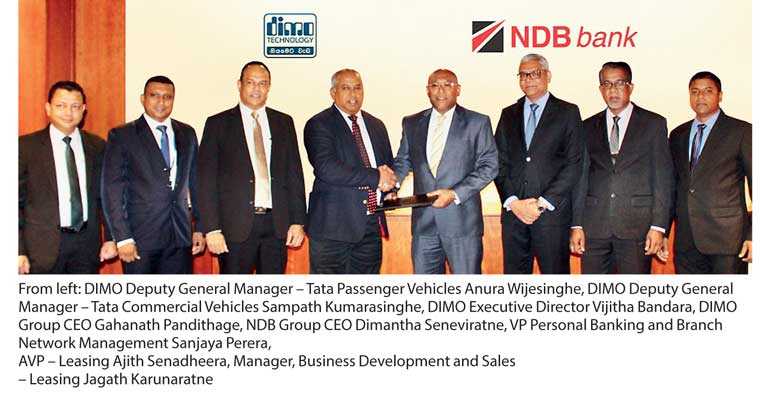 NDB Leasing recently tied up with Diesel & Motor Engineering PLC (DIMO), providing a great opportunity for NDB clients to take advantage of the trusted services of a leading vehicle dealer in Sri Lanka. The partnership of NDB and DIMO will offer exclusive benefits on a range of Tata Commercial Vehicles and Tata Passenger Vehicles.

With this joint offering, customers would enjoy a preferential interest rate from NDB Leasing bundled with added benefits such as competitive interest rates and flexible repayment plans that extend up to seven years.

NDB customers now enjoy customised repayment terms that match the individual repayment capacity along with discounted insurance premiums. NDB Leasing ensures that the facilities are processed within minimal documentation and promises the convenience of a quick financing option which will enable customers to drive away in the vehicle of their choice within just one day.

Through the partnership of NDB and DIMO, a wide variety of Tata Commercial and Passenger vehicles will be made available to NDB Leasing at concessionary prices. DIMO will facilitate many more special services and value additions along with the maximum warranty period for all vehicles offered through the promotion. Through NDB Leasing Tata passenger vehicles which include Tata Nano (the people's car) and Tata Nexon the five-seater cross-over which is the newest addition to the passenger range are available. The all new Tata Nexon is fitted with a 1.2 litre Turbo Petrol Engine, Automatic gear box and a Harmon Infotainment system.

Tata Commercial Vehicle Range includes a rich product portfolio starting from the mini trucks (Payload below 1 ton), Single cabs, Intermediate and Light Commercial Vehicles (Deck length vary from 10 feet to 20 feet), Heavy Commercial Vehicles, Buses (seating capacity vary from 29 to 54 seaters) to 40-footer containers haulers.

NDB extends its Leasing facilities to a wide range of customers via regional networks and strategic partnerships. NDB's 365-day Leasing desk available at the bank's branches island wide further enhances accessibility for its leasing services.

NDB has made considerable strides towards the Sri Lankan banking and finance sector, expanding and evolving a range of products and services accessible through its growing branch network. Further details on NDB's many products can be obtained from its 24 hour Call Special leasing hotline number, by calling 0112049300 or by visiting NDB Bank's website on www.ndbbank.com.

Tata Motors India and DIMO have a strong relationship spanning 57 years, and Tata commercial vehicles have played a vital role in the daily lives of many Sri Lankans. DIMO – Tata currently operates with 37 branches across the country to offer Tata Sales, Service and Genuine Spare Parts and provides 24-hour roadside assistance to Tata customers across Sri Lanka. For more information please contact 0112449711 or visit our website www.dimolanka.com/vehicles/tata.