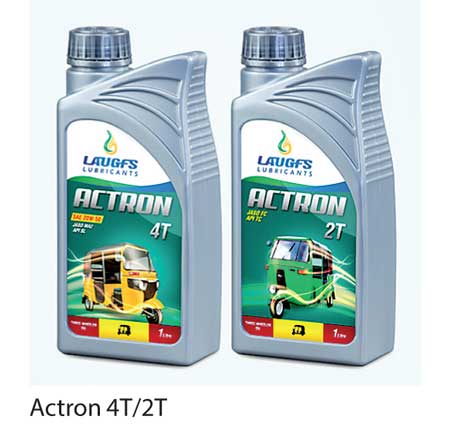 LAUGFS Lubricants, manufacturers of engine oil that suits the tropical environment of Sri Lanka, recently unveiled Actron brand Lubricant products designed specifically for two-stroke and four-stroke three-wheelers to further enhance engine performance through climate suitability.

At present, Actron is the only dedicated brand of engine oil specifically designed for three-wheeler engines. Actron 4T 20W-50 for four-stroke three-wheelers and Actron 2T for two-stroke three-wheelers offer enhanced engine performance and durability amongst a plethora of other advanced benefits.

Parallel to the introduction of the latest Lubricants to the market, LAUGFS Lubricants carried out 'Roda Thunata Sawiyak,' a series of educational programs to build awareness amongst three-wheeler drivers (four-stroke and two-stroke) about the products. The educational programs covered 50 cities in Colombo and suburbs while imparting valuable information to approximately 9,000 three-wheeler drivers. During the program LAUGFS Lubricants selected 15 winners through a raffle draw and presented a year's worth of Actron engine oil to each lucky winner at a ceremony held at the LAUGFS Head Office Auditorium.

"The latest Actron products were developed at our state-of-the-art manufacturing facilities in Malwatta following extensive research and development into climate suitability and efficiency. Actron is the only Sri Lankan brand of engine oil developed specifically for three-wheelers. As a truly Sri Lankan business, our research and development team understands the necessary requirements to produce high quality engine oil that suits Sri Lanka," commented LAUGFS Lubricants Chief Executive Officer Niroshan Pieries.

"I am truly grateful to LAUGFS Lubricants for taking the extra step of educating us about the new engine oils. Once I started using Actron engine oil, I was able to get longer mileage and there was a distinct reduction of smoke emanation. I depend on my three-wheeler to earn my sole livelihood and I believe that using high quality engine oil such as Actron will help me keep the vehicle in good condition for a longer period. Once again, I am thankful to LAUGFS Lubricants for the educational programme and for introducing this new product," one of the raffle draw winners, Sudesh Jayasingha, commented expressing his gratitude to LAUGFS Lubricants for the practical initiative of educating them and introducing these latest products.

LAUGFS Holdings is one of the largest diversified business conglomerates and a trusted name in Sri Lanka. Founded in 1995, LAUGFS has expanded across more than 20 industries, both local and overseas, establishing a strong presence as a leader and pioneer in the Power and Energy, Retail, Industrial, Services, Leisure, Logistics and Real Estate sectors. With over 4,000 employees and an annual turnover exceeding Rs.28 billion, LAUGFS continues to expand and empower millions as a trusted Sri Lankan brand.