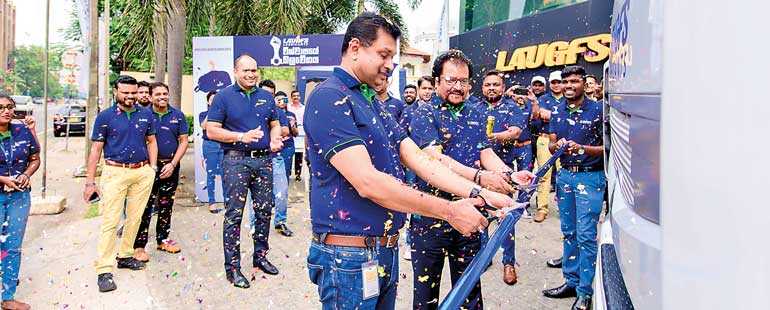 LAUGFS Lubricants - Wishwasaye Balawegaya Campaign
LAUGFS Lubricants, the pioneer Sri Lankan lubricant brand in the country, once again created history in the local lubricant industry with its unique town storming campaign 'Wishwasaye Balawegaya'.
LAUGFS Lubricants proudly launched this innovative campaign with its 40-foot Prime Mover truck which will be travelling around the nation throughout the month, symbolising the strength and trust that the brand provides its loyal customers.
Speaking on this innovative initiative, LAUGFS Lubricants Ltd. and LAUGFS Petroleum Ltd. Chief Executive Officer Niroshan J. Pieries said: "The 'Wishwasaye Balawegaya' campaign is the first of its kind in the local lubricant industry. The entire campaign and activation are designed to deliver our promise of strength and loyalty to our customers. This campaign, which kicked off on 7 February, aims to cover all major cities in the country within a period of one month. As the first and only Sri Lankan lubricant brand in the country, we are committed to powering our customers with a trusted solution that caters to all classes of motor vehicles and industries."

The 'Wishwasaye Balawegaya' campaign kicked off ceremoniously at the LAUGFS Group Head Office, with the participation of LAUGFS Holdings Ltd. Chairman W.K.H. Wegapitiya, LAUGFS Holdings Group Managing Director Thilak De Silva, and LAUGFS Lubricants and LAUGFS Petroleum Chief Executive Officer Pieries, as well as the members of the LAUGFS Lubricants team.
With the 40-foot Prime Mover truck travelling from city to city in all parts of the nation, the LAUGFS Lubricants team remains confident that this historic campaign will create a lasting impression in the hearts and minds of their customers.
LAUGFS Lubricants, a fully owned subsidiary of LAUGFS Holdings, is the first and only Sri Lankan lubricant brand amongst multinational players, offering lubricant solutions to every class of motor vehicle since its inception in 2008.
Following an in-depth research and analysis, LAUGFS Lubricants offers a premier product range. Manufactured to suit the tropical climate while providing extended mileage for vehicles, the LAUGFS Lubricants plant in the Malwatta BOI Zone, utilises cutting edge technology to blend engine oil locally in compliance with international industry standards, gaining the trust of all motorists.