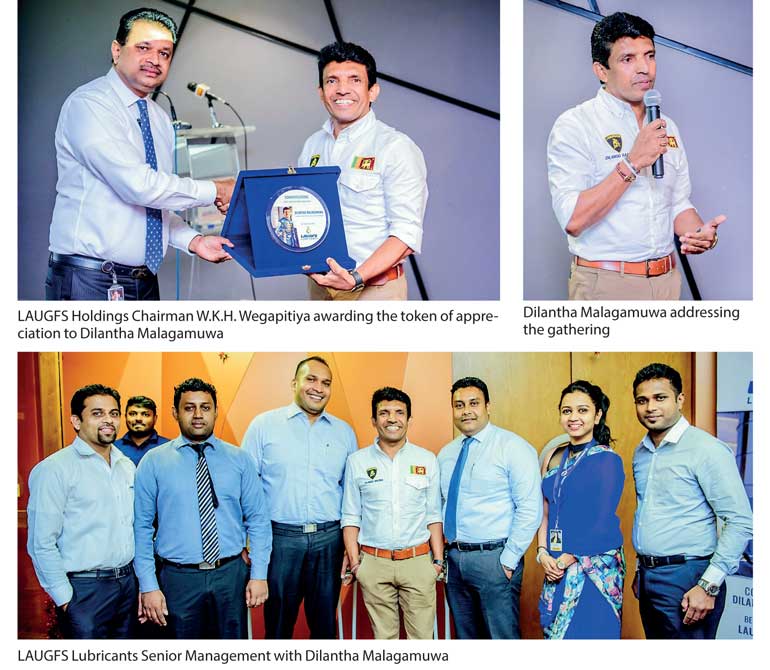 LAUGFS Lubricants celebrated the latest achievement of motor sporting champion and brand ambassador of LAUGFS Lubricants, Dilantha Malagamuwa, who clinched the second runners up position at the Lamborghini Super Trofeo World Finals 2017.

With exceptional motorists from the US, Europe and Asia competing in this race, Dilantha demonstrated his mastery by claiming his place amongst the winning trio. LAUGFS Group Chairman W.K.H. Wegapitiya graced the celebratory ceremony held at the LAUGFS Head Office to honour the Sri Lankan sporting hero. LAUGFS Lubricants has been supporting Dilantha throughout his sporting journey.

"This is a proud moment not only for us but also for all Sri Lankans. Supporting Dilantha Malagamuwa and following his brave and inspiring journey has been a truly rewarding experience to all of us at LAUGFS Lubricants. As a truly Sri Lankan company we will continue to accompany Dilantha on his journey to reach further heights," commented LAUGFS Lubricants Chief Executive Officer Niroshan Pieries.

LAUGFS Lubricants is a renowned and a well-respected brand amongst motor racing circles. Manufactured to suit the tropical climate following in depth research and analysis while strictly adhering to international standards, LAUGFS Lubricants has gained the trust of motor sporting stars as well as motorists across Sri Lanka.

Talking to media after his win, Dilantha voiced appreciation of his supporters in Sri Lanka saying, "I'm the happiest sportsman in the world with all these people behind me."

He further added, "This is a proud moment not only to me but also to all Sri Lankans. I would like to take this opportunity to remember and extend my gratitude to LAUGFS Lubricants for the unwavering support the company has provided me throughout the years. LAUGFS Lubricants is a local brand on par with international brands. Manufactured to suit our tropical climate, LAUGFS Lubricants not only reduces carbon emission, but also provides extended mileage. I would also like to voice my appreciation for the valuable contribution LAUGFS Eco Sri gives in terms of minimising air pollution through their emission monitoring services."

LAUGFS Lubricants remains the only Sri Lankan lubricant company to have launched its own brand of Lubricants. The company's product range is manufactured using Group II+ base oils and high quality additives.

LAUGFS is one of the largest diversified business conglomerates and a trusted name in Sri Lanka. Founded in 1995, LAUGFS today has expanded across 20 industries in Sri Lanka and overseas, establishing a strong presence as a leader and pioneer in the power and energy, retail, industrial, services, leisure, logistics and real estate sectors. With over 4,000 employees and an annual turnover exceeding Rs. 28 billion, LAUGFS continues to expand and empower millions as a trusted Sri Lankan brand.