By Tanya Goonewardena

Kundasale Auto Service Ltd. is inextricably bound to the vision of its founder Ravi L.W. Mediwake. Each of his milestones was a personal mission which became the objective to motivate his team at Kundasale Auto Service Ltd. which was achieved through dedicated process excellence.

An avid auto electrical engineer by profession, from his childhood to his teenage years, Mediwake was known for his natural tendency to dismantle and reassemble machines and automobiles. He was exposed to the science of mechanics under his patriarch, who was a mechanical engineer by profession and had his garage by the name of Dumbara Engineers in their hometown Kundasale.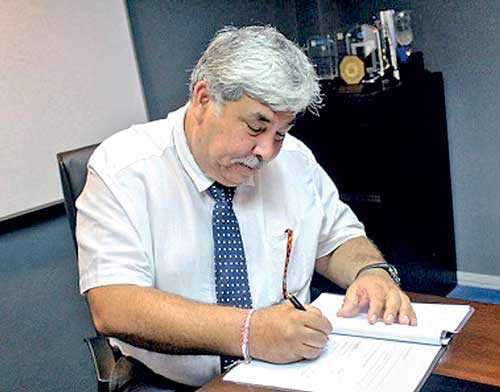 In addition, the Mediwake family owned and operated a cinema called Sampon where Mediwake met his mentor Ikbaal who encouraged his natural passion towards electrical and electronics. This passion of his was carried through to adulthood and it is now the profession that is his driving force at KAS. The trade involving film equipment was passed down the lineage to Mediwake's elder brother Kithsiri Mediwake who continued on the trail blazed by their father for more than three decades.

Being motor enthusiasts themselves, Palitha and Nadine Mediwake, encouraged their son to pursue his dream of fixing, assembling and creating machines, electronics and vehicles from a very young age. Palitha Mediwake among his accolades holds the title to converting a Peugeot 403 into a pioneering kerosene car at the time. Senior Mediwake, is also credited with designing and manufacturing film equipment for the cinema industry of Sri Lanka and was the proprietor of Sapon Film Service, which was a provider of film production equipment for hire. The generational passion has now been passed on to both junior Mathew and Marcus Mediwake who serve the KAS team.

Ravi Mediwake began this enterprising journey as a sound engineer cum engineer of electronics at World View International Foundation, where he was selected within a few years of being there, to be sent overseas for training in Japan at the prestigious JVC Company, which specialises in broadcasting equipment. Having worked for World View International Foundation up to 1986, he then left to England to study auto electrics. During this time Mediwake had the opportunity to work for Renault – UK, in the capacity of an auto electrician.

Having gained sufficient experience, he then started his first company named Gold Hawk Auto Electrical, London West 10. Not long after setting up of this enterprise, he gained the confidence of some high end automobile makers and carried out sub-contracts for such companies of the likes of Classic Rolls Royce's; where he undertook to take contracts in the nature of classic inventions.

Henceforth, he return from England to his hometown Kundasale, situated in the Hill Capital, Kandy Sri Lanka. Mediwake ventured into the automobile industry as a young entrepreneur by opening a modern concept garage in 1994 along with all the high tech equipment he used for his business when in England. He started this venture with a mere 15 employees who worked with him as one team.

KAS, having set its roots in the early 1990s with a team of 15 employees at the inception, then progressed into a fully-fledged business, equipped to carry out vehicle lubrication, mechanical, electrical and body shop services and began an island wide 24-hour recovery service with an enhanced staff strength of 70 team members.

Once established in the Central Province, KAS began expanding to North Central Province providing several access points for standardised operations for which KAS was quickly gaining momentum as a reliable, efficient and technically savvy service provider.

KAS celebrated being in the trade for a quarter of a century in 2018 with a team of 300.

In 2011, with a steadily improving base of technicians he then acquired a property on which he himself became the architect of yet another fully equipped workshop for mechanical, electrical, lubricant services and the accident collision repair centre spread over 36,000 square feet was established.

In 2012 the flagship workshop at the BOI Pallakale Zone was opened for business with a facility of 33,000 square feet making KAS the largest collision repair centre of its kind in Sri Lanka. To support and facilitate the ongoing operations and sustain its speed of delivery and momentum KAS then took charge of a spare parts yard in UK for the storage and exporting of spare parts to Sri Lanka in 2015. Parallel imports from Japan supplemented the stocks from UK to give the customer the choice of parts to support the requirement.

This, exponentially improved the capacity of the three workshop operations enabling repairs on demand, with minimal interruptions or delay. Meanwhile, KAS further branched out to making available access of genuine spare parts both brand new and second hand. Such spares were made available in stores within and around Kundasale, Kandy – BOI zone and Mihinthale. This skill set led to KAS acquiring dealership of Peugeot, Toyota, Nissan, Honda, Suzuki, Ford, Hyundai, KIA, Cherry QQ, Daihatsu, and Mahendra.

As a hobby, Mediwake is a collector of classic cars and a restorer of Land Rovers which he scouts for across the country and recovers from war torn terrains. At a Land Rover yard in Kundasale are found threadbare machines which he studiously restores with the passion of an obsessive perfectionist in to lean mean machines. Occasionally, he tries his hand at a few modifications that result in a standardised best practice to be followed by Land Rover enthusiasts.

The personal biography of Mediwake is based on a theme of trials and tribulations. The innovation of the Redbooster Servo Clutch Kit bears to testimony to this – Redbooster for Defenders transforms the hard clutch to a soft clutch which is a self-explanatory innovation. This innovation was a solution he engineered in 2009 to overcome a troublesome knee injury that prevented his Land Rover excursions cross country.

Redbooster is currently marketed worldwide by his brother Andrew Mediwake under the portfolio of a closely knit development team based in the hills of Sri Lanka with full experience of working with specialised types of vehicles. Andrew who himself is a Director, Product Designer and Entrepreneur, with over 15 years of experience in product design, manufacturing and retail, predominantly in the UK.

The future plans of Mediwake, once again propels KAS to aspire towards manufacturing a best of breed electric car since a deep understanding and appreciation for the hazards of greenhouse emissions, is shared by Mediwake who is a champion of transportation solutions powered by green technology.

Sri Lanka's strategic geographical positioning and favourable BOI benefits obtained makes KAS be in an optimum position to lead the way in smart transport using local technology, international expertise, social empowerment and economic upliftment.

As of date, KAS and its management team led by Mediwake are venturing into the possibility of establishing an electronic automobile manufacturing and assembling plant in Sri Lanka. He envisages a creation from white paper to highway which can be test marketed and proven as a cost effective, robust transportation solution which can be marketed from Sri Lanka to the world.

With the expertise of a global think tank, Mediwake who is poised to lobby support of the Government, Public and Private sectors by aligning the company with the environmental goals of Sri Lanka beyond 2020. KAS is well on its way to being a promoter of home grown green technology confirming that sustainability is the preferred choice for tomorrow's pit stop.