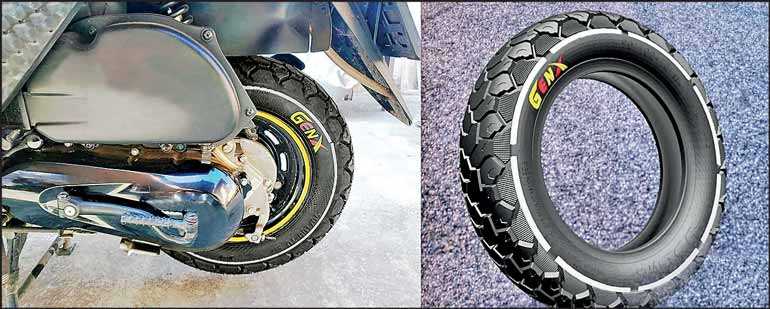 ---
For the first time in Sri Lanka, DSI Tyres, the revolutionary leader of the tyre world and one of the most trusted name for quality tyres, has introduced GenX, a superb tyre with a glowing neon strip to enhance the safety of motorcycle riders.

According to Police statistics, the country's road accident rate is increasing alarmingly with the highest number of accidents (2497 in 2017) and the highest number of deaths (1011 in 2017) recorded related to motor bikes.

GenX is specially manufactured with scientifically tested added features to enhance the road safety. The special tread style in GenX avoids aquaplaning during rainy times and consequently minimises the risk of skidding. The colour sticker gives an elegant look to GenX while the reflective strips gives a glowing neon effect at night which makes the bike distinguishable.

GenX can boast of the best durability that runs highest number of kilometres among the tyres available in the market. GenX has been initially introduced in 90/100x10 scooter tyre size and 100/90x17, 300x17 motorcycle tyre sizes to become the most attractive, durable and safe tyre ever built. DSI Tyres has earned a reputation for quality tyres and always strives to give innovative tyres to the market.