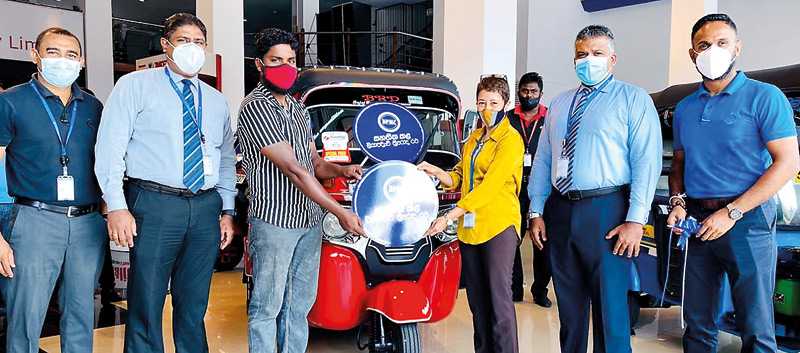 Given the shortage of brand new vehicles, the focus is now on registered vehicles. To cater to this requirement, Riyasakwala, the registered vehicle business of David Pieris Group, has established itself as the right place to buy, sell or exchange registered vehicles. Riyasakwala is able to cater to a diverse range of transportation needs, whether it be motorcycles, three wheelers or other vehicles and also to all brands of vehicles.

With its latest initiative of providing the best transportation solutions for the masses, Riyasakwala recently introduced DPMC certified three-wheelers. These three-wheelers have been subjected to strict inspection and valuation by David Pieris Motor Company experts and their sign off is something to be valued as they have been sole distributors in Sri Lanka for Bajaj products for over three decades.

David Pieris Automobiles Ltd. (the company behind the Riyasakwala business) General Manager Nalinda Kurukulasooriya explained as to why one should purchase a DPMC certified three-wheeler or any other vehicle from Riyasakwala.

"Most people who look at registered vehicles have a big doubt in their minds as to durability of the vehicle and whether they can get value for money. At Riyasakwala we have already cleared that doubt for customers because we do not offer vehicles that have been tampered with. Riyasakwala's value proposition is unique because vehicles are not refurbished in an ad hoc manner to make a quick sale. We refurbish in order for them to last for a considerable period of time. We add value to registered vehicles and are very transparent in that process. The finished product is of admirable quality and as a result we have proved that they are worthy of customers' trust."

Through their transparent and fair valuation process they ensure that vehicles are inspected and valued according to industry norms and standards. Riyasakwala has established itself in the market for its stringent valuation process and fair value for both sellers and buyers.

Delighting customers has always been Riyasakwala's priority. Its team of dedicated personnel are able to reach out to customers from diverse backgrounds and first understand their requirement in order to precisely cater to their needs.

Customers who purchase DPMC certified three-wheelers or any other vehicle from Riyasakwala have the benefit and convenience of obtaining leasing and insurance facilities under one roof through David Pieris Group's Assetline Leasing Company Ltd. and Assetline Insurance Brokers Ltd. located at Riyasakwala branches. Additionally, Riyasakwala is located at all DPMC showrooms situated island wide.

Riyasakwala has made picking up and sale of registered vehicles very convenient. Walking into the main outlet situated at No. 137, Pannipitiya Road, Battaramulla, customers can rest assured that they will receive well inspected, registered vehicles of quality at competitive rates.