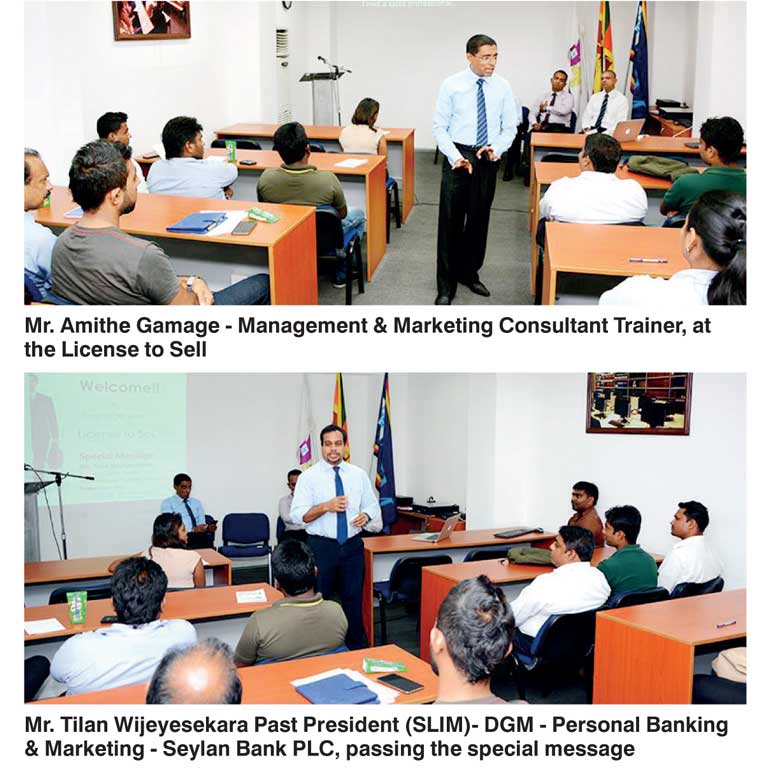 For the first time in the country, the training arm of Sri Lanka Institute of Marketing, SLIM Trainings, has launched a series of part time training series covering all areas of the sales field, with the aim of producing world class sales professionals.

Unlike conventional study courses, 'License to Sell' is a comprehensive and practical training program which focuses on productivity, multitasking and time management and also everything from modern tools of sales growth such as branding and social media, to traditional aspects such as personal grooming and customer relationships.

It has been designed by SLIM Trainings to spark a transformative change in sales people by identifying gaps in their knowledge and skills before directly addressing them, ultimately helping the participants to become undisputed masters of sales.

A resource panel of remarkable experience, recognition, qualifications and skill has been assembled for 'License to Sell' by SLIM Trainings, and the collective credentials of the resource persons are unmatched in the history of sales education in Sri Lanka. The objective of this is to ensure that the programme delivery is maintained at an international standard, which aligns with the wider objective of License to Sell, which is to produce world class sales professionals.

The panel includes highly respected and sought after trainers such as Prasanna Perera – Management and Marketing Consultant/Trainer; Amithe Gamage – Management and Marketing Consultant/Trainer; Tilan Wijeyesekara – DGM, Personal Banking and Marketing, Seylan Bank PLC; and Gamika De Silva, Head of Data – Bharti Airtel Lanka.

'License to Sell' was inaugurated on 24 June and the event was graced by SLIM Secretary Pradeep Edward, SLIM CEO/Executive Director Sanath Senananyaka, Management and Marketing Consultant/Trainer Amithe Gamage and SLIM Past President and Seylan Bank PLC DGM – Personal Banking and Marketing Tilan Wijeyesekara.

Esteemed companies such as Pan Asia Bank, Blue Waters, Nature's Secrets, Abans, Seylan Bank, Citizens Development Business Finance PLC, Sanasa Development Bank, Hameedia and Hayleys have already enrolled their sales staff for this program with the objective of rapidly developing and sharpening their respective sales teams.

SLIM President Ruwan Liyanagamage spoke about the importance of this programme for the development of sales in Sri Lanka.

"Sales professionals are the brand ambassadors of their respective companies and we are no longer satisfied with producing outstanding sales people for Sri Lanka. With this programme we will begin contributing sales people who can excel and shine in any market in any country around the world. The development of these brand ambassadors to that level will lead to greater international recognition and acceptance of the local companies they represent, helping the development of Sri Lanka as a whole."

The series of workshops aims to prepare students for the practical challenges of their careers and focuses on the importance of personal grooming and personal branding, creating a winning attitude, developing confidence, leveraging technology for better prospecting, using social media to improve sales, productivity, multitasking and time management, meeting the client and sales presentations skills, handling objections, closing techniques, building relationships and basic finance for sales.

SLIM Executive Director CEO Sanath Senanayake spoke about the differentiator of 'License to Sell' from other sales programs.

"This is the first training series for sales people in Sri Lanka which has been conducted in a workshop style and touched on the minutest things which contribute towards making a great sales person. We are confident that it will produce hundreds of world class sales people who strengthen Sri Lankan companies and brands, and elevate the local sales field."

Aimed at Junior Executives, Distributor Sales Representatives and new or aspiring sales people, 'License to Sell' employs modern methodology to improve their theoretical and practical knowledge of sales. The program consists of 11 modules which are delivered over a period of three months, with one module being covered each week to allow participants the opportunity to absorb knowledge systematically.

SLIM has been promoting marketing and sales excellence in Sri Lanka since 1970. It is a member of the National Chamber of Commerce of Sri Lanka (NCCSL) and the Federation of Chamber of Commerce and Industry of Sri Lanka (FCCISL). Internationally it is affiliated with ESOMAR, the Federation of Marketing Research Industries and is a member of the Asia Marketing Federation, which is affiliated to the World Marketing Association.