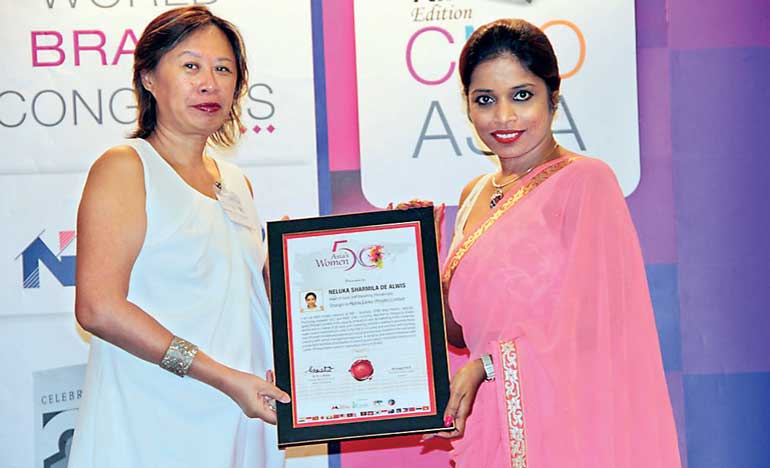 Neluka De Alwis – Head of Sales & Marketing (Residential) at Shangri-La Hotels, Lanka
Recognising the significant achievements of women in marketing, the seventh edition of the CMO Asia Awards held in Singapore recently cited Neluka De Alwis – Head of Sales and Marketing (Residential) at Shangri-La Hotels, Lanka Ltd., as one of the top 50 women leaders in Asia.

Neluka has been a dynamic and vibrant personality in the real estate industry in Sri Lanka, with a proven track record as a high achiever and trendsetter in marketing and sales. Renowned for her skills as a strong people's person, a team player and motivator, she counts over 20 years of extensive experience in local and overseas markets in the real estate industry with senior management exposure. In her current role at Shangri-La, Neluka holds responsibility for all sales and marketing activities relating to the promotion of super luxury condominium units to high net worth individuals in Sri Lanka and overseas.

Prior to joining Shangri-La, Neluka was a driving force in the property development sector in Sri Lanka, helping to spearhead many key projects in the luxury residential segment. As a director at Fairway Holdings, she held responsibility for the marketing and sales of landmark ventures such as Fairway SkyGardens, Fairmount Residencies and Fairway on The Waterfront. Neluka has also worked at Ceylinco Housing and Real Estate, and Royal Park Condominiums at the start of her long and successful career.

She is an active member of the Rotary Club of Mt Lavinia, and was a member of the Executive Committee of the Sri Lanka Institute of Marketing. Neluka was the Chairperson for SLIM Gamata Marketing 2011 and SLIM Nielson Peoples Awards in 2014.

Speaking of this recent accolade Neluka states, "I am truly honoured to receive this recognition and be named as one of the top 50 women leaders in Asia. It inspires me to reach higher and I hope to motivate others and be an example for those in the field – especially women, to stay focussed on their goals and believe in their ability to achieve success. The sky is the limit indeed."

Renowned for driving thought leadership and as a knowledge transfer agent for thousands of senior marketing professionals globally, the Chief Marketing Officer Council (CMO) has over 7000 members in over 110 countries. The members represent many of the most progressive multi-national brands, regional business powerhouses and emerging growth companies in established and developing nations. CMO Asia is similarly dedicated to high level knowledge exchange through leadership and networking amongst senior CMOs and brand decision makers across industry segments.

Presenting the seventh edition of the awards CMO Asia and World Brand Congress cited 50 of Asia's woman leaders at a gala event in August this year. The shortlist comprised individuals continuing an extraordinary scope of work and an outstanding record of achievements. The winners were chosen for their excellence in strategic perspective; future orientation; track record; compliance, integrity and ethics; ability to foster sustainability and marketing competencies.