The Digibrush duo – Infas Nias and Sarah Ramu triumphed at the Young Lions Competition held among the local advertising industry, earning the privilege to represent Sri Lanka at the Young Lions Competitions in Cannes, France this year. This year the competition saw a turnout of a total of 100 young professionals vying against likeminded colleagues for the prestige to represent their nation in the categories of Film, Print, Design, Cyber and Young Marketer.

Infas and Sarah participated under the 'film' category, where they were required to address a social concern and help change perceptions of viewers for the better, with the use of storytelling.

At the official press conference that disclosed the names of the 11 winners in their respective categories, the Sri Lankan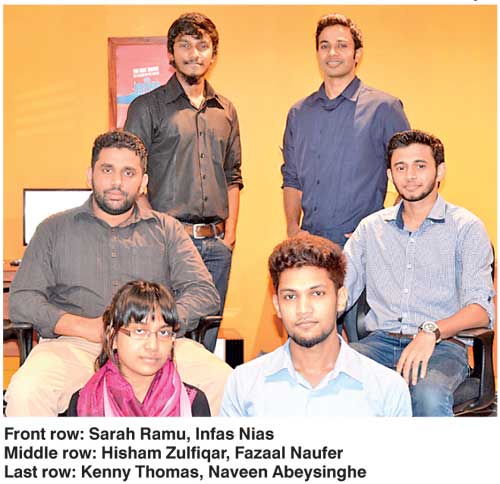 representative of the Cannes Lions International Festival of Creativity Ranil De Silva commented, "Digibrush is a relative newcomer to the industry, an organisation with a fresh outlook. They have a team competing in the Young Lions category. Similarly, a well-established, globally reputed and renowned multinational company, Nestlé will be having two young men competing for the Young Marketer title, which is great as franchises as well as newcomers get an opportunity to showcase their creativity."

Digibrush Productions was co-founded by Hisham Zulfiqar and Fazaal Naufer, two very driven individuals, with a latent opportunity and a great vision; together they commenced with a humble beginning in 2010. Today, Digibrush has evolved into a multi-faceted and resourceful agency that associates with numerous brands, both big and small. Digibrush offers a choice of services under three categories: 'Design and Creative Solutions', 'Social Media and Online Marketing' and 'Web Solutions'. Some notable brands under the Digibrush parasol include: LAUGFS Gas, EZY Corporation, Huawei, CEAT, Magic Ice Cream, Kist, EZY Racing, Crocodile and Gonuts with Donuts.

Sharing his views on the win, Co-founder Hisham Zulfiqar said that, "This is indeed a very proud moment for us, as Infas and Sarah have achieved such a feat in our very first attempt of taking part in a competition of this magnitude."

The Co- Founder of Digibrush commented, "The art of film making is crucial at an age where brands rely heavily on video content to deliver messages on digital media and this victory indicates that our video content creators are heading in the correct path." He also noted that, "The film category challenged its participants to showcase not only their creative persona but also a presence of mind and profound knowledge of the requirements of today's audience." He further added, "This victory is a testimony of the young talent Digibrush nurtures in the industry and of the type of agency we claim to be – a boutique agency that delivers big results."

The finals of the Cannes Young Lions Competition took place from 24 to 27 June, comprising of the presentation of the brief, the two-day competition period and the judging process. The competition saw the brightest young minds from over 80 countries battling it out for victory.