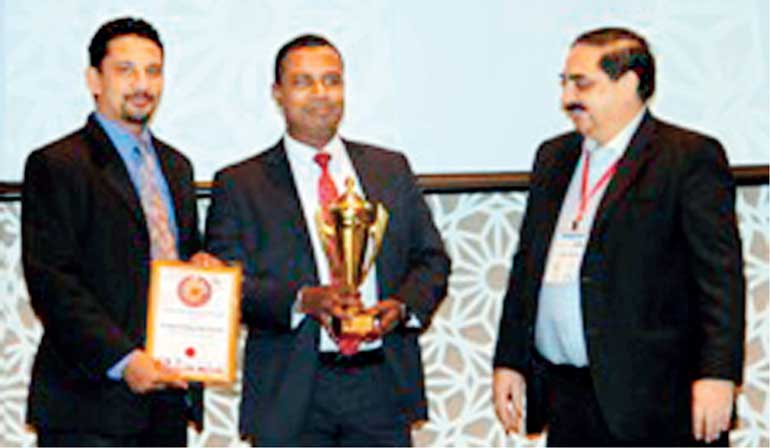 Alliance Finance Co. PLC (AFC), was honoured with the award of excellence for 'Marketing Campaign of the Year 2016' for 'AFC Bike Show – The World of Biking under One Roof' at the CMO Asia Awards 2016 for Excellence in Branding and Marketing held recently in the United Arab Emirates. The award ceremony heralded various marketing efforts and was hosted by the World Brand Congress.

Asia Awards for Branding and Marketing Excellence are adjudged by the Global Research Cell of the CMO Council, which identifies brands that perform within their respective markets based on market dominance, brand longevity, goodwill, customer loyalty and market acceptance. CMO (Chief Marketing Officer) Council is the only global network of executives specifically dedicated for high-level knowledge exchange, through leadership and personal relationships built amongst the senior corporate marketing leaders and brand decision-makers across a wide range of global industries. CMO Council Regional chapters and advisory boards are active in America, Europe, Asia-Pacific, Middle East, India and Africa.

Commenting on the awards, AFC Consultant/Director Marketing Dr. Ajith Medis said, "We are honoured and delighted to receive international recognition for our success in building widespread brand awareness amongst motorcycle enthusiasts across the country."

The event facilitated motor bike dealers and associates to exhibit and display their array of products and services under one roof, as per International standards resulting in greater effectiveness in reaching the target market than normal mass media promotion in a lower marketing spend.

Commenting on the company's achievement, Alliance Finance Co. Head of Marketing Dillon Thajudeen said: "AFC Bike Show – The World of Biking under One Roof' is a market first. Our BTL marketing strategies have always been committed to creating superior brand building and enhancement initiatives aimed at reinforcing on the importance of financing in the mind of the consumer, whilst achieving a cut through in the supersaturated advertising environment to establish one to one relationships with consumers.

"Pressured by the current economic slump and low confidence in consumer spending, today's marketers are faced with the greatest challenges ever, on how to create sustainable marketing strategies and campaigns that will maximise sales and increase the ROI on their marketing budgets. Our Marketing team at AFC is thrilled by this recognition of our achievement which reinforces our pursuit of innovative strategic marketing initiatives."

This event will no doubt be recognised as the most looked forward to "motorbike show" in the biking calendar.