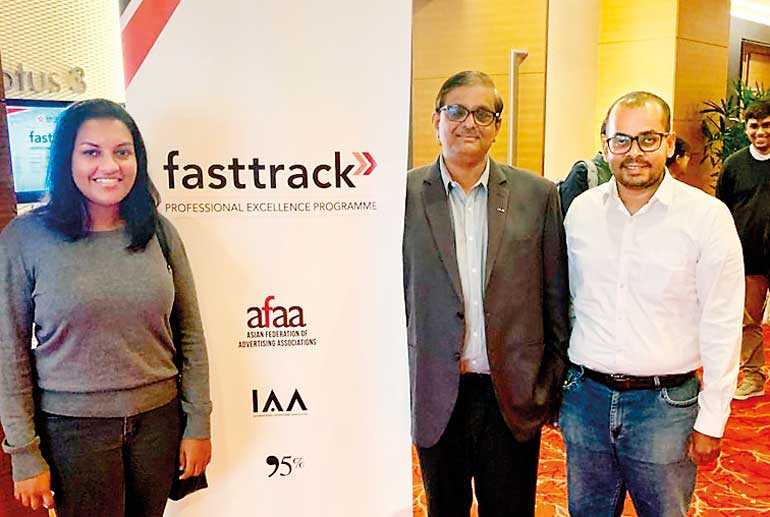 Shifters representing Fasttrack Malaysia, 2019
---
Two young professionals from Shift recently participated at FastTrack – a professional excellence leadership development program – held from 11 to 13 September in Kuala Lumpur, Malaysia.

The seventh edition of this three-day program was organised by The Asian Federation of Advertising Associations (AFAA) and the International Advertising Association (IAA) and saw young professionals from over 10 countries attending the event- including Malaysia, India, China, Taiwan, Nepal, Bangladesh, Sri Lanka and Indonesia.

As a digital-led, full-service communications agency that encompasses insight-driven creative strategy, Shift has always focused on grooming the next generation of industry talent and leaders. This was the second time that a team of Shifters attended FastTrack and participating in this edition were Asantha Kalyananda and Keshia Van Gramberg who brought back a wealth of knowledge that can contribute towards the betterment of the industry and their respective professions.

Commenting on Shift's focus on developing its pool of talent, Managing Director Chrishani Kotalawela said: "We encourage a strong 'learning culture' within the agency to keep our team focused and inspired. We have some of the industry's youngest and brightest thinkers who work on a diverse portfolio of brands, and by helping them explore their potential, we add value not only to Shift but also to the industry at large."

The Shift group has completed a decade in the industry, delivering strategically led, creatively trumped integrated communications, digital solutions and strategic media planning, and buying to a vast portfolio of clients. The group counts over 50 professionals working to better the brand communications landscape in Sri Lanka.