To represent Sri Lanka at ADFEST 2023 in Pattaya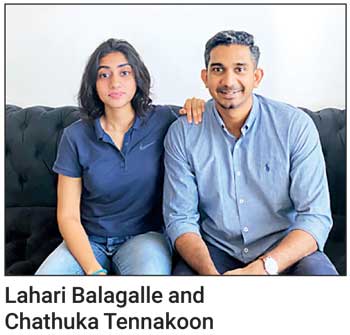 Two creative young minds from the Publicis Groupe Sri Lanka will represent Sri Lanka at the prestigious 'Young Lotus' creative competition to be held at ADFEST 2023 taking place in Pattaya from 23-25 March.

Chathuka Tennekoon and Lahari Balagalle recently won first place at the local edition of Young Lotus and will fly out to Pattaya later this month.

Young Lotus, a competition organised by 4As Sri Lanka, the local chapter of the Association of Accredited Advertising Agencies (4As) is hosted with the aim of reawakening creativity in the next generation of young minds in the industry. In this year's competition, 90 individuals from 45 teams competed for the honour of representing Sri Lanka at the Young Lotus competition at ADFEST 2023.

Sharing his thoughts on the victory, Publicis Groupe Sri Lanka Junior Designer Chathuka Tennekoon said: "I am elated to have won the local Young Lotus competition and proud to be representing Sri Lanka at Young Lotus in Pattaya. My career has had many curves but I strongly believe that every instance and experience has led me to where I need to be today. One must remember that learning never really ends and is a continuous process, so I am eagerly looking forward to taking part and hopefully winning many more competitions. Thank you to Publicis Groupe for this opportunity."

Describing her journey of creativity, Publicis Groupe Sri Lanka Senior Executive – Brand Planning Lahari Balagalle said: "I am very happy to win Young Lotus in Sri Lanka and grateful for the chance to participate and possibly win the Young Lotus competition at the prestigious ADFEST festival in Pattaya. I started a career in digital marketing at a young age and then changed my career path by taking on a job at Publicis Groupe. I love learning the art of strategic storytelling and it has been an incredible journey so far at Publicis Groupe."

Young Lotus at ADFEST is one of the industry's longest-running mentoring programs for ambitious young creative teams from the Asia Pacific, Middle East and North Africa regions. It is a two-and-a-half-day workshop that aims to recognise and encourage the rising stars in the region, allows them to further develop their skills and learn from the gurus of the industry, helps sharpen talents while competing under a relaxed atmosphere and also provides them the opportunity to earn a winning place on the ADFEST stage.

Founded in 1998, ADFEST is one of Asia's most celebrated regional annual creative festivals where the creative industry gathers to network, exchange ideas, and be inspired. This is the second time Publicis Groupe Sri Lanka is making waves at a regional advertising event. Recently Publicis Groupe Sri Lanka Senior Creative Director Athula Kathriarachchi was selected to join Spikes Asia 2023 as a member of one of the jury panels, becoming the only jury representative from Sri Lanka for this prestigious event.

Renowned as one world's largest communications group, the Publicis Groupe in Sri Lanka offers a diverse offering representing its major networks being MSLGROUP, Publicis Worldwide, Starcom Worldwide and Saatchi & Saatchi.