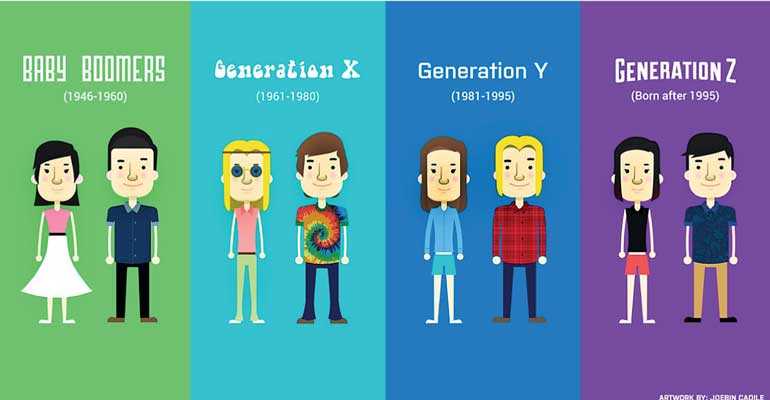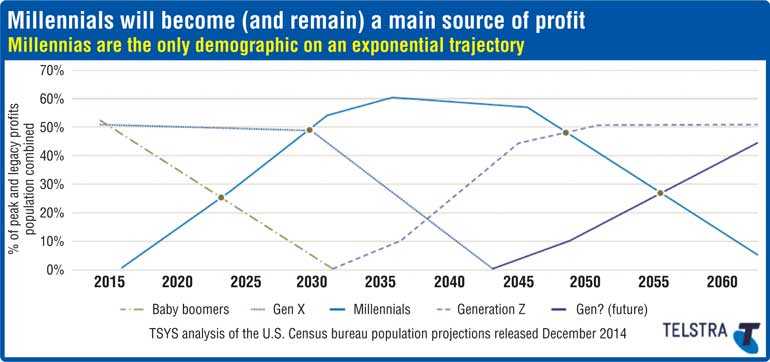 By Dhamitha Pathirana

Millennials are undoubtedly altering today's business models due to their profound impact on marketing and brands. More importantly the focus is towards the ASEAN Millennials due to the future potential. ASEAN countries is home to 26 million millennials. Close to 45% of Asia Pacific's population is millennials. It is believed that by 2020 about 60% of world's millennials will live in Asia and will account to $ 6 trillion in spending. Even though these figures are promising, organisations will have to re-create their strategies in both Consumer Branding and Employer Branding due to the diversity of this segment.

The above figure shows how in 2015 both Baby Boomers and Generation X have become the main source of profit for organisations and how the millennial's contribution steadily increases from 2015. In 2030 millennials will surpass the Generation X as they will be in the peak of their respective careers. So it's important that organisations grow along with these millennials to benefit from their growing earning potential.

The following article will attempt to understand some of the challenges organisations will face when targeting millennials.

One size does not

fit all millennials

Most of us do the mistake of formulating 'one size fits all strategy' for millennials without realising that differences exist among them. People born from 1981 to 1995 are considered Millennials or Generation Y. They will soon constitute more than 50% of the workforce. However it is clear that Millennials born in '80s are significantly different to Millennials born in '90s. Let's look at those differences in detail.

The technology used by the Millennials born in the '80s were different to the technologies used by the Millennials born in the '90s. Millennials born in the '80s saw the use of desktop computers, pagers, letters, telegrams, SMS and MMS to communicate with each other and VHS and CDs for entertainment. However Millennials born in the '90s saw iPods, laptops, different social media platforms and smart phones when they were growing up. Platforms such as YouTube and Netflix started gaining ground as popular entertainment methods. These developments show that Millennials born in the '90s are more digital natives than the Millennials born in the '80s.

This can be seen in their behaviour too. Millennials born in the '80s are more concerned about how they project themselves in social media and is very careful when sharing pictures or life events. They use an omni channel approach and reflect Research Online, Buy Offline (ROBO) behaviour. This segment is said to be more loyal towards brands than the generations after them.

Millennials born in the '90s are more authentic in their approach and would be open to share real time, unfiltered moments. They write reviews as much as they read them and is considered more impulsive when it comes to purchasing. The reason for impulsive buying can be the ability to resell the product if it doesn't fulfil the need through an online platform. This segment is less brand loyal and is looking out for deals and offers. This is one reason why organisations will have to be more authentic in their approach in marketing products.

Lending to Millennials

Lack of credit history is the biggest challenge when lending to Millennials. Millennials in ASEAN are often credit invisible due to low percentage of population having access to traditional banking services. Insufficient credit history results in poor credit scores. At the same time Millennials increasingly adopt to alternative financial services and place more importance on convenience and mobility. E-wallet platforms such as PAYTM in India and Go – Pay in Indonesia are growing in popularity in this region as alternative financial solutions. However by using alternative data banks can convert this credit invisible customers to credit visible. For an example on time bill payments at utilities and Telco companies, past performance with alternative lenders can be used by the banks to assess the borrower's track record. Mobile device's geo location can be used to see whether the address given in the loan application is accurate. Information from payment apps or e wallets will help in assessing the borrower's ability to repay a loan. If Banks start using this alternative data 20-30% of the unbanked population may become score able. But this would require a platform where all these alternative data providers will share information in a secure manner.

Millennials in

the workforce

The 2018 Deloitte Millennial Survey reveals some interesting points about the demands and expectations of the millennial workforce. According to the survey 75% of the Millennials say that businesses focus on their agendas rather than considering the wider society. Only 48% think that businesses operate in an ethical manner and only 47% think that their leaders are committed to helping improve society. 43% of the Millennials expect to leave the organisation within two years and 61% of Generation Z expect to leave their organisations within two years.

Millennials prefer to work organisations that has a bigger purpose than profits. This is proved in many surveys involving Millennials and Generation Z. This generation is aware of social issues in the world and their respective countries and expects business leaders to find solutions to them. Deloitte Millennial survey revealed that a high percentage of Millennials believe that business leaders and leaders of NGOs are making a positive impact to the society rather than religious leaders and political leaders. This is an opportunity for leaders to fill what younger workers see as a stark leadership void.

Millennials are disappointed that business leaders' priorities don't seem to align with their own – but where matches exist, the perception is that those companies are more successful, have more stimulating work environments and do a better job of developing talent. Companies have a clear and achievable opportunity to the extent they want to enhance their standing in the eyes of millennials and Gen Z. Them expect business leaders to take the lead in solving the world's problems, to shift organisations' motives from inordinately focusing on making profit to balancing social concerns, and to be more diverse, flexible, nurturing of and generous with its employees. Those organisations that are able to deliver likely will attract and retain the best millennial and Gen Z employees and potentially strengthen their prospects for long-term success.
(The article was inspired by the presentations made at the ASEAN Marketing Summit which was held in Indonesia on 6 September.)