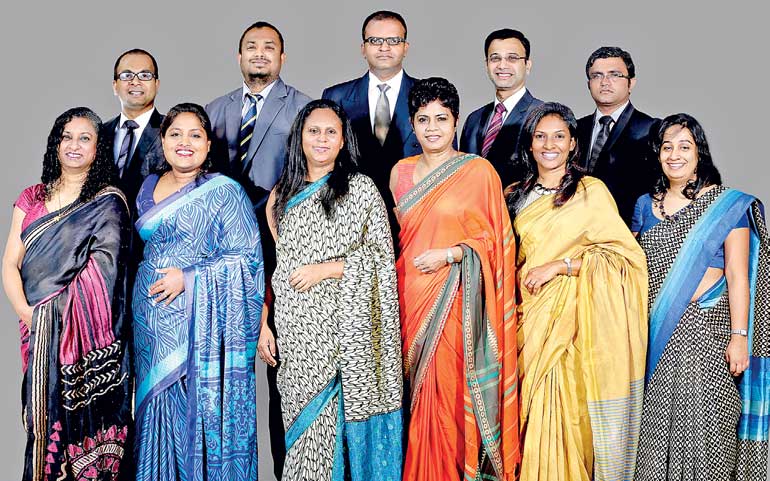 Front row: Therika Meyandeniya – Assistant Secretary (Nielsen Lanka), Chamika Fernando – Treasurer (Kantar LMRB), Roshani Fernando – Secretary (Quantum Consumer Solutions), Himalee Madurasinghe – President (Kantar LMRB), Hitheshi Almeida –Assistant Treasurer (Breakthrough Business Intelligence), Aysha Riffsy (Kantar TNS). Second row: Ruwan Algewatte (Quantum Consumer Solutions), Sakuntha Amarasekere(Kantar LMRB), Anura Karunaratne (Kantar TNS),Sharang Pant (Nielsen Lanka), Sampath Dissanayaka (Survey Research Lanka)
At the 5th Annual General Meeting of the Market Research Society of Sri Lanka (MRSSL) held recently, current MRSSL President Himalee Madurasinghe was re-elected for her third term.

Madurasinghe, in her acceptance speech, thanked the support of the society and the Executive Committee for a successful year 2017 that went by and outlined the plans for the coming year.

Madurasinghe provided a detailed account of activities conducted by the society in 2017that aimedatpromoting knowledge sharing within the marketing and research fraternity. She highlighted the collaboration between member agencies and global body ESOMAR for the effort of elevating the market research industry of Sri Lanka to greater heights.

Madurasinghe highlighted the changing nature of Market Research and the need for continuous evolvement of tools and techniques to deliver the best possible solutions of the highest quality to marketers.

While Madurasinghe as President and Roshani Fernando as Secretary continue for another term, the Executive Committee of 2018 also has new faces as the society aims to develop talent into larger roles.