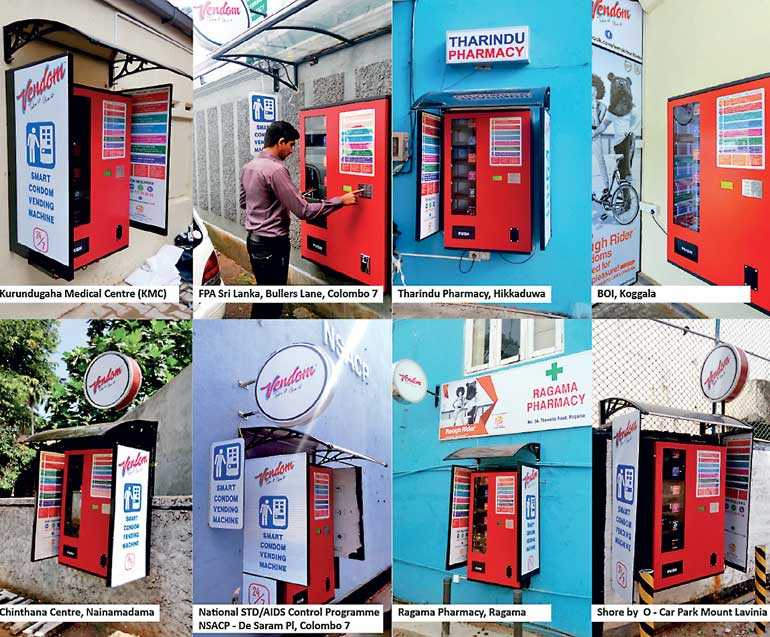 FPA Sri Lanka collaborates closely with the Ministry of Health on HIV prevention and elimination in Sri Lanka and access to condoms is seen as a major initiative that will promote safe sex and reduce the incidence of HIV/STDs and unwanted pregnancies in the country.

If you are not a fan of getting condoms from a pharmacy or a supermarket, the vending machine named Vendom is the smart answer for people to have more convenient and confidential access to condoms and protection. With an apt tagline "Take it, use it" the available products comprise a range of condoms and a lubricant which are Preethi, Preethi Super, Stamina, Lifestyles Rough Rider, Lifestyles Mixed Berry and Easy Glide Delay.

With a few simple steps one can now purchase a condom through the machine. To make things easier, the steps are depicted on the machines in all three languages. It is a cashless transfer that reduces the threat of vandalism. The customers will be charged a nominal price for their purchases and since it is a telephone transaction it will be quite confidential too as the bill produced will not indicate a description of the purchase. Dialog customers can make use of this service and in the future, other telecommunication services too will be connected to facilitate easy and quick purchase of items.

Currently eight machines are in operation and are located at the FPA Sri Lanka Head Office, BOI Koggala, Shore by O Car Park in Mount Lavinia, at the National STD/AIDS Control Programme (NSACP) at De Saram Place, Nainamadama Chinthana Centre, Ragama (Ragama Pharmacy), Hikkaduwa (Tharindu Pharmacy) and Elpitiya Kurundugaha Medical. This number will increase to 10 by the end of 2018.

FPA Sri Lanka emphasises that this initiative is not a profit-making venture and is in no way a promotion of sex, as most people feel, but promotion of health awareness, of safety, of access to contraceptives and prevention.