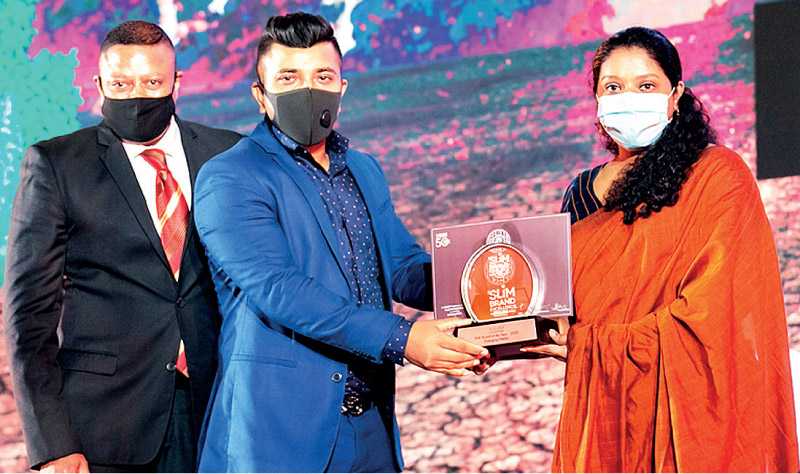 Founder and Managing Director Sanjeewa Rajapakshe and Co-Founder and Director Tyner Fernando receiving the award
---
Emerging Media Ltd. proved its excellence for the second consecutive year by achieving the Silver Award for the SME Local Brand of the Year at SLIM Brand Excellence Awards 2020. The most prestigious brand awards ceremony in Sri Lanka, was recently held at the BMICH to recognise the top outstanding players of the year.

Emerging Media who beat nearly 40 competitors last year to receive the Silver Award retained the same honours in 2020 competing with even larger number of reputed participants in the category. Emerging Media is the largest location-based digital display advertising network in Sri Lanka with 11 years of service. Over the last decade Emerging Media has quickly developed a strong reputation for its services and dedication to the local digital display industry. As the market leader in the industry the company has received brand recognition with CMO Sri Lanka's Outdoor Agency of the year 2020. Previous year Emerging Media was recognised with three coveted awards by CMO respectively, Brand Leadership Award 2019, CMO Asia's Innovation Excellence Award 2019 and Entrepreneur of the Year Award in the category of Advertising, Marketing and PR.

Emerging Media Founder/Managing Director Sanjeewa Rajapakshe stated, "We are honoured to receive this prestigious award as an acknowledgement of our hard work in building our brand to the present level. We are proud to be a part of the SLIM Brand Excellence Awards program dedicated to recognise brands."

Emerging Media offers online and offline digital platforms with the focus of reaching different target groups. One of the main mediums provided as digital display marketing solutions for the clients is the large Outdoor Digital LED Screens which promote top of the mind awareness and enhance brand presence. These Outdoor Digital LED Screens have been strategically placed in some of the prime locations around Colombo – such as Townhall, Liberty Cinema, Bambalapitiya Market, Arcade Independence Square, Dutch Hospital, Thurtsan, Nugegoda Junction.

Emerging Media is the pioneering company to innovate different digital advertising mediums based on location touch points. At present these touch points are a network of public and private buses through Bus TV, a network of salons through TV Salon, a network of hospitals through Medi TV and a network of gyms and fitness centres. They also have screens at the Fort Railway Station and at the World Trade Centre.