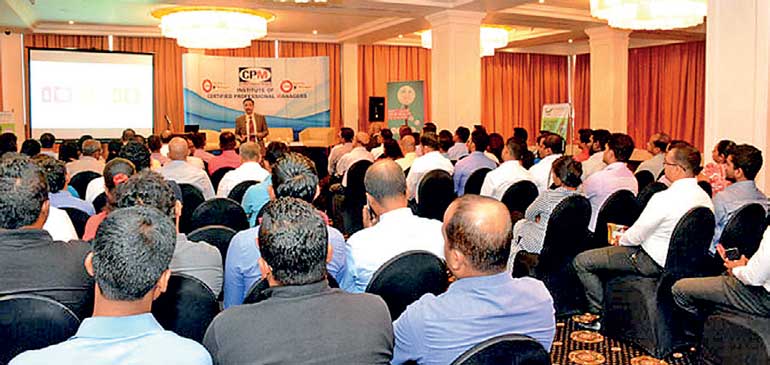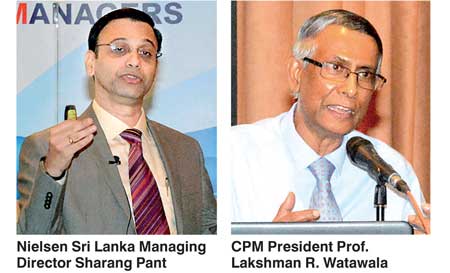 The Institute of Certified Professional Managers (CPM) recently kicked off the ninth presentation of 'Evening for Managers' (EFM) presentation series, titled 'Contemporary Marketing Foresight for Professional Managers' with its members including top personnel representing the corporate and public sectors at The Kingsbury, Colombo.

The highly interactive evening saw comprehensive detailed presentation done by Nielsen Sri Lanka Managing Director Sharang Pant. There were two learned panellists sharing their valuable thoughts during the panel discussion which was moderated by Educational Affairs and Human Resource Development professional Samantha Rathnayake.

The panellists Paramount Realty Co-Founder/CEO Dr. Nirmal De Silva and WNS Global Services Vice President/General Manager – Operations Chamila Cooray who have given their in-depth overview according to the theme.

Participants who were present from diverse sectors clarified the matters from the panel and the number of questions showed how much the audience was interested in what was presented.

The evening ended on a high note with the participants appreciating the institute's fresh initiative taken to hold such a presentation allowing them to have a vital experience.

CPM provides a professional qualification in management, by conducting educational programmes, providing practical experience in private and public sector entities, and establishing a link between the private and public sectors for the advancement of professional management. CPM provides three types of membership Associate, Member, and Fellow. Those with relevant qualifications and experience can apply for membership.

Membership in CPM is open to individuals seeking to develop their professional skills and pursue management careers in industrial, business, service sectors or the public sector. For further details, please contact 011 2590995 or www.cpmsrilanka.org.