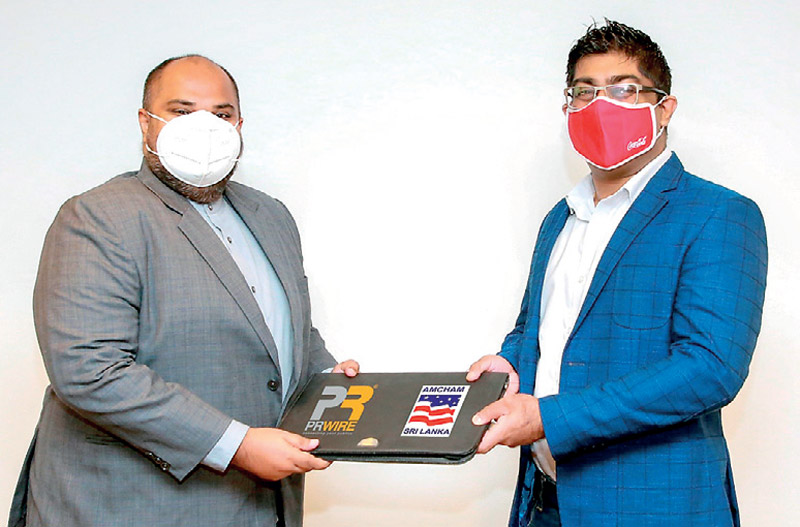 PR Wire Sri Lanka Chairman Ashan Kumar and AmCham Sri Lanka President Lakshan Madurasinghe at the signing of the MoU alongside other PR Wire Sri Lanka and AmCham Sri Lanka officials
---
The American Chamber of Commerce in Sri Lanka (AmCham Sri Lanka) recently signed a MoU with PR Wire Sri Lanka, the leading public relations consultancy in the country, designating PR Wire Sri Lanka as AmCham's local Strategic Communications Partner.

AmCham Sri Lanka is widely regarded as one of the most influential business chambers in the country. With a membership of over 350 companies ranging from blue-chips to multinationals, AmCham is considered to be the primary facilitator of trade, investment as well as business relations between Sri Lanka and the USA for almost 30 years.

PR Wire Sri Lanka is a fully fledged, homegrown strategic public relations consultancy, which, for over 10 years has dedicated itself to providing tailored solutions to its discerning clientele. PR Wire Sri Lanka has earned global recognition with multiple international public relations awards, and its portfolio of clients currently consists of many leading local and multinational blue-chips and corporate entities. PR Wire Sri Lanka is the founding member company of Wire Communication Consultancy Group which expanded its service offerings to the Maldives, New Zealand and Australia recently.

Speaking about the new partnership, AmCham Sri Lanka President Lakshan Madurasinghe said: "We are excited to embark on this new journey with PR Wire Sri Lanka. Our goal is to facilitate and increase trade and investment between Sri Lanka and the United States of America. And we believe partnering with a globally acclaimed Public Relations Consultancy can further elevate and strengthen our strategic objectives while ensuring our best services are provided to our esteemed members of AmCham Sri Lanka."

PR Wire Sri Lanka Chairman Ashan Kumar said: "We are pleased to have the opportunity to serve AmCham Sri Lanka. We are looking forward to working closely with AmCham to create impactful conversations which will further help our nation's trade and economy."

International trade and the facilitation of business are considered as crucial components in the development process of Sri Lanka's market economy. AmCham seeks to help both Sri Lanka and the United States realise their true potential in terms of their time-tested business and trade partnership, a robust strategy that assists the transformation of Sri Lanka's market economy to the cherished upper middle income global status. while facilitating more US enterprises in the country.