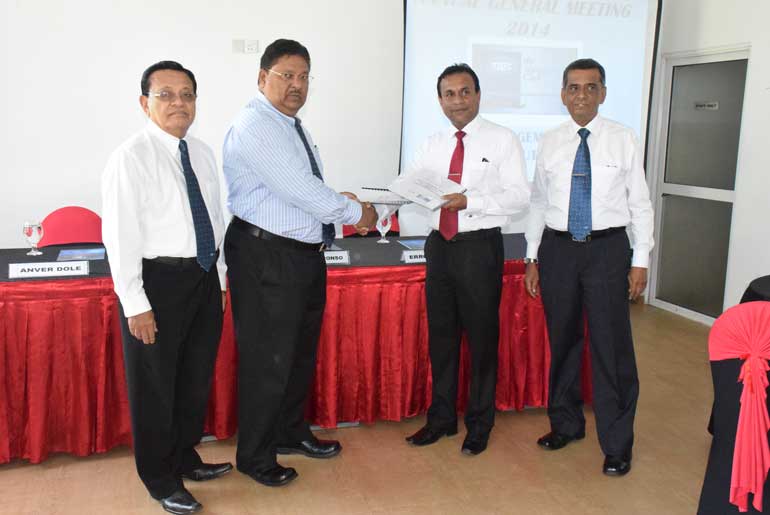 The Management Club – Kalutara held its fifth Annual General Meeting on Sunday, 21 June at the Ramadia Ran-Mal Holiday Resort in Moratuwa.

Anver Dole was unanimously elected Chairperson of TMC – Kalutara and the following office bearers were elected to the Executive Committee for the year 2015/2016.
Anver Dole - Chairperson
Sunil Dharmaratne - Immediate Past Chairperson
Errol Smith - Vice Chairperson
Dhammika Padmasiri - Hony. Secretary
Lester Aponso - Hony. Treasurer
Dr. Shirley Perera - Member
Dr. Upali Jayawardena - Member
Dr. Sarath Samarage - Member
G.S. Fernando - Member
The Memorandum of Understanding with Ramadia Ran Mal Holiday Resort in Moratuwa to operate as a reciprocal club of TMC – Kalutara was renewed for a further period and the exchange of the document also took place at this event.

The MOU was signed on behalf of TMC by the Chairman and Hony. Secretary of The Management Club – Kalutara, Sunil Dharmaratne and Errol Smith respectively, with the Chairman and Assistant General Manager (Rodesha Group), Rohan Fernando and Squadron Leader P.K. Mapalana respectively, signing on behalf of Ramadia Ran Mal Holiday Resort Ltd. Moratuwa.

The Ramadia Ran-Mal Holiday Resort has been fully refurbished and transformed into a unique Resort which provides numerous extended facilities which could be availed of, by TMC members.

The AGM was preceded by a presentation on 'Financial Modelling using Advanced Excel software' by Mahinda Piyaratne, Chartered Accountant. He presented an overview of the importance and advantages of Excel software which could be applied in financial modelling in order to provide the required financial information necessary to conduct a business effectively and efficiently.

Present at the AGM was the President of the Board of Management of the Management Club Nasser Majeed who spoke on the many facilities provided by TMC to its members and requested all members to make use of these facilities. He also commended the TMC – Kalutara for the exemplary manner in which it was performing and wished the new Chairperson and his team all the very best for an exciting and fruitful year ahead.

Dr. Dhammika Gunawardena who is incidentally the First Vice District Governor of Lions Clubs International – District 306 A 1, joined the Management Club – Kalutara and was presented his Membership Card by the Chairperson, Sunil Dharmaratne, at the AGM.

TMC – Kalutara is proud to have G.S. Fernando on its Executive Committee for the ensuring year. G.S. Fernando is the Chairman/Managing Director of Dhanusha Group of Companies which commenced its operation with Boat building and now has diversified into many other fields of business activity.

TMC invites professionals/managers to join the Management Club – Kalutara and enjoy its numerous facilities, benefits and advantages. For inquires please contact: Errol Smith, Vice Chairperson, TMC –Kalutara; e-mail: esmithsjak@sltnet.lk, tel: 0773 785780.