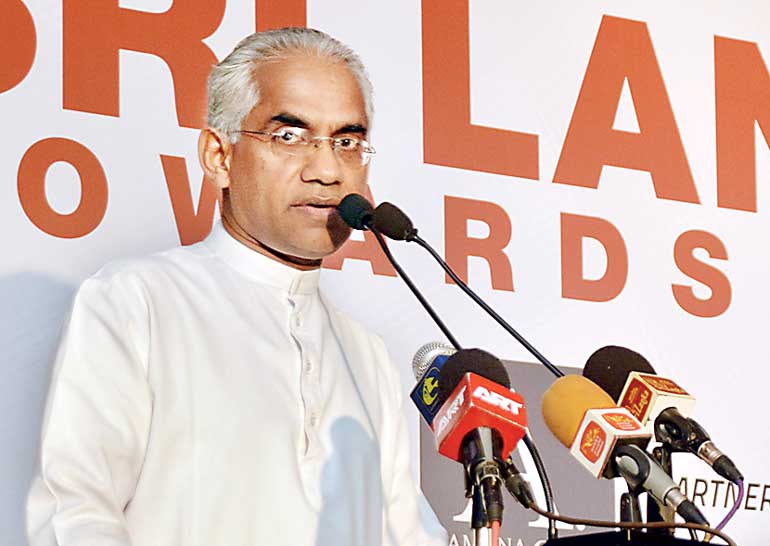 Deputy Minister of Highways Eran Wickramaratne
In contributing to the nation's effort in making a better Sri Lanka in the coming decade, Investment Advisory Amana Global recently hosted a prolific forum to initiate discussion and provoke idea generation. The short yet comprehensive forum, which was an evening of intellectual debate on the areas deserving priority for development for the county and its people, featured renowned thought leaders to share their respected views.

Being the first leadership dialogue forum hosted by Amana Global, it aimed at discussing perspectives and solutions on compelling issues in the economic and business landscape. Held under the theme 'Sri Lanka Towards 2020', the forum served as a platform in delivering in-depth strategies that would help shape a new Sri Lanka towards 2020.

The full house 'invite only' event had in its audience, high net-worth clients of Amana Global, institutional investors, corporates, public and private sector personalities, academics and other decision making individuals. With Deputy Minister of Highways Eran Wickramaratne delivering the keynote address, investment strategies and priority areas were pointed out.

Assuring that the recent changes in the economy and business environment are for the better, the minister stressed that the future economic model for the nation has to be one that drives investment. "We have an investment gap and the only way forwards is to attract investments to propel the economy," said Wickramaratne at the forum that featured Ernst & Young Senior Partner Arjuna Herath, Tax Accountant Ranel Wijesinghe as panellists, and economist Anushka Wijesinha as the session moderator.

Expressing keenness in creating a compelling environment while looking at competitive advantage, he opined that in the area of public service the nation is yet to make vast strides since at present the sector is poorly paid. As the current status in this arena has made it difficult for the sector to attract and retain its best talents, Wickramaratne emphasised the need to radically analyse and resolve issues prevailing in the social service.

He also warned that Sri Lanka is highly likely to run into a labour shortage in the coming decade and it is essential to look deep and address this issue. Questioning if the nation is ready and open to have foreign and cheaper labour coming into the market, he opined that one obvious way to get about this is to go up on the value chain.

"We need to focus on producing goods and services that are of high value that will soon enable us to move to the higher end. We will invest in soft infrastructure, particularly in education. The vision is to see that every child has a higher education. Every child needs to be given that opportunity. This is one of the advantages Sri Lanka will offer," he emphasised.

"The younger generation has bigger aspirations and we need to give opportunities for the private sector to grow. Sri Lanka in 2020 will be for the younger generation. They will take us there," concluded the Minister.