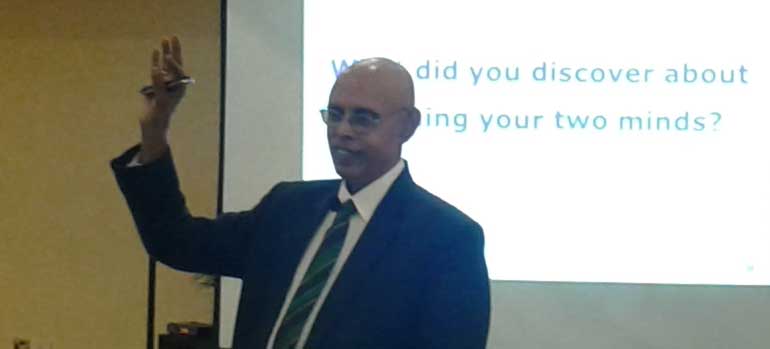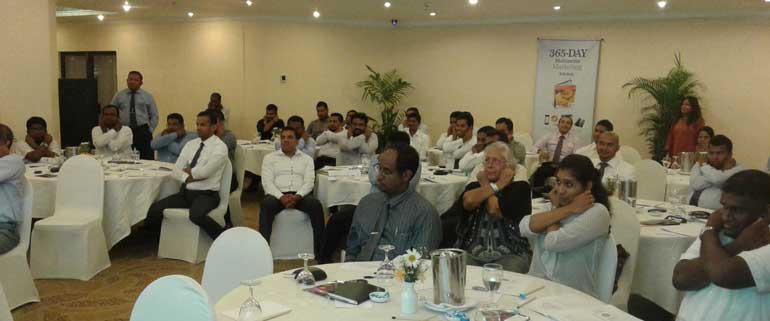 By Ninesh Amirthiah,

Chairman, TMC Colombo

In a one-day workshop organised by The Management Club, Dr. Asoka Jinadasa undertook the daunting task of showing a large number of senior executives how to unleash the vast inborn physical and mental power sleeping within them. He used innovative concepts and techniques drawn from diverse Western and Eastern sources to energise and empower participants, and eliminate the negative emotions and limiting beliefs that inhibit their thinking, behaviour, self-confidence and performance. Judging by the enthusiastic feedback about the effectiveness of the simple set of tools he gave each participant for self-empowerment, this has been one of the best programs organised by the TMC on management potential development.

I asked Dr. Jinadasa about the totally new concepts underlying his workshop, which he has presented at international conferences in Australia, Poland, Malaysia, India and Sri Lanka, and published in technical journals in USA, China, Australia, India and Sri Lanka.


What makes your workshop different?

Executive performance depends less on work-related hard skills and more on soft skills relating to their mindsets, attitudes, behaviours, creativity, confidence and personal energy. Most management training programs focus on improving hard skills comprising of work-related knowledge, skills, tools and processes. There is little focus on developing soft skills for enhancing their intuitive, emotional, attitudinal, behavioural and interpersonal competencies, which are essential for sustaining organisational success under increasingly volatile operating conditions. My workshop develops inborn soft skills simply by unleashing the vast human potential mostly sleeping within every person at every level.


What does unleashing human potential imply?

Our vast inborn abilities made us amazing learning machines in our early childhood. A child from even a poorest family can intuitively use a smart phone long before they learn to read. This ability stems from our inborn qualities such as non-judgemental awareness, relaxed mental states, using the analytical and creative parts of the brain in tandem, etc. We forget our vast inborn intuitive abilities as we grow older due to the restrictive influence of well-meaning parents and teachers, and the limiting beliefs we accumulate about our abilities mostly based on childhood experiences. However, our vast inborn human potential remains dormant within every person, which can be easily awakened by using simple techniques.


What practical methods do you use?

I use a simple but powerful mix of tools gathered from diverse sources including neuroscience, behavioural psychology, neuro-linguistic programming (NLP), Eastern martial art and Himalayan energy techniques. These produce a major shift in participants' mindsets, attitudes and behaviours by removing their negative emotions and beliefs that limit their motivation, learning ability and performance. My methods are based on the observation that every person at every level has almost limitless human potential mostly sleeping within them, which can be awakened for boosting performance and self-learning even complex subjects. For example, simple whole brain integration techniques can increase our brain power by five to ten times!


Are technical training programs obsolete?

Most executives say that they use very little of what they have learnt at training programs. Therefore, instead of technical training programs, what we need are empowerment programs. Prof. Sugatha Mitra has proved that even the poorest children can intuitively learn anything without a teacher from an Internet-connected roadside computer in a language they don't initially understand. Similarly, once adults are energised and empowered, they will have the confidence to learn new things on their own and have the confidence to apply them, if given an enabling organisational culture. Even work-related hard skills can be self-learnt using the vast resources available through the Internet, and developed during daily work.


Do you have a model for your new concepts?

Without a simple, easy to understand and easy to apply model, any new learning cannot be sustained. At a holistic level, all successful people and organisations appear to have some common attributes. I have synthesised these attributes into my Five Dimensional Model of Success, comprising of and symbolised by Heart (emotional intelligence), Mind (rational, intuitive and spiritual intelligence), Passion (energy that fuels high performance), Focus (reaching goals despite setbacks) and Health (immunity from stress and illness). All these five dimensions are easy to understand and develop using simple techniques The Five Dimensions of Success


How important is leadership?

Studies suggest that about 75% of organisations find their leadership development programs ineffective. Under centralised leadership, most organisations do not tap the knowledge, creativity and experience of the vast majority of their staff. This is because mainstream thinking assumes that a group depends on a leader to accomplish its objectives effectively. However, tribal traditions and new management thinking consider everyone to be equally important, with no single person supervising others in some hierarchically organised fashion. The motivation for self-improvement comes from everyone's collective commitment to sustaining organisational success. This culture promotes self-leadership that drives everyone to continually develop their vast inborn qualities in their areas of competency to manage risks and exploit opportunities.


Will self-leadership work in today's world?

The new concept of bottom-up self-leadership is growing in importance in today's turbulent conditions, where organisations increasingly rely on frontline employees' leadership for identifying and responding to threats and opportunities for sustaining performance. Developing the five dimensions of success in every employee at every level produces organisation-wide intrinsic leadership that can produce profitable growth even under difficult market conditions. Empowered employees can optimise the thousands of decisions made every day at every level in every organisation. They form the foundation of learning organisations that can rapidly respond to unexpected threats and exploit opportunities in their operating environments.


Don't participants forget what they learn?

To integrate new practices in participants' everyday lives, I give them a 21-day schedule that takes only about 20 minutes every day. These simple practises develop all five dimensions of success. For example, everyone can enjoy natural health by understanding that every sickness, disease and ailment can be traced to a mineral deficiency, and following the advice of Hippocrates (father of Western medicine) who recommended a change in eating habits to exclude all processed food and beverages, and include raw vegetables, fresh fruits, sprouts, greens and whole grains.

Moreover, one of the simplest ways to de-stress and develop mindfulness is to chew each mouthful at least 32 times, as advocated by Horace Fletcher in the late 1800s. This simple technique greatly helps digestion and calms the mind into the stress-free alpha state, which significantly improves learning, problem-solving and creativity.


Have your methods produced results?

With the 5-star hotel industry in Colombo becoming increasingly competitive, the Taj Samudra hotel needed novel strategies for sustaining its growth after reopening after refurbishment on 1 November 2013. Unlike conventional leadership training limited to a select few, over 600 Taj employees at semiskilled, skilled, supervisory and managerial levels collectively underwent the identical training for self-leadership development. After the company-wide self-leadership development program which resulted in the collective definition of a superior service culture, the service experience component in their guest satisfaction tracking index shot up by a record-breaking 40.4% within five months after reopening.

To give more executives and managers an opportunity to attend this innovative workshop to boost their individual and organisational performance, The Management Club will organise a repeat program in mid-July. For information and reservations, please send an email to [email protected]
(Dr. Asoka Jinadasa is a UK-qualified Chartered Engineer with a US doctorate in business strategy. He is the winner of the 2015 MTC Global Outstanding Corporate Award for Consulting and an internationally renowned thought-leader in human potential development. He can be contacted on [email protected])