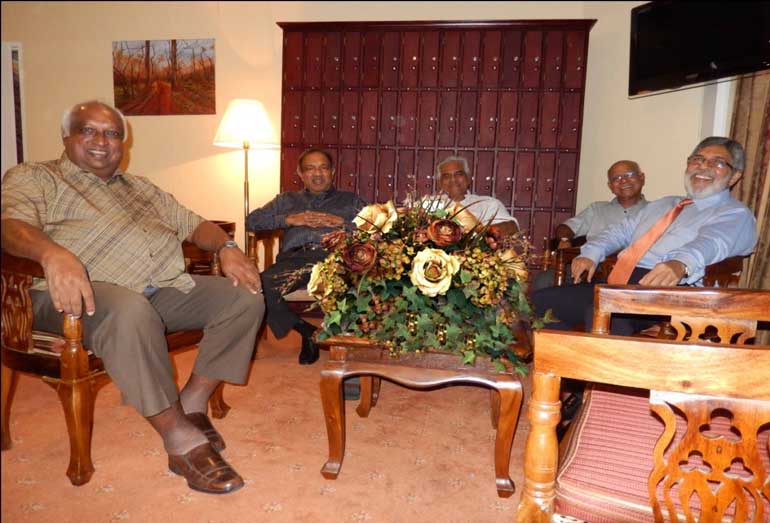 Seated from left : Ajith de Silva, Anil Weeratunga, Col. Faiz Ul Rahman, Sunil Deheragoda and Fayaz Saleem
Anil Weeratunga – Past President Chartered Management Institute UK (CMI) in 2002/2003 and Co-Founder of The Management Club (TMC), now domiciled in Perth Australia, made a brief visit to Sri Lanka on 14 June and took time off to meet with TMC President Emeritus Fayaz Saleem and a few founder members of CMI/TMC – Sunil Deheragoda, Col. Faiz Ur Rahman and Ajit De Silva at the TMC lounge at Galadari Hotel on 15 June at around 7:30 p.m., for a revival of the past, updating of the present and an insight to the future of TMC, followed by fellowship.


Anil was informed of the progress TMC has made and the activities carried out during the past few years. He was extremely pleased at the new TMC location suite 206 Galadari Hotel. Among other matters discussed were the progress of CMI branch activities and also the extension of TMC beyond Mount Lavinia to Kalutara and Negombo with sights set on places like Kandy and hopefully in other major cities.


Memories of the difficult beginnings of finding a suitable location, developing the rules and regulations, creating the first group of members was nostalgically brought to mind where ultimately, after many rounds of discussions it was decided to have Galle Face Hotel as the first 'home' of TMC and subsequently an extension at Mount Lavinia Hotel during the period 2002 and 2003 for which, it was possible to have the Director General/CEO of CMI at that time – Mary Chapman, grace the occasion. It was also recalled how Anil did an extensive e-search and found TMC Sri Lanka to be the first of its kind around the globe.


He was also briefed on the move from Galle Face Hotel to Excel World, a temporary arrangement for one year and then a giant step forward in June 2014, by the move to Galadari Hotel, thus bringing back a star class hotel environment with many benefits to members as done for the extensions too, which are all located in hotels of repute in those areas. Anil was also pleased to note that the TMC Newsletter which is now periodically published in the Daily Financial Times newspaper is also available on-line, through the efforts of the TMC Secretariat, who also ensures that Anil is kept in touch electronically, of all such matters.


He noted with appreciation the advent of younger members who are gradually 'filling in' the shoes of the seniors and ensuring continuity and notable progress and requested that his best wishes for the further development of TMC be conveyed to the BOM, Club officials and its members.