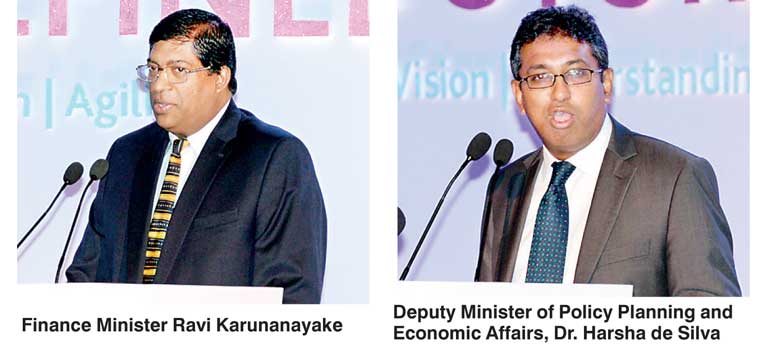 Our world, country, organisations and business leaders struggle to stay afloat and aligned in the volatile, uncertain, complex, and ambiguous nature of today's global business environment. The need for rapid change swirls around many of us, tipping us this way and that as we attempt to navigate a safe passage through it all. Exclusively themed 'Future Defined: Vision, Understanding, Conviction, Agility', the 38th Business Leaders Summit organised by CIMA Sri Lanka kicked off its annual flagship event to a record breaking attendance of more than 500 attendees.

The conference was inaugurated on16 June under the auspices of Deputy Minister of Policy Planning and Economic Affairs Dr. Harsha de Silva, the chief guest at the ceremony. During his opening speech Dr. Harsha outlined the cohesive role the national state must play in assuring the justice of individuals and enabling competitiveness in the next five years.

This year's keynote speaker Alexander Blass, American innovator and the CEO of the Innovation Institute of America Inc. delved on the experiential playground of the future of innovation, growth and entrepreneurship, exploring how one could imagine and create market-dominating products and services. The intellectual connect that took place on 17 June was a thought provoking series of technical sessions featuring a panel of high profile local and foreign experts who explored the summit's concepts to become more nimble leaders.

Chief Guest of the intellectual connect, Minister of Finance Ravi Karunanayake addressed the gathering on the importance of building a strong national government to harness Sri Lanka's huge potential which is crucial for economic development and stability. Regional Director for Middle East, South Asia and North Africa (MESANA), CIMA Bradley Emerson delivered the pitch report, focusing on the need of a VUCA world, one that can thrive to define the tomorrows of individuals, companies and nations.

Amongst the speakers featured, Islamic Banking and Finance Centre, UK Founder and Chief Executive Officer Akmal Hanuk, spoke on the history of global financial and business crises. Hanuk drew on the experience of corporate scandals to explore topical issues ranging from ethics to corporate governance, acknowledging that the understanding of fundamental questions of governance is still evolving, exhibiting that the corporate governance debate is far from over.

COMSATS Institute of Information Technology, Islamabad, Pakistan Dean Faculty of Business Administration Prof. Qaisar Abbas evaluated Sri Lanka's future production/trade strategies and highlighted the country has come a long way since the war of 2009 and had made a lot of progress, especially in the last few years, moving towards rebuilding its institutions and infrastructure.

To deepen understanding on the patterns of behaviour to identify personality makeup and leadership style of emerging leaders, Brand Consultant Michel Nugawela on the title 'Stereotype to Archetype' looked into the keys of matching personal strengths and competencies to executive roles and challenges by integrating each of the archetypes and making the 'unconscious conscious' – or becoming aware of and transforming the shadow energies.

Shedding light on the theme 'Fragility to Agility', Accenture India, Geographic Unit HR Lead, Managing Director – Human Resources, Manoj Biswas, elucidated on the dynamics of change causing fragility and enablers of agility, and addressed aspects of risk and opportunities presented by unprecedented levels of technical disruption. He specifically illustrated the reinventions in the HR space that should be expected for business change to become future ready.

CIMA Director Africa Region Samantha Louis presented the story of her country – South Africa. It was also a moment for reflection, to symbolise South Africa's position through Mandela, one of the few leaders who inspired confidence universally and steered South Africa from what seemed to be the brink of civil war. Samantha spoke passionately regarding her home country's future amid numerous national troubles – one that stood tall when it endured the trials of time.

Film maker, entrepreneur and a bestselling author, founder of Alma Mater, Reticular and Last Minute Films from India Varun Agarwal, shared a very different mantra to success – 'Don't think'. Giving practical insights and techniques through his very own personal story, Varun spoke mainly about young entrepreneurs and the unconventional routes to business success. Further, Varun urged the audience to focus on three principles for success, 'people, passion and vision'.

The summit also set the stage for two panel discussions on topics; 'Refining Ideologies – Defining Capabilities' and 'People Process – The Organisational Recipe' moderated by NDB Zephyr Partners Managing Director Senaka Kakiriwaragodage and CIMA Sri Lanka Board Deputy Chairman and National Insurance Trust Fund Chairman Manjula de Silva, respectively.

Janashakthi Insurance PLC was the Strategic Partner of the CIMA Business Leaders' Summit 2015. Also lending their support to make this event possible was Official Sponsor Citizens Development Bank (CDB).