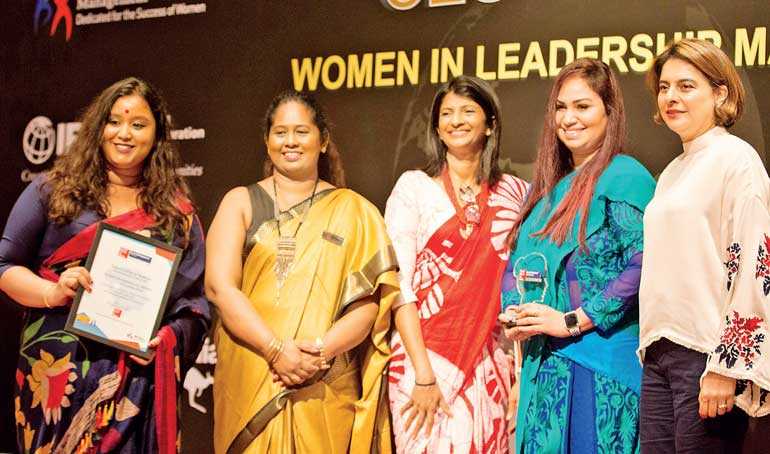 Best Workplaces for Women in Sri Lanka Awards 2019

By Aysha Maryam Cassim
Women are still largely underrepresented in leadership and spheres of influence in the corporate sector. However, in recent years, companies have become progressively inclined to understand the value of women leaders that has led them to consider gender diversity in their structures. To achieve the voluntary and mandatory targets in the future, companies will have to consider gender balance very seriously and accelerate the pace at which women join boards and assume great positions, strengthening economies and companies as a whole. But the problem of parallel realities for men and women persists.

A breakfast meeting followed by the CEO Forum: 'Women in Leadership Matter', organised by the International Finance Corporation (IFC) with Women in Management (WIM) in partnership with the Government of Australia, took place on 6 September at Hotel Shangri-La, Colombo. The event was part of the 'Professional and Career Women Awards 2019'.

The CEO forum tackled important questions related to women's pathways to leadership in the context of culture and power dynamics as well as how both women and men can overcome the gender parity at work. Through the insights and experiences from women in power, the discussion brought together actionable perspectives that discussed the social and economic consequences of persistent gender inequity and what cultural and structural changes are needed.

Moderated by Sri Lanka Institute of Directors (SLID) Senior Vice Chairman Faizal Salieh, the forum consisted of an esteemed group of panellists featuring: SheConsults Ltd. Founder and Director Aruni Rajakarier, John Keells Group Executive Vice President, Head of Legal Nadija Tambiah, Jetwing Travels Managing Director Shiromal Cooray, and Australian Department of Foreign Affairs and Trade (DFAT) Multilateral Policy Division Senior Specialist Gender Equality Branch Annemarie Reerink.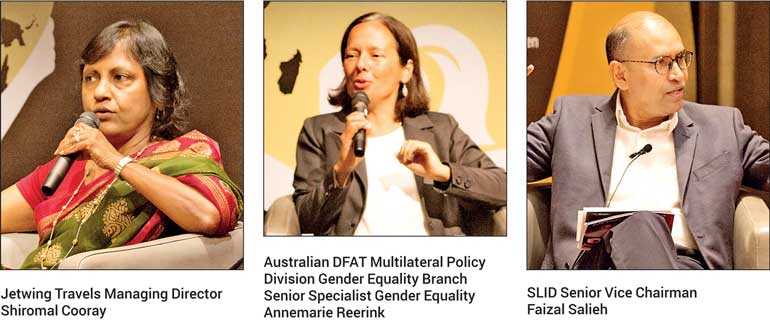 A new wave of change

In her welcome address, IFC Country Manager for Sri Lanka and Maldives Amena Arif expressed that the diverse group gathered for the occasion will contribute to the shared understanding of key issues, innovative approaches in addressing vital issues of gender equality and women's empowerment. Acknowledging the importance of the private sector in creating markets and opportunities that help carry the gender diversity agenda forward, she noted that the programs through which IFC – the largest global development institution focused exclusively on the private sector – has been supporting in gender diversity in Sri Lanka.

"As investors, we understand the significance of diverse boards in leadership and the inherent value that is created through it. That is why we have mainstreamed gender considerations into our investment intelligence. As of March 2019, IFC has invested $ 1.3 billion in Sri Lanka, mobilising more than 200 million from other institutions. Issues like board structure, diversity and governance provide confidence to the investors, mitigating any potential risks. IFC works in the areas of diversity in which gender is important. This aligns with our overall mission and multifaceted gender strategy that includes building the pipeline of qualified women leaders in Sri Lanka."
"We need more women in the C-Suite"

IFC Corporate Governance Officer Lopa Rahman delivered the keynote speech, stating that despite significant progress having been made, stronger, meaningful efforts and partnerships are needed to sustain and further develop this area. She expressed her confidence that dialogues like the CEO forum, would provide a platform for the proliferation and consolidation of ideas on topics which are very close to our hearts.

"McKinsey Global Institute's latest report states that companies can add value to the GDP if there was gender parity in economic participation. Sri Lanka can benefit from 14% growth. In 2018, IFC undertook a study which revealed that the companies with higher gender diversity performed 20-30% better on return on equities and assets. This is a very strong business case. In Sri Lanka, IFC's Corporate Governance for Women project promotes good corporate governance practices through activities such as training for women directors, programs for women-led smaller businesses, and research on the obstacles to increased gender parity in the boardroom."

Lopa further announced that progressive quotas and combined efforts would certainly accelerate the pace for having more women on board and senior management.

"The average board size of the companies in the Colombo Stock Exchange is 10. In addition to 140 women on board, we need 200 more women who are board-ready for companies to choose from. In the C suite, there are only two female CEOs of listed companies along with eight other women chairing company boards. The lack of sponsorship is keeping women away from advancing leadership within the management. This is disappointing for a country that has a good constituency of qualified women."
The panel discussion – overviews

During this session, panellists shared their own experiences and observations on how companies and countries are approaching gender diversity and inclusion in their development agenda. This included specific programmatic approaches, overall strategies for engagement or plans and ideas on how they might be addressing issues of gender disparity.

Women constitute 57% of Sri Lanka's population. Nevertheless, Sri Lanka has the 14th largest gender gap in labour force participation globally (WEF 2016). Even as the economy expanded, the female labour force participation (FLFP) in Sri Lanka declined from 41% in 2010 to 36% in 2016 men's participation remained above 75% during the same period (The World Bank, 2017).
Faizal Salieh: A World Bank report in 2017 mentions three contributory factors to gender gap; a culture with regards to the role of women and household responsibilities, employment preferences of women and the discrimination bias. We often talk about glass ceilings. But, have women contributed to setting the glass ceiling themselves?

Nadija Tambiah: I've grown up through a company that enabled me to progress. John Keels Holdings is a company that has recognised the need to retain women at work. The company has come a long way in keeping the housekeeping matters in order by offering equal pay, flexible hours, work from home facilities, maternity and paternity leave – yet, we still struggle. Sri Lanka does not have a huge amount have macro issues that stop executives from moving up the career ladder. But, out of the 80% of graduated women in Sri Lanka, only 30% of women are employed. This is a 50% wastage of intellectual minds. I would say that there lies an equal responsibility in the women and their will to get up there.

Aruni Rajakarier: If you want to be visible, opportunities are out there for women. The problem is that we are reluctant to have conversations with the people who are nearest and dearest to us. Women need to step out and reach out to their families, colleagues to share responsibilities. Underemployment is a prevalent issue in this country. While we have to respect a woman's personal choice, 'staying at home' simply because it is culturally expected is a serious issue. It is saddening to see girls getting a tertiary education solely to be on par with the standards that exist in the arranged marriage market.

I also see gender disparity is a generation issue. Women from the Next Gen are more individualistic and fast-paced. We need to understand where the world is moving and looking at the future and millennial aspirations. We want women to be 'women who want it all'.

Shiromal Cooray: Progress is an evolving process. As we evolve, we have ambitions and aspirations. 50 years ago, a girl child was not given many opportunities in life. We have to accept that women are wired differently from men. Our emotional and physical makeup is different, responsibilities are different. It is reasonable for some women to find themselves with a sense of guilt when she chooses her career over family. It is unfair to put the blame on women alone. Fortunately, Sri Lanka has a good support network that we can trust. More than the technical skills and expertise, what we need are soft skills that help us cope with the emotional guilt. With male sponsors at work and family, we can get around. If women have the will and strength and we can do it.

Annemarie Reerink: Women's aspirations are not always fulfilled due to the lack of confidence and support. But the wonderful thing that has come out is the mutual support amongst women that has grown into circles, enabling women to learn from each other. A lot comes down to an individual woman – her will power and enthusiasm that decide whether she wants to have career aspirations or not. In Australia, the government has given the push to trigger the conversation that has accelerated the pace of change. We have an initiative called Male Champions of Change, drawing male CEOs into the convo while making sure that gender disparity at work is a socio-economic issue. It is not a women's problem. The environs, the regulations, norms and values – everything needs to be changed.

Anusha from the audience agreed with Nadija stating that as much as there is male dominance, women need to condition themselves to think that they have our place in the society and world.

"In the affluent and educated segments of society, we see women giving up their careers once they get married. What is the message that you are sending out to your daughters? We need to stand up for ourselves. That is the first ceiling we have to shatter. Dignity, self-worth, empowerment, education is instilled in a woman through her upbringing. It is all set at home."
Faizal Salieh: What are the initiatives that companies have taken to facilitate gender diversity? From your exposure and experiences, how do you see Sri Lanka in terms of its commitment to the value proposition for diversity in companies?

Nadija: The good news is that there is a realisation that a working mother is the single most contributing factor to gender diversity. The Sri Lanka Institute of Directors (SLID) launched its pioneering initiative the Women Directors' (INED) Forum in keeping with its firm commitment to fostering good corporate governance and encouraging diversity thereby ensuring a female leadership in public and private corporate entities in Sri Lanka. Series of things are happening in Sri Lanka today that allows women to push themselves forward.

We have training programs that address the mental state of mind and the ways we can get women to aspire and condition them to envisage where they can be. The recent amendment to the Companies Act will require at least one women director in a board where there are more than three directors. The budget this year had an interesting session on state operational childcare centres. If that gets going, women can be retained in the workforce along with agile working, career breaks and many other facilities.

Aruni: There's been much progress in the domain of gender diversity since the 80s. While the professional sector is progressing at an accelerated pace, there seems to be less commitment in the corporate world to bridge the gender gap. If a woman is exceptionally talented, yes – she makes it to the top. But men can get through effortlessly.

Some initiatives are being rolled out to get more women on board. It is important to have tool kits, model policies, gender parity frameworks that help push the agenda forward. The Institute of Chartered Accountants of Sri Lanka (CA Sri Lanka) recently launched the 'Board Ready Female Members Directory' which promotes more female representation across boards in the corporate sector of Sri Lanka. The initiative aims to support 30% quota for women on company boards by 2020.

'Her Story' explores the lives of 21 heroines of Bangladesh, bringing to life tales of great ambition, courage and intelligence and paving the way for young girls to follow suit. Lopa Rahman commented on the importance of sharing such stories in educating and establishing role models for girls.

"At IFC we have developed something similar to Her Story called Women Trailblazers that features the inspirational journeys of 20 female business leaders, highlighting the positive impact of their leadership"
Faizal Salieh: In the corporate sector, there exists the typical tokenism and symbolism: where men proudly say that "we just got one woman on the board – we are fine" it stops at that. Going beyond that has become difficult. In most situations, the single woman finds herself struggling due to the lack of a support system. In male-dominated dynamics - she has to do much more to be recognised and prove her worth. Is this true?

Shiromal: I am quite happy to say that as the only woman on the board, I have my voice heard. Yes, men are promoted on potential but women have to prove themselves. But, we, women also have to get it out of our psyche that we are not capable. It is a mindset that restricts us from taking that next step ahead. Aspirations come within – you ought to want it on our own. To put up with a strong woman, a man needs to be emotionally strong.
Fazial Salieh: How does the mandating system work in Sri Lanka given the cultural constraints? Should one rush for mandating or should one do more than just mandating – should it be a multi-pronged attack on the issue?

Annemarie: We are confronted with questions like "How to get more women on board? Should it be based on quotas? Should women need to make it on their own? What solutions do we look forward as desirable? etc."

What we need to do is get our workforces and economies ready for the challenges in the next 30-40 years. Ideas, innovation and dynamism are important.

In Australia, we follow the bottom-up and top-down approach to bring about that change to engage both men and woman in media campaigns. Some Incentives are freely available to shift the receptions and correct the structural constraints that inhibit progress. While we focus on capacity building, we are working with male CEOs who wield power in the economies of the Asia Pacific region and get them enthused about this journey through Male Champions of Change. It's been a very interesting ride – very contextual to the economy and culture. We are exploring how culture contributes to the problem and solutions pertaining to gender disparity.

Nadija: Some professional women are uncomfortable with the idea of a mandated quota system. But over time, it has proven to be effective. One should not discount its benefits. Just like Lopa said, India has seen positive results after mandating quotas for women on board in 2013. Firms are now seeking out independent women because they see a value in bringing in different perspectives to the board.

The installation of Board Ready Female Members Directory is an important initiative by the Institute of Chartered Accountants of Sri Lanka (CA Sri Lanka) that is looking at mandating minimum percent of women directors on board in listed companies.

In his concluding remarks, Faizal Salieh summarised key takeaways from the forum, reminding that together with a network of male champions, a clear action plan is needed to promote gender equality and address gaps in the future.
Best Workplaces for Women in Sri Lanka 2019

Recognising the pivotal role that women play in labour force and the sheer proportion of capable women, Great Place to Work Sri Lanka launched a study early this year in partnership with Women in Management as the study partner work in SL and Daily FT as the publishing partner. The outcome culminated in the awards. The following 10 organisations were identified as the 'Best Workplaces for Women in Sri Lanka' for 2019. This list has been published in random order:

EWIS Colombo

Fashion Bug

99X

Bharti Airtel Lanka

Miami Exports

AIA insurance Lanka

Standard Chartered Bank Sri Lanka

Oxford College of Business

Certis Lanka Home Nursing & Swift Care

McLarens Holdings