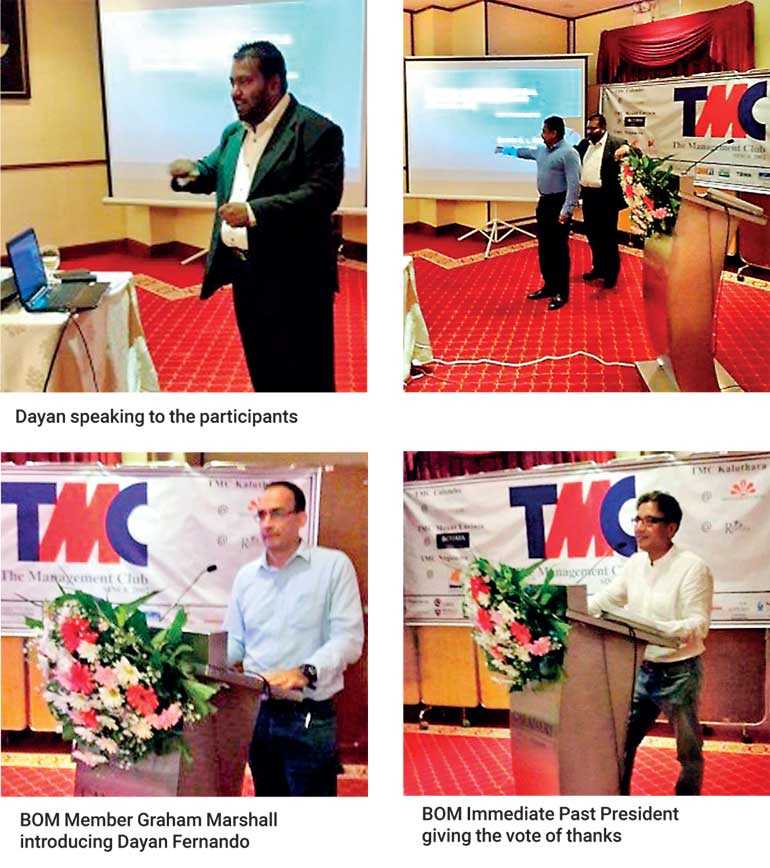 ---
Dayan Fernando – Life Member of TMC Colombo was the eloquent speaker at the November Members Speak. The audience was greeted to a pleasant evening with his very interesting and timely topic 'How to strike a balance' between your children and your life.

Dayan wedged his way into the hearts and minds of the audience with his humour and conveyed the important message on how parents should bond with their children from childhood and following is a synopsis of his interesting speech: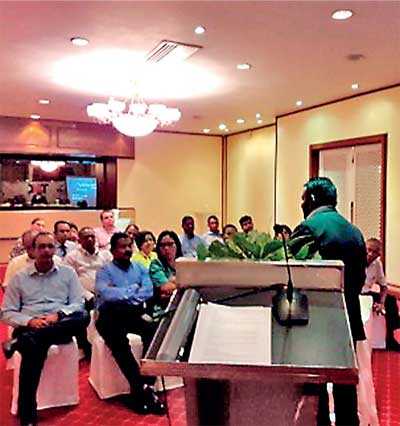 "By the time your child is ready to enter university or the workforce the cake has already been baked. It's the type of oven, the mix, the chef, the temperature and the ingredients that will decide if the cake is fit for consumption or not.

I have realised that some of the issues that our children at school have – the root cause is some issue at home.
1.Start from the beginning

Mothers form a bond with the child right from the womb while the father-child bond begins the moment the baby is born.

Both my children were born in Australia. At childbirth, one of the things as the father, I was requested to give was the first bath to the infant. This actually lays the foundation and gives importance for a strong bond between the father and child. Studies suggest that fathers who were involved with the child in the early days of a child, have greater bonding later in life. So fathers please chill with your kids. And openly tell them that you love them.
2.Prioritise your relationship with the child

Be available: Be responsive to your child's physical and emotional needs. It is important to be attentive, loving and seeing things from the child's perspective. Attend the sports meets, concerts and other activities.

Empathise: Help your children express their emotions. Be empathetic and compassionate and let them vent out their emotions. This may not be easy when you are a first-time parent, but a little practice helps. Seeing things from your child's perspective will help you understand the reasons for their cranky behaviour.

Just because your child gets cranky and starts shouting, please do 'not' become a child yourself and start shouting back! This is especially for the mothers.

Communication: Communication with your child has to be fair, firm, and friendly. Be clear about your expectations, what they can expect from you and any ground rules and consequences for not following them. That said, don't let the child push your buttons. As a parent, you need to handle it maturely and calmly.

Involve in their studies, friends, and activities: Parents who are involved in their child's life have strong parent-child relationships. Learn what's happening with them, understand their academics, and know their friends. Stay in regular touch with your child's teachers or volunteer at school if you have leisure time.

Listen actively: Listening passively while doing your work and responding with an occasional 'hmm' or 'OK' in between shows that you are not interested. When your child speaks to you, stop whatever it is that you are doing and listen to them. Give them your full attention, ask questions or reiterate what they said. Remember to maintain eye contact while talking to them.

Make family time important: Have meals together and talk about your day over dinner. Make it a regular practice to go to movies, events, or family outings.

Trust your child and be trustworthy: Trust is the foundation of every relationship. Your child should be able to rely on you and feel secure. Earn their trust by keeping up your promises, by giving them privacy and keeping their confidence. However, do not trust your child blindly, but have your checks in place.

Encourage your child: Children need constant encouragement and motivation to build their confidence and self-esteem. If you only criticise or correct them all the time, they will feel that their actions or opinions are not valued.

Respect your child: Treat your children as individuals and acknowledge their opinions and beliefs. While you are responsible to a certain extent in forming beliefs and opinions, other extraneous factors also contribute to it. Respect their views so that they respect you.
How to have a better balance in your life
Have some time on your own. Just to reflect on yesterday or the day that just passed by.
Just leave all your electronic devices and take a trip.
Do not compare yourself to others and get involved in the rat race.
Do not compare your child to another's and have unnecessary competition.
Understand that you may not be able to achieve everything you want.
Be grateful for every little thing you have.
Make sure that you find the important things in your life and prioritise accordingly.
Let go of unwanted luggage
Make sure you have that handful of friends that you can rely on at any time.
Do not take life too seriously.