The Entrepreneurs' Organisation (EO), a global organisation exclusively for entrepreneurs, hosted an event recently to inform and educate its members on 'Establishing [an] Abundance Culture'.

The event, conducted by Kareem Mareek, was held on 6 December 2019 at the Galle Face Hotel.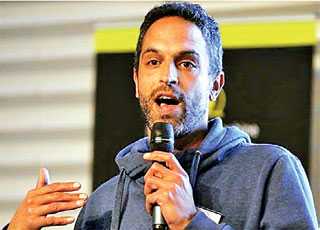 Kareem Mareek
Committed to helping entrepreneurs learn and grow their businesses through peer-to-peer learning and an invaluable network of experts sharing their insights, experiences and know-how, the event took a tactical approach on how to establish an 'Abundance Culture' in workplaces.

This involved a discussion around role theory, deep democracy and aspirations of paradigm shifts that people have.

The focus on an abundance culture deals with the idea of creating a shared world where people are inspired by, learn from and act with each other to progress – ultimately causing a chain reaction of inspiring more people to do the same. The aim of the program is based on the idea of growing together and thus growing better.

Karim Mareek is a creative trainer-facilitator, entrepreneurial coach and innovator who conducts learning programs for entrepreneurs. He is also a consultant for strategy and designs challenges for corporate leadership teams.

Over the last 20 years, Karim has accumulated knowledge and experience in sustainability, engagement and learning, which he believes are the three fundamental pillars of work. He is passionate about the collective journey of people and how it shapes and influences their individual journey, which was the focus of the program. Having worked with artists, executives, children, social change agents, entrepreneurs, politicians from five continents and over 100 nationalities, Karim is known for his expertise in innovation, crowd sourcing and movement building.

The Sri Lankan chapter of EO comprises 35 entrepreneurs within its exclusive membership representing a diverse range of industries. The brief presence of the organisation in Sri Lanka has already proved to be an indispensable resource and knowledge pool for its members.