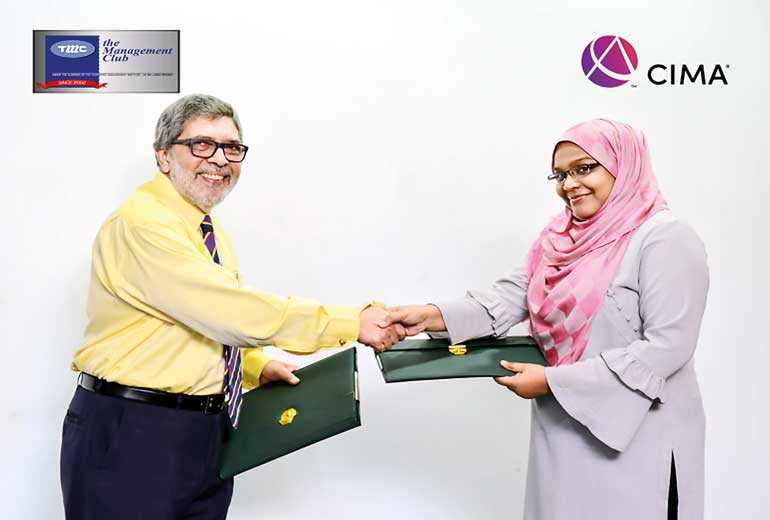 CIMA Sri Lanka Country Manager Zahara Ansary, ACMA, CGMA and The Management Club President Emeritus Fayaz Saleem
---
CIMA Sri Lanka and The Management Club (TMC) signed a Memorandum of Understanding (MoU) recently. The exchanging of the MOU took place on 18 December 2018 at the CIMA Sri Lanka premises between The Management Club President Emeritus Fayaz Saleem and CIMA Sri Lanka Country Manager Zahara Ansary, ACMA, CGMA.

Speaking of the partnership, Ansary commented, "We are delighted to partner and support TMC, the pioneer organisation in enhancing management practices and skills in Sri Lanka. We hope to add value and empower the members of TMC in line with our vision of changing the scope of business worldwide. We will support to develop professionals via our competency framework which encompasses technical, business, leadership and people skills. CIMA is in its Centenary Year and hence this partnership is also for providing benefits to our CIMA members whilst also enabling CIMA to promote our thought leadership and research findings at selected TMC events, such as our Future of Finance research findings."

The Chartered Institute of Management Accountants (CIMA), founded in 1919, is the world's leading and largest professional body of management accountants, with members and students operating in 184 countries, working at the heart of business. CIMA members and students work in industry, commerce, and the public sector and not-for-profit organisations. CIMA works closely with employers and sponsors leading-edge research, constantly updating its qualification, professional experience requirements and continuing professional development to ensure it remains the employers' choice when recruiting financially-trained business leaders. In 2017, CIMA together with the American Institute of CPAs (AICPA) created the Association of International Certified Professional Accountants (the Association) which is the most influential body of professional accountants in the world. With broad reach, rigor and resources, the Association advances the reputation, employability and quality of CPAs, CGMAs and accounting and finance professionals globally.