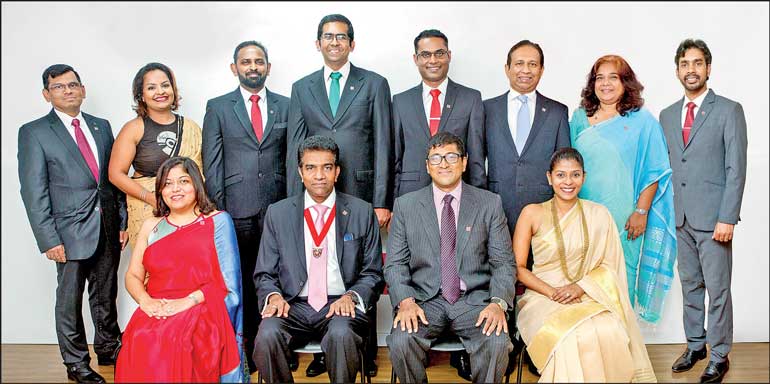 Seated from left: ACCA Head of South Asia Cluster Nilusha Ranasinghe, ACCA Sri Lanka Member Network Panel Chairman Nandika Buddhipala, ACCA Sri Lanka Member Network Panel Vice Chairman Jehan Perinpanayagam, and ACCA Sri Lanka Business Development Manager Ruchera Jayawardena Peries

Standing from left: Adrian Perera, Rathnakala Kumaragurunathan, Prasanna Balachandran, Shehan Fernando, Dasun Mendis, Channa De Silva, Nisreen Rehmanjee and Rakitha Jayatunge
---
ACCA Sri Lanka appointed Commercial Bank of Ceylon PLC CFO Nandika Buddhipala as the Chairman of the Member Network Panel of ACCA Sri Lanka for the year 2021/2022 at the ACCA Annual General Meeting. Infomate Ltd. CEO Jehan Perinpanayagam was selected as the Vice Chairman.

Buddhipala counts over 25 years' experience in the banking, telecommunication, and audit and assurance industries. He has a BSc in Business Administration and Post Graduate Diploma in Management from the University of Sri Jayewardenepura, and holds MBA, MA in Financial Economics, and MSc in Financial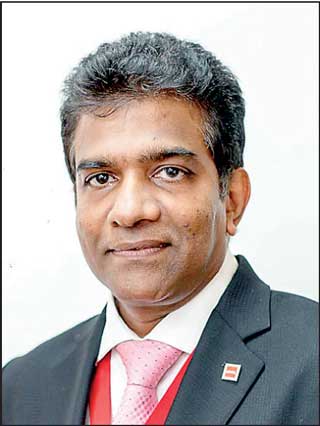 ACCA Sri Lanka Member Network Panel Chairman Nandika Buddhipala


Mathematics from the University of Colombo.

Whilst being a fellow member of the Association of Chartered Certified Accountants (FCCA), he is also a member of the Chartered Institute for Securities & Investment (MCISI) of UK, a fellow member of the Institute of Chartered Accountants (FCA), Institute of Certified Management Accountants (FCMA) of Sri Lanka and the Institute of Certified Management Accountants (CMA) of Australia, a Senior Associate of Financial Services Institute (SA FIN) of Australia, and a member of the Institute of Management Accountants (IMA) of USA.

He is the President of the National Chamber of Commerce of Sri Lanka, member of the ACCA Global Education Forum, external faculty member of the Faculty of Management Studies and Commerce of Sri Jayewardenepura University, Governing Council Member of the National Institute of Business Management, member of the Corporate Advisory Board of Sri Lanka Finance Association and a member of the Advisory Council of the Colombo School of Business Management.

The rest of the committee for the year 2021/2022 comprises of John Keells Holdings PLC Executive Vice President Nisreen Rehmanjee, Lanka Rating Ltd. CEO Adrian Perera, Sarvodaya Development Finance Ltd. Chairman Channa De Silva, Acuity Knowledge Partners Associate Director Rathnakala Kumaragurunathan, Hemas Holdings PLC Chief Risk and Control Officer Prasenna Balachandran, Ceylon Biscuits Ltd. Group General Manager Finance – Food Cluster Dasun Mendis, Alpha Business School Ltd. CEO/Senior Lecturer Shehan Fernando, and Attorney-at-Law, Icon Business School Director Rakitha Jayatunge.

The event also saw ACCA Sri Lanka celebrating the many successes reaped over the past one year in spite of the pandemic. These included organising over 50 webinars on topics relevant to the current business context for students and members as well as roundtable discussions held on 'Diversity & Inclusion', climate action and Generation Z, future skills and the future of work.

ACCA Sri Lanka partnered with SLID, ICC, FITIS, CFA, SLASSCOM, PWC Academy, SLTC and many other institutes within the year to rollout many activities to develop the finance profession in Sri Lanka. In addition, ACCA partnered with SLASSCOM for the second time, to launch a report on the BPM industry.

ACCA also shared over 100 job opportunities with members along with internship opportunities shared with future members to support their Personal Experience Requirement and improve their employability skills. A global mentoring program was launched to support members develop their profiles and network with other members globally.

A proud moment for ACCA Sri Lanka was in celebrating the achievements of ACCA member Rathnakala Kumaragurunathan. Rathnakala was chosen as the winner for the National Advocacy award for Sri Lanka in 2020. She was then chosen as the Regional Advocate of the year 2020 for the MESA region.

With the need to continuously upgrade one's skills to remain relevant at the workplace that has undergone a dramatic push during this pandemic, ACCA as a forward-thinking professional body aims to take a lead role in encouraging and training their students and members to adopt and refresh their skills and to navigate successful career paths in the 'new normal'.