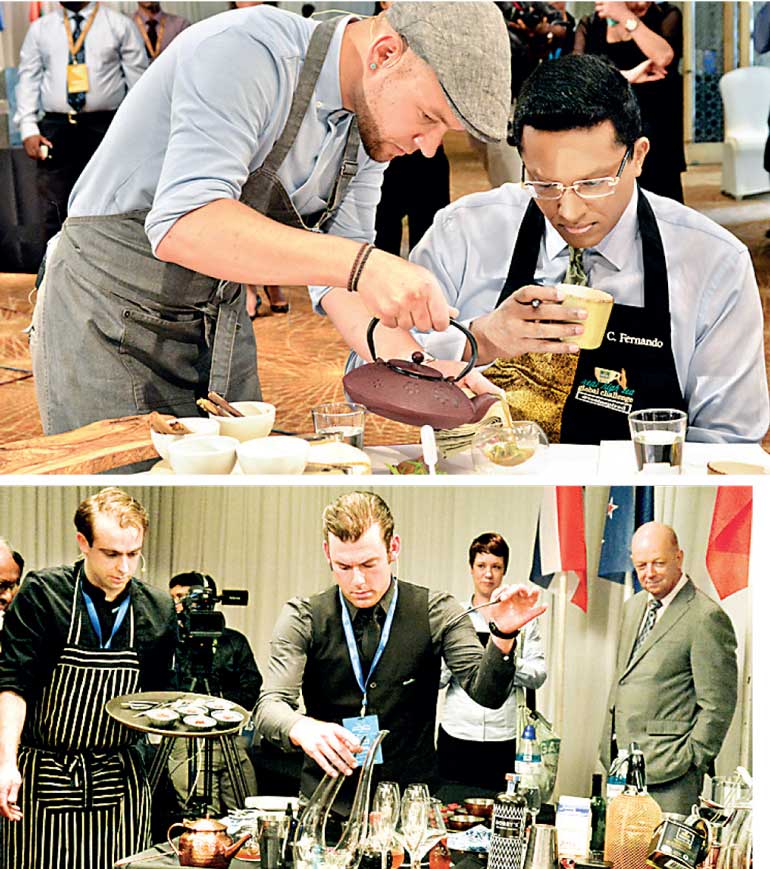 By Sarah Hannan

The day has finally arrived as Colombo plays host to the Dilmah Real High Tea Global Challenge 2015. The competition kicked off at Hilton Colombo Residencies yesterday, with preparation time of five hours given to each team for 'Mise en Place' since 29 June to prepare their creations to be presented to the judges between 1-4 July.

The teams have been preparing for the global challenge for months and finally they get to put their skills to test in front of four judges; Presiding Judge Bernd Uber, Culinary Judge Simon Gault, Culinary Judge Peter Kuruvita and Tea Judge Dilhan C. Fernando.

While waiting for the first team to present their menu, Dilmah Senior Brand Marketing Manager Spencer Manuelpillai stated: "Some of these teams have been preparing for this competition for at least six months. They have custom crafted crockery, glassware and centerpieces for the tables to go along with their presentations. Some of them in fact have grown the ingredients in their gardens to use at today's event."



The first team to present was the national winners from Netherlands in 2014 Vilmos Dohnal and Wesley Schipper. The vegetables and the honey that they used in preparation of their cuisine were sourced from the rooftop garden on their Restaurant Vermeer. "We chose produce from the Netherlands as well as Sri Lanka because the concept in our kitchen is to always keep it local," they said.

Next up was the 2013 national winner from Netherlands Joost Van Der Hoven and Rob Rademaker; who took the judges through a journey in history and the Dutch traditions of slurping the first drink whilst bowing towards the beverage. During the presentation the audience even got a bit of a history lesson on how the trading went about between Sri Lanka and Netherlands taking us back to the 17th century.

The 2014 national winners of Malaysia Adli Kasi and Yam An Nie impressed the judges by using the entire range of 30 tea varieties that were made available in their presentation. The rest of the presentations for the first day followed from: Laurent Loudeac and Cammille Furminieux 2013 winners from New Zealand, Volker Marecek and Benjamin McManus 2014 winners from New Zealand, Dammika Herath and Ronaldo Sadiz 2014 winners from UAE 'B' team and finally Alpesh Dias and Sunil Kumar 2014 winners from Oman.

The heat is on and the judges will have quite a tough time deciding the global champion as each team brings in their authenticity through their presentations in pairing, focus on sustainability by using home-grown produce and at the same time infusing it with produce from Sri Lanka, but most importantly giving due respect to tea.

With two more days for presentations, 4 July will see the crowning moment of the global champion of the Dilmah Real High Tea Global Challenge.



Pix by Upul Abayasekara