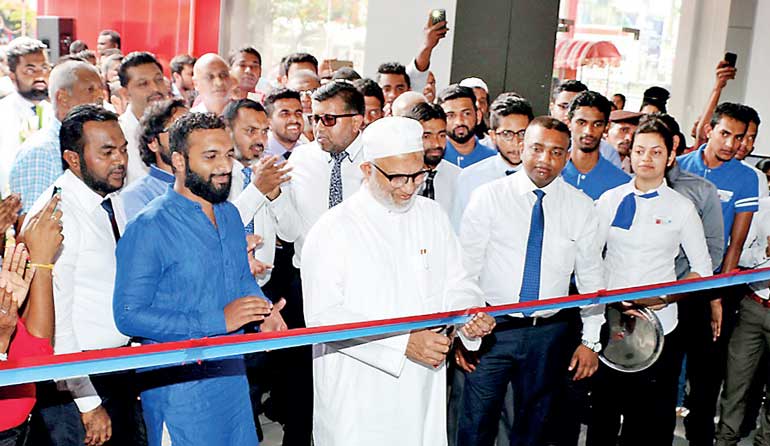 NOLIMIT CEO cutting the ribbon to open the showroom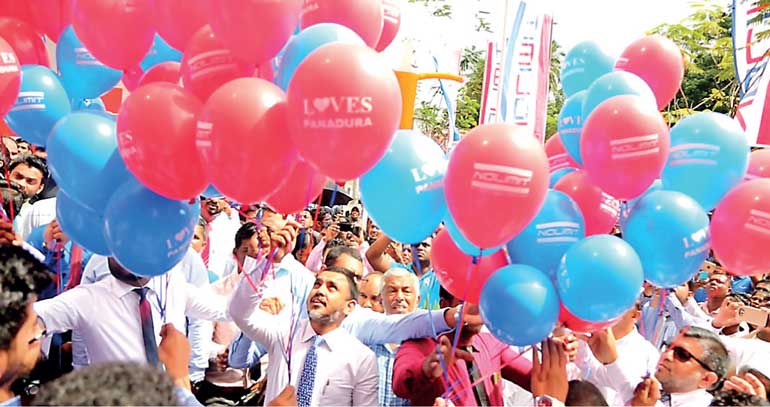 Releasing the balloons at the opening of the NOLIMIT Panadura showroom by the management
Sri Lanka's largest retail chain, NOLIMIT, announced the reopening of its Panadura store on 21 September. The newly refurbished store opens its doors for the first time after its closure in 2014 and is ready to serve the public of Panadura once again.

In lieu of the opening, NOLIMIT set out to enhance the shopping experience for all its customers in Panadura and surrounding cities and provide an ambience of fun and excitement. Children were treated to face painting during the day while eye-catching laser displays were projected at night. With an eye on the convenience of shoppers, a double-decker shuttle service was organised on the day of the opening from Moratuwa and Beruwala.

The discounts and promotions on offer also added to the excitement – customerswere offered a discount of 15% on all purchases on 21 and 22 September. Top 50 Arapaima Loyalty Card Members were specially invited to partake in the ceremonial proceedings, while double points will be awarded at the Panadura store for NOLIMIT's gold and silver Arapaima Loyalty Card Members from 23 to 29 September.

Conveniently located in the heart of Panadura on No. 266, Galle Road, NOLIMIT Panadura is easily accessible through public transport and is equipped with ample parking facilities, a mini food court and an atmospheric ambience for shopping with the family. The building takes into account the needs of the nation's differently abled and is thoughtfully designed to accommodate and welcome differently abled customers.

The spacious store features shopping options spanning fashion, lifestyle, homeware, accessories and much more, making shopping an enjoyable occasion for the people of Panadura and beyond. Shoppers will be spoiled for choice with the array of NOLIMIT brands such as MBRK, Deedat, Salma, Huf& Dee, Pallu, Pink Elephant, NLM, Home & Me, ZED, Sara, Amrand Singing Fish on offer.

"We are excited about reopening what was once the largest store in NOLIMIT's retail chain and one of our most well performing branches. In its new avatar, NOLIMIT reopens as a refurbished and revamped store, better than ever before. We are truly humbled and grateful by the support extended to us by our loyal clientele," commented NOLIMIT General Manager Amjad Hassan.

"At NOLIMIT, we focus on continuous growth and quality, seeking to better ourselves and cater to the fashion needs of Sri Lankans and contribute towards the development of Sri Lanka's economy. Apart from this, NOLIMIT has played a key role in generating employment for youth and training employed into retail professionals in the industry by bringing in international retails standards to project Sri Lanka as a tourism-centric retail hub," noted Hassan.

"A key feature of NOLIMIT's stores has been our efforts to develop local brands as well as our efficient service and strong teamwork as our staff has been trained to exceed service expectations. With two decades of experience catering to Sri Lanka's fashion needs, we renew our commitment to provide quality shopping for the nation and will continue to serve our loyal customers," added NOLIMIT Marketing Manager Raneez Sheriff.

Over the past 24 years, NOLIMIT has cemented its reputation by providing value for money and quality clothing options for Sri Lankans. The company's brand portfolio consists of NOLIMIT – its flagship brand, GLITZ – a premium fashion brand, Pallu – exclusively consisting of shalwars and sarees and Y PAY MORE – a warehouse outlet catering to budget conscious buyers. The Sri Lankan retail chain provides employment for over 1,800 Sri Lankans and has outlets across the island.

With a total of 300,000 square feet of retail space, NOLIMIT hails itself as the largest retail outlet of the country and their Panadura store is poised to provide a distinctive shopping experience for all customers in Panadura and beyond.