Every occasion calls for a celebration – and memories to cherish. Weddings, anniversaries, company celebrations and birthdays are some of the very special occasions when we like to record our memoirs and our thoughts to remember and re-live.

That's exactly what 'Memory Books by Tash Colombo' does. "We create exquisite Memory Books that are very personal and unforgettable. Beautiful and an ideal keepsake of your special occasion," says Natasha Perera, the young lady behind Memory Books by Tash Colombo. "Memory Books enhance the memories you have already captured on photographs and video – they actually bring it all together with actual memories in words, beautifully expressed in a meaningful way," Natasha says.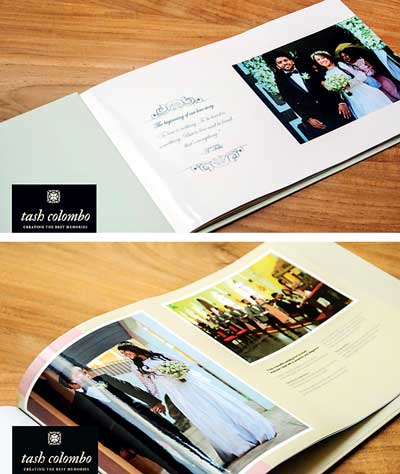 Memory Books capture the mood of the moment in black and white – you might want to consider doing one for the next company anniversary or the special occasion, says Natasha.

As a concept, Memory Books is gaining popularity among couples soon to be wed; "not only because it is a novel concept but also because it presents a glimpse into the memories as experienced and shared by the couple at the time of the wedding." The Memory Books include thoughts and verses shared by the couple and blessings invoked by the well-wishers for their wedding.

Memory Books by Tash Colombo is a venture that has captured today's imagination for its unique appeal. "We spend time in developing Memory Books with each couple – our writers sit with them and work on the kind of wording and the theme they want, what photographs they want to use, either from childhood or courting days, or when the proposal was made – each page of the Memory Book captures the mood, the feelings and the thoughts of the couple's journey together."

The wedding and the bridal segment in Sri Lanka is growing and is constantly evolving towards new and innovative ventures that give yet another glimpse into making the celebration finer, better and truly memorable. "Memory Books is a concept that goes well with the story telling idea of every wedding. Every Memory Book has a unique stamp of individuality that highlights the couple's wishes, the theme of the wedding and other aspects that makes memories truly unique."

Memory Books by Tash Colombo has been well received – beautifully crafted with exquisite designing and wording that makes it a journey of memories to be cherished, the Memory Books truly are not just a memory trip but also a gift worth giving oneself as one celebrates the most special occasions in life.

For more information, log on to https://memorybooks.online or contact Tash Colombo on their Facebook page https://www.facebook.com/TashColombo/.