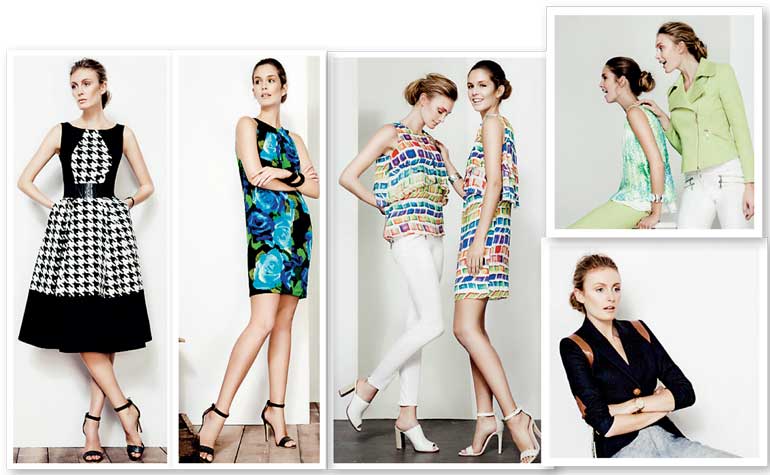 Introducing Avirate Signature range – a lifestyle driven international brand which appeals to the modern woman's sense of sensuality. The collection brings art, design and fashion together resulting in a truly modern and contemporary collection; offering exclusive design quality with a range of coordinated collection of dresses, skirts, pants and blouses.

The Collection consists of four drops, each consisting of a unique theme. 'Technicolour Dream' consists of textural cotton pique pops in vibrant summer hues seen in architecturally colour blocked styles; evoked around the 60's theme with neatly tailored jackets, pants and dresses with eye catching colour pallets.

The 'Art Nouveau' collection consists of masterful brush stroke prints and digitally worked lace effects. Dark exotic floral fabrics create mystery and romance in ultra sophisticated fashion pieces creating a perfect ensemble for a 'Midnight Garden' party. The 'Equestrian Edge' collection focus on clean spare silhouettes in classic colours inspired by riding style elements in stretch denim and modern technical fabrics; a high style of sleek polished forms in a classically well bred look. 'Graphic Arts' consists of bold black and white key looks in bold geometric prints and optical effect patterns in some of the seasons best dresses!

Avirate presents techno stretch pants as a part of the Summer '15 collection. The pants are designed with a 'high tech' fabric composition allowing the creation of a slender look across all body types. The fabrication is constructed focusing on movement and comfort even through long hours. This is a wardrobe essential throughout the year. Techno stretch pants are guaranteed of giving you the pleasure of 'Being comfortable with your appearance'.