The ALFAPARF Skincare Workshop, organised by MOSH Holdings, took place on Tuesday, 1 November, at Hilton Residences. The informative and fun sessions were geared towards equipping aestheticians from all leading salons in Colombo and the Maldives with specific training on Dibi Milano - White Science, the premium brand under the ALFAPARF Group. Heading the workshop was Senior International Skin Trainer for the ALFAPARF Group, Italy, Paul Keegan.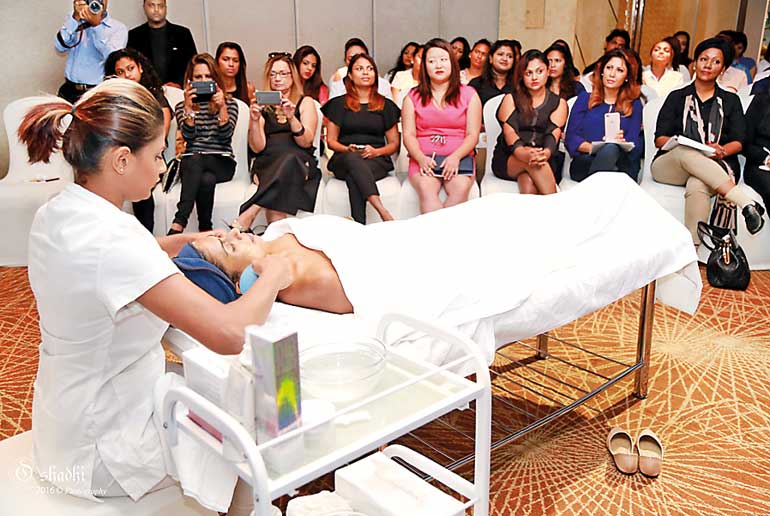 "We are very glad to have Paul Keegan partner with us," said MOSH Holdings Chairman Shyam Singh. "His educational approach and industry experience are strong tools for established as well as upcoming aestheticians. Learning cutting edge techniques from him helps Sri Lanka's aestheticians ensure that our products are used in the most effective manner. This way, our clients always get the best results for their skin, be it through Dibi Milano, Becos or Olos products and treatments."

Dibi Milano is Italy's no.1 professional skincare brand, which allows well-targeted, selective beauty treatments based on the customer's profile, characteristics and lifestyle. The brand carries a number of product lines with diversified and complementary actions which are the mainstay of the Dibi Milano face program. The exclusive Multi-Level Network Technology empowers the skin to fight back, while the clinically proven dual-complex of prevention and performance works against skin imperfections simultaneously on two levels.



The workshop on 1 November was specifically geared towards providing professionals with the knowledge and practical skills needed to handle ALFAPARF Group's latest introduction to the Sri Lankan beauty industry: the 'White Science' range from Dibi Milano.

White Science is the first lightening anti-skin spot treatment by Dibi Milano that regulates melanin, resulting in flawless skin from the inside out. The product line uses cutting-edge technology to reduce skin spots, even-out the skin tone and lighten and brighten complexion, by fighting onset of hyperpigmentation and protecting skin from photochemical pollution.

ALFAPARF Group, Sri Lanka also offers their clients finely-tuned answers to their specific skin concerns through the Becos range. Since 1984, BECOS products combine rigorous research with careful analysis of market trends to provide treatment programs that are tailor-made to suit each individual skin type and beauty goal.

For clientele with a focus on nature, ALFAPARF Group provides a combination of the most pure and genuine natural elements and active ingredients through Olos products which are paraben and paraffin free.

ALFAPARF Group is a multinational cosmetics producer with facilities in Italy, Brazil, Mexico and China and a distribution network spread over more than 80 countries. The group integrates research, production and distribution and collaborates with international stylists and aestheticians to empower hairdressing salons and beauty centers alike with innovative products and services.

The dedication of the group to professional aesthetic care products and solutions for hair and body has established it as a market leader in the Italian cosmetics industry. The premier aesthetic brands Dibi Milano, Becos and Olos are all available in Sri Lanka exclusively through partnership with ALFAPARF Group and MOSH Holdings.

For more information on Dibi Milano, Becos and Olos products in Sri Lanka, to find a salon or participate in a future workshop, call Mosh Holdings on 011-2690549 or visit their Facebook page @moshsrilanka.