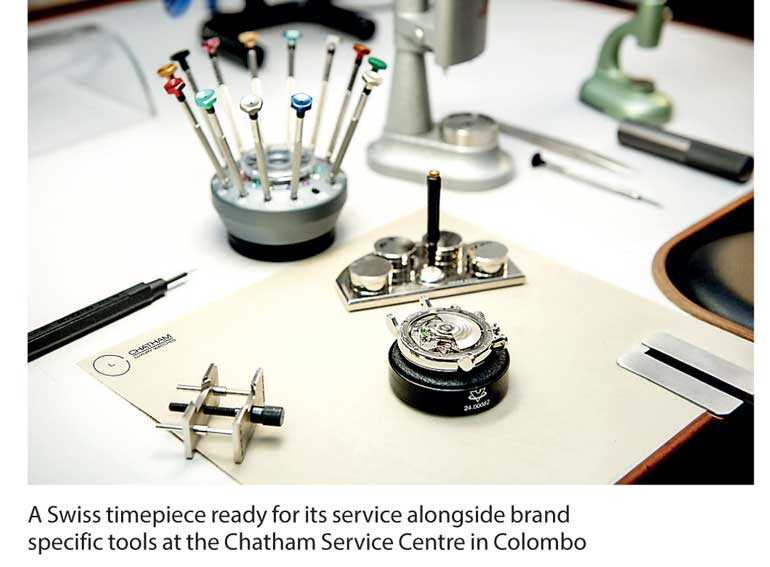 While most mechanical timepieces come with guarantees of durability, the intricate machinery with which they operate can still be subject to some degree of wear and tear. With regular and expert care however, your luxury wristwatch will keep ticking for years.

Multi-brand luxury watch boutique Chatham Luxury Watches is long reputed as the most established purveyor of original, luxury Swiss timepieces in the country.

For an agent of such esteem, it is only warranted that expert guidance in watch care is offered to each client deciding to invest in a luxury timepiece, for the entire duration of the ownership journey.

Providing an all-encompassing suite of watch services and repairs to ensure that all watch needs have been completely catered to, the Chatham Service Centre and its technical team of trained experts is ideally positioned to service or repair that timepiece; whether it requires a simple battery replacement, or a complete restoration. The boutique's in-house service centre tends to the needs of watches designed by any brand housed in-store.

The Chatham Service Centre, not only meets the stringent standards of service for brands such as Rolex, but is also the only authorised service centre in Sri Lanka for a number of luxury Swiss watch houses such as Omega, Cartier, IWC, Chopard, and Jaeger-LeCoultre.

Servicing a watch is crucial for two reasons; to ensure both longevity, and accurate performance. If a watch is notably fast or slow, that could be an indicator that it needs to be serviced in order to keep the movement running smoothly.

"Servicing a luxury watch is a painstakingly precise and meticulous task that should only be left to the professionals in authorised service centres," says Sheruni Jayawardhana, Customer Service Manager of Chatham Luxury Watches. "All of our clients are confident that our in-house team of skilled technicians can be entrusted with the custody of their most prized timepieces, and that they will be returned to them in peak condition."

Choosing an authorised service centre for the aftercare of your time piece is key. Having your watch opened in a non-hygienic environment can expose it to dust, dirt and other particles that can enter and affect the intricate mechanism. It is also extremely crucial that only original components are used in any repairs.

Chatham's state-of-the-art watch workshop -located at its flagship boutique in Galle Face- is equipped with strictly only manufacturer-approved tools and machinery. The company's brand-certified watchmakers are, not only highly skilled in Swiss techniques of watch repair and conditioning, but are also passionate about their craft.

The technical team at Chatham Luxury Watches has received intensive training individually from each of the brands gracing its shelves. As is the case with quintessential watchmaker Rolex, for instance, only after a rigorous process of assessment at the manufacturers of these respective brands for specific watch models, are they certified to handle each respective model.

Following an initial inspection of the timepiece presented, a consultation to map out the best route of repair for your investment -as determined by the brand- is then offered. On the eventual completion of repair work, an exhaustive series of tests is conducted – in accordance with the high standards and strict guidelines of the brands represented – certifying that the watch can finally be returned to its wearer in prime condition.

The most accredited workshop in Sri Lanka has been inspected and approved by the world's most respected brands, and it is this commitment to premium service and expertise that guarantees for every customer a truly first-class experience.