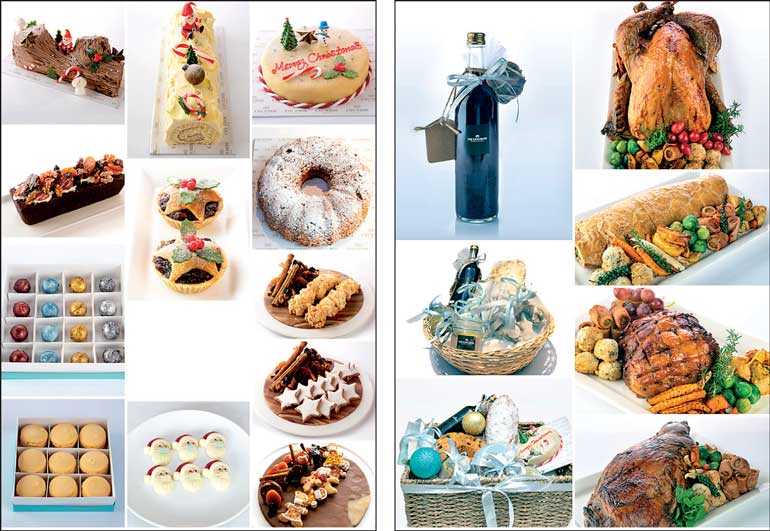 This Christmas, The Kingsbury Colombo invites you to be 'Merry and Masked' as it continues to fulfill its responsibility of keeping safe from COVID-19, during this season of merry making and cheer. Celebrate to your heart's content with your near and dear ones, either at The Kingsbury or in the comfort of your own home by ordering in, knowing that The Kingsbury has taken all possible measures to keep you safe and secure.

To bring home the flavours of Christmas, The Kingsbury has a wide range of Christmas goodies this year. The hotel's festive spread of sweet treats, gift hampers and savoury delights are sure to leave you hankering for more. What's more, these can be delivered to your doorstep if you order via The Kingsbury Indulgence platform.

At Churros, Colombo's favourite patisserie, Santa makes a special appearance. The beautifully crafted masked Santa cookies are sure to bring home the message of the hour in a yummylicious manner. The Kingsbury's ever-popular chocolate dons its chocolate Santa boots and comes as mini chocolate Santas this season – these signature items are a treat not to be missed!

The Kingsbury's chefs have been creating culinary magic to make your Christmas this year an unforgettable experience. The Christmas roast is sure to be the talk of the town: Roast Turkey with stuffing, Salmon Wellington, Australian Beef Wellington, Roasted Leg of Lamb and Honey-Glazed Roast Pork Ham Roll. Now who can resist a spread as scrumptious as this?

That's not forgetting seasonal treats such as ginger bread loaf, yule logs, breudher, traditional Christmas cake, stollen and Florentine, amongst a host of others goodies.

Your Christmas table will come alive with everything that comes to mind when you think of a vintage celebration complete with English fruit cake to Christmas pudding to minced pies, date fudge cakes and love cake.

To those with an insatiable sweet tooth, The Kingsbury offers Christmas snowball cookies, Christmas brownies, Christmas tree cookies, Christmas chocolate reindeer and penguins, Cinnamon star cookies and Christmas Linzer cookies (and that's just to name a few!).

Embracing the new normal does not need to put a damper on your cheer this 'Merry and Masked' Christmas – The Kingsbury's range of Christmas goodies are perfect for treating yourself, your loved ones and gifting to those who mean the world to you. The Kingsbury Christmas hampers with their delightful collection of treats are sure to put a big smile on the recipient's face.

For a very merry Christmas, order your Christmas spread via Kingsbury Indulgence by visiting https://indulgence.thekingsburyhotel.com/ or pick up the goodies on the day you need them from Churros by calling 0771087720 (some treats may need to be pre-ordered).