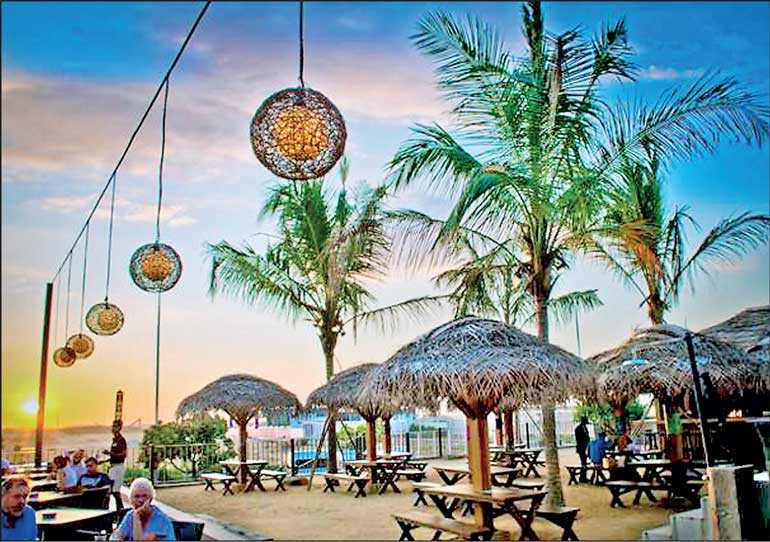 ---
Honey Beach Club re-launched with intriguing new spaces
With The Kingsbury's recent transformation, the Honey Beach Club was re-launched with exciting new spaces, with the spotlight on Honey Beach Club's Tavern, conceptualised and designed with Sri Lankan

vibes.

Tavern boasts 69 flavours and varieties of coconut and Palmyrah arrack, with cleverly and creatively curated arrack-tails. The bar also has the all-time local favourite toddy on the beverage menu, which is not freely available in Colombo. Guests can try Palmyrah Toddy, Fermented Pasteurised or Sweet Pasteurised Toddy, perhaps for the first time.

A large array of exciting Sri Lankan snacks such as cheese and egg roti, parata, isso wade, umbalakada wade kottu and devilled bites await guests who wish to enjoy local comfort food with a spicy twist. The crispy fried handella with chili and sweet tamarind chutney would be impeccable with a blended arrack shot. Parata paired with a spicy chicken curry, black pork curry, seer fish pepper curry, or mutton tripe curry with a glass of toddy would make an enjoyable evening meal. The inimitable devilled pork with its secret recipe is most definitely a must-try, and has already proven itself to be a crowd pleaser. The sheer simplicity of these familiar and beloved delights will make guests savour each mouthful.

Tavern Beach Bar is set on sea sand under the shade of coconut trees, with comfortable benches for drawn out conversations under thatched roofs, surrounded by cool beach vibes. It is the spot to end the day with friends and some ice cool cocktails, nibbling on spicy snacks, while catching the last rays of the sun as it sinks into the horizon. With a most reasonably priced menu, Tavern is set to attract tourists and locals alike with its indigenous local appeal.

Honey Beach Club will also feature DJ music seven days a week with an exclusive Shisha Lounge for those looking for a relaxing Shisha experience with Mediterranean vibes. At the Terrace dining area visitors can have a bite of turkey bacon and egg pizza and a beer. The Sophisticated Lounge features relaxing and luxurious areas, where guests can recline on plush mattresses with a glass of champagne. The pool side is for those who prefer a quick swim before enjoying adventurous cocktails and dinner.

The Honey Beach Club, which has been a favourite hang-out spot of the young and the young at heart, will now offer its clientele different experiences in one location. The beverage list is extensive and so is the variety of snacks, bites and mains on offer. Affordable and laid back, the Honey Beach Club is the hottest poolside destination in town.

The Kingsbury entered a new era in December as it opened its doors to brand new beginnings, reflecting how deeply the hotel values customer experiences and providing unparalleled propositions to local and international guests. The reimagined spaces of the new restaurants are a welcome new addition to Colombo's business travellers, tourists and socialites. The Kingsbury aims to change the perception of the true meaning of luxury with exquisite dining experiences, stylish ambiences and peerless service excellence. With the series of new restaurants food connoisseurs and pleasure seekers now have something to look forward to.