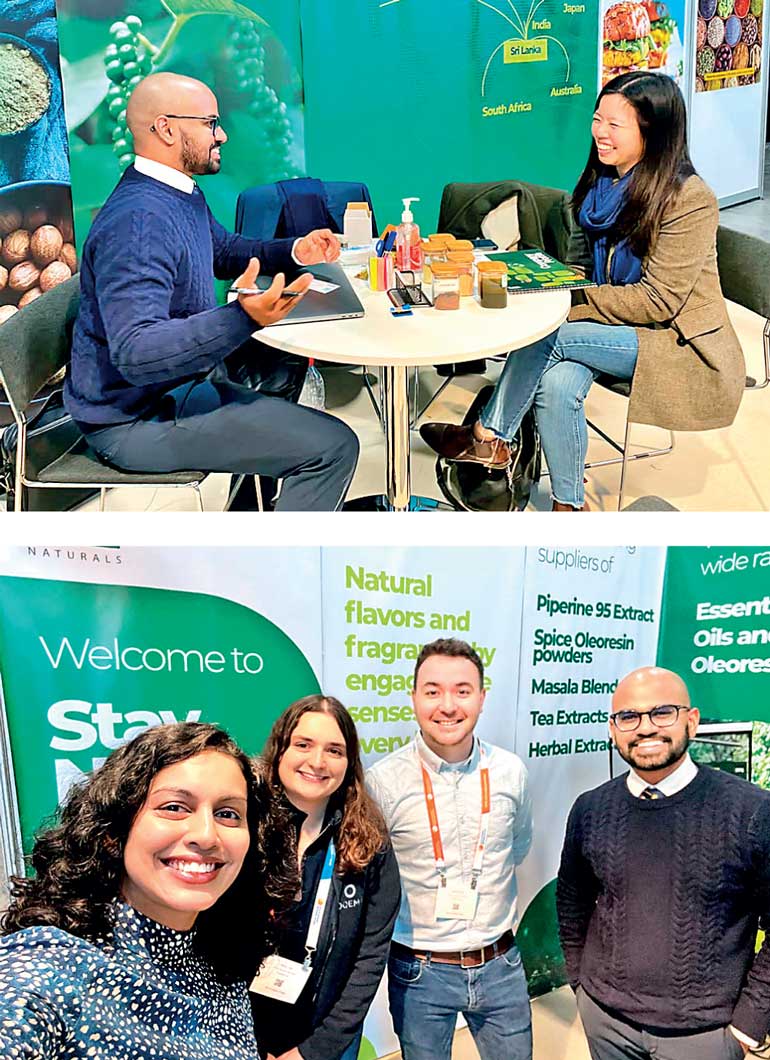 ---
Showcasing all things unique and of Sri Lankan origin, Stay Naturals Ltd. has always been proud to display the many pepper berries and nutmeg seeds that pass through its state-of-the-art manufacturing facility, converted into high value-added extracts, which finds its way to many a consumer across the globe.

This meticulous process is only ensured by the many international partners Stay Naturals Ltd. works with, to bring the rich and complex flavours of Asia to ingredient houses and product formulators across the world. The company was able to make two such strides that saw it going across the globe from France to India, covering two major events critical to the food ingredient space.

Participating in Food Ingredients Europe 2022 enabled the company to showcase its unique product offering, meet and interact with those longstanding partners as well as establish relationships with new players interested in exploring what the Sri Lankan food ingredient space has to offer. With more than 900 exhibitors and over 19,000 participants attending the event which was held in Paris Expo Port De Versailles, Stay Naturals was able to secure a promising pipeline of New Product Development projects as well as volume enhancement for their existing product range.

"We firmly believe that physically participating in international trade fairs and exhibitions makes the most difference; and the opportunity it provides us to dwell deep into our customers pain points, enables us to cater a tailor-made solution targeting their specific requirement, which creates ultimate value towards them and in extension; us. This is often not accurately translated over the phone or via email. The Pandemic restricted travel and compromised the human element of meeting face to face and establishing connections. It was great to be back here in person to bolster our deals and build our pipeline for the next year," said Stay Naturals Ltd. Director Shalinda De Silva.

The success of FI Europe was further cemented in January 2023, when we saw the Stay Naturals team participating in the International Spice Conference (ISC 2023) which was held in Chennai India. The theme this year; 'Reboot and Rebound – Beyond The New Normal'. The conference is a converging point for all spice industry professionals, companies, governments, and enthusiasts alike where many challenges and opportunities pertaining to the spice industry were discussed. The platform also serves as a networking event for players, which enabled Stay Naturals to strengthen further relationships with key flavour houses in aligning with their sourcing strategy.

"It was good to connect with our colleagues and understand the dynamics of global sourcing amidst the ground realities. We understand the current global economic outlook, and we too are redefining and reshaping the extraction industry by providing innovative solutions by research and innovation, challenging the norms which are set in place in the industry. Our ambitions are backed by firm strategies that will ensure Stay Naturals operates beyond the new normal. ISC provided us with the insight of how we too at Stay Naturals have to rethink and redefine our sourcing strategies to meet this new reality," commented Stay Naturals Chief Executive Officer Lahiru Jayasinghe.

The company remains ambitious and is expanding sales capacity by attracting talent internationally whilst always keeping the promise of building home grown talent. In an industry which was previously dominated by the export of raw spices to global markets, Stay Naturals aims to retain the value within the nation by going the extra mile in taking Sri Lankan extraction expertise, global.